Potato Gnocchi: Easy and Delicious
Potato Gnocchi: Easy and Delicious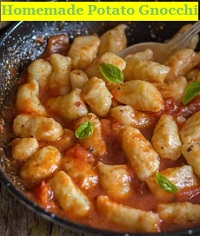 To accompany this dish, there are a variety of delicious sauces that go perfectly with it. Choose the one you like the most: https://olivieri.ca/gnocchi-recipes/
About this traditional Italian recipe
Making homemade potato gnocchi has many advantages.
Besides being an economical meal, they are easy and delicious. To make them a success, take into account these tips:
First, the potato. Ideally, gnocchi should have potato as the main ingredient and not flour like other kinds of pasta.
So you have to be careful when cooking it. It is important that it does not absorb too much water during cooking, so avoid adding too much flour to achieve a dough.
You can shape it with a potato gnocchi tool or with a fork.
The right consistency for a successful gnocchi recipe requires seasoning the main ingredient, in this case, the potato.
By leaving the skin on the potato when boiling, the skin acts as a barrier, preventing excess water from being absorbed by the potato.
An alternative to boiling the potato is to bake it. If baking, cover the potatoes with salt to heat evenly.
It is also important not to allow the potato to cool too long after boiling or baking. The longer the potato remains in its solid, un-enriched state, the longer it will retain steam or moisture.
The key to light, airy gnocchi is to start the dough mixture with the driest, fluffiest potato possible and use the least amount of flour and egg to bind the mixture as needed.
Ingredients
Makes about 4 portions of gnocchi
2 lb (1 kg) of potato.
10 oz (300 g) of 0000 flour.
1 egg.
Salt and pepper.
Potato gnocchi recipe step by step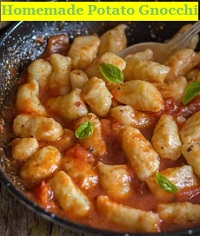 The first thing to do is to wash the potatoes well since you are going to boil them in their skins. This is very important so that later the potato gnocchi do not fall apart, since cooking them in their skins prevents them from absorbing too much water.
Make a horizontal cut all around the potato, and take them to a pot with water. Cook until they fall when pricked.
Remove them and let them cool just to avoid burning. With the cut you made, the peel has to come out very easily in two parts.
Mash the potatoes while they are still hot like any other decent mashed potatoes, add salt, and pepper and mix very well. Add the beaten egg and the flour. Do not add all the flour at once, keep a little to see how it comes.
The quantities are rather proportional, it may be that the potato has absorbed more water or that the egg is smaller, so add the flour little by little.
Join with your hand until you can move it to the table and finish integrating it. If in this step you see that more flour is needed, have the rest to add. It is not necessary to add much, the idea is to get a unified and uniform dough without touching it too much.
Cut strips of dough and make rolls, and cut small pieces about 2 or 3 cm wide, you can flour the knife to make it easier.
Now pass them through the tool to shape the potato gnocchi from top to bottom. You can also use a floured fork that also gives them a similar shape.
Place them on a floured plate without touching them so that they do not stick together. And of course, you can also make them without the tool and simply make them in their most rustic version.
To cook them, take them in batches to a pot of boiling salted water. You will see that they fall to the bottom. When they rise, leave them for 1 minute and they are ready.