Classic and Creamy Risotto Recipe with Arborio Rice
Classic and Creamy Risotto Recipe with Arborio Rice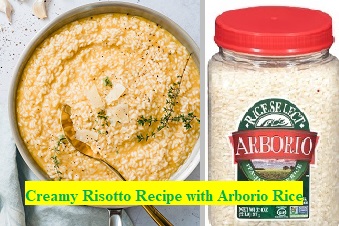 About this risotto recipe
In this recipe, you will find an explanation of how to make risotto in a classic way, but with the technique, you can add whatever you want and make a risotto with your favorite ingredients whether they are vegetables or bacon for example.
The most important thing and the secret are to have a good broth, so do not skimp on quantity or flavor. This is what will give the rice its special taste.
Speaking of rice, it is key that you use rice capable of absorbing liquid and giving us starch for the creaminess. So you have to use round rice, very rich in starch, such as Arborio, which you can buy RiceSelect® Arborio Rice by clicking on the link that follows: riceselect.com/product/arborio.
Never use rice that never overcooks. You will cook anything but risotto because you will never achieve its moist and creamy consistency.
What are you going to make your risotto from?
Add the additional ingredients. They are the protagonists because they are going to give flavor to our dish. When the sauce is ready, add the additional ingredients and continue to sauté them.
It is essential to stir the ingredients often to prevent them from burning. Here comes into play the taste of each one to obtain the adequate or preferred texture.
In the case that you add vegetables, you can cook them in your own casserole with the sauce, playing with the fire and the cover so that they are more or less cooked and golden; you can also steam them separately to obtain that they are al dente, more crunchy, and then add them to the sauce.
In this case, the broth obtained from the preparation can also be added to the main broth with which you will prepare the rice.
If instead of vegetables, you want to make a risotto with meat, you must cook it on medium-high heat so that it browns without releasing too much water. If the star ingredient is fish or seafood, it is advisable to cook them separately and add them to the risotto at the end of the preparation.
Ingredients for two servings of risotto
5 large Portobello mushrooms.
1 onion.
1/2 glass of wine.
100 oz. butter.
1 dash of oil.
1 cup of RiceSelect® Arborio Rice.
Broth as needed.
green onion.
How to make it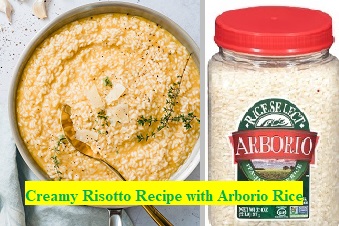 Classic and creamy!
The basis of any good risotto is undoubtedly the broth. So the first thing you have to have ready is the broth. You can make it homemade, from a box, or make it with my homemade broths which are always great. It is very important to keep the broth close and at minimum heat.
Now cut the vegetables: chop the onion very small, cut the mushrooms into slices, and chop the green onion.
In a pot, put the butter and the oil, and cook the onion over low heat until it is transparent, add a little salt so that it releases liquid and it is well cooked.
Add the mushrooms, stir and cover. Leave it for just a few minutes so that it browns without overcooking. Turn up the heat and add a glass of wine. Leave until the alcohol evaporates (that is to say when there is no longer any smell of alcohol).
Now add the rice and stir well until it is shiny and well soaked in butter, oil, and wine, without toasting!
Then repeat the following 3 steps until the rice is al dente:
Add broth. More or less a medium ladle.
Stir a little.
Wait for it to be absorbed. The risotto rice always has to be moist, with liquid but not sunk in broth, if not completely dry.
Serve your risotto with green onions and if you want, sprinkle some Parmesan cheese on top.