Rice and Beans: How to Cook Nigerian Rice and Beans
Rice and Beans is a dish that is prepared by simply combining the two staples.
The beans used could be either black-eyed peas or your typical Nigerian brown (or red) beans or any beans of choice.
Methods of Cooking Perfect Nigerian Combo ~ White Rice and Beans with Stew
You can choose to prepare it in the following ways:
Plain by cooking both separately with stew
As Jollof by combining the two with stew
Or with rice & beans stew
Any method you choose is a winning combination of enjoying the richness of both foods any day.
How to Cook White Rice and Beans Together Recipe 
Here's an easy local recipe for you. Enjoy!
Ingredients
300 grams Rice
100 grams of black-eyed beans
7 spoonfuls of tomato stew
1 chopped medium-sized onion
3 medium plum tomatoes/pepper
3 tablespoonfuls of ground crayfish
Chicken or beef stock
2 chicken stock cube
Salt
How to make Nigerian rice beans
Firstly, pour enough water to cover the beans and leave them to boil until the bean is tender.
Secondly, parboil the rice using the detailed method in parboiling rice for cooking and put it aside.
Thirdly, slice the tomatoes, pepper, and onions then fry. Add the sauce to your already-made stew and set aside
After that, add the stew, and meat/chicken stock in a larger pot, and leave to boil.
Then add the parboiled grains, ground crayfish, stock cubes, and salt to taste.
Lastly, mix very well and add enough water if the liquid in the pot is not the same level as the rice & beans. Then Cover the pot.
After about 20 minutes your Jollof rice & beans are ready. Enjoy with plantain or any side dish of your choice.
Variations to cooking 
You can customize this porridge meal by making it your own in the following ways:
Using palm oil
Boiling them together instead of separately ~ Jollof rice and beans
By using the African method, Puerto Rican / Cuban or Jamaican style
Preparing them as Jollof with fish
Hausa rice and beans
rice and beans and chicken
rice and beans and sausage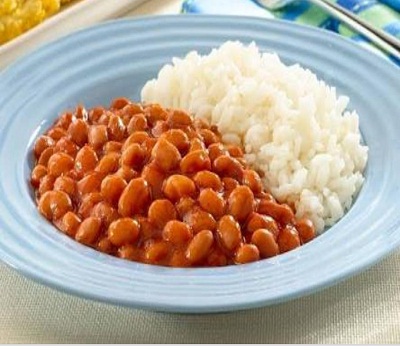 FAQs
What do you call a rice and bean combination?
Instant pot beans and rice have been a staple pairing for thousands of years throughout African and Latino history, whether it's Hoppin' John or Red Beans and Rice.
In Central America, the bean/rice combination is sometimes referred to as matrimonio ("the marriage").
What are the benefits of combining rice and beans?
However, when combined with beans, it aids in carbohydrate metabolism.
And, in terms of protein, rice, and beans, when combined, provide complete protein, supplying all of the essential amino acids (protein building blocks) found in dairy, meat, poultry, and fish.
Should beans be eaten with rice?
However, beans contain amino acids that rice does not and vice versa.
So eating a plate of rice & beans provides you with all of the essential amino acids.
In fact, you don't even have to eat beans & rice together; simply eat them on the same day.
What is Waakye made of?
Waakye (/ˈwɑːtʃeɪ/ WAH-chay) is a Ghanaian dish of cooked rice  & beans that is typically served for breakfast or lunch. Others, on the other hand, eat it for supper.
Beans and rice are cooked together with red-dried sorghum leaf sheaths or stalks and limestone.