Jamaican Rice and Peas – A Traditional Jamaican Side Dish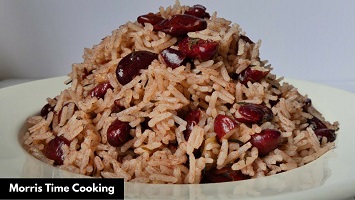 Jamaican rice and peas. In Caribbean cuisine, rice and peas are popular side dishes. In reality, Sunday lunch must include rice and peas, and it isn't just any rice and peas.
The Jamaican rice and peas are flavorful, but not so much that it overpowers the main course.
Related >>> Rice and Beans: How to Cook Nigerian Rice and Beans
When Jamaicans say peas, they are referring to red kidney beans, not peas.
The Scotch bonnet is added whole, with the intent of infusing the dish with flavor rather than heat. When the rice and peas are ready, fish the pepper out without breaking it.
Pimento peppers can be used whole or ground.
Coconut milk can be used fresh, frozen, or powdered. Use unsweetened coconut milk in the canned version, then reconstitute the coconut powder.
Jamaican goat curry, Jerk chicken, tomato stew, tomato sauce, and other dishes can be served with Jamaican rice and peas.
Jamaican Rice and Peas Recipe
To make Jamaican rice and peas, follow these
instructions.
Ingredients
2 red kidney beans or 1 cup of red kidney beans
½ cup red kidney beans, canned
1 cup red kidney beans or 2 ½cups canned red kidney beans
2 cloves garlic, crushed
1 whole scotch bonnet
2 scallions
2 ½ cups coconut milk
1 teaspoon salt
2 cups rice
1 teaspoon black pepper
Teaspoon thyme or 2 sprigs of fresh thyme
How to Prepare Jamaican Rice and Peas Recipe
Firstly, rinse the beans in cold water to remove any grits. Fill a bowl halfway with water and add the beans.
Secondly, fill a bowl halfway with water and add the beans.
Now, soak for 2 hours overnight; I prefer to soak overnight.
After that, use a strainer to remove the beans from the soaking water.
Put the beans in a pot with 5 cups of water, add the crushed garlic, and cook for 1 hour or until tender.
The reddish color of the cooking water is what gives the dish its distinctive off-white color.
Now, rinse rice several times in freshwater until the water is almost clear, about 3-5 times.
Combine the rice, scotch bonnets, scallions, coconut milk, salt, black pepper, and thyme in a large mixing bowl.
Bring to a boil, stirring constantly, then reduce to low heat.
Cook, covered until the rice is soft but not mushy.
If the rice is still too rough, you will need to add a little more water.
Remove from the heat and set aside for 5-10 minutes.
Remove the scallions and scotch bonnet and fluff with a fork before serving.
Notes: Since canned kidney beans are already cooked, simply empty all beans and their liquid into the pot with the remaining ingredients and bring to a boil.
Wash the rice, then add it to the pot, mix it around, and cook until the rice is finished.
If using a slow cooker, red kidney beans should be vigorously cooked for at least 10 minutes before being reduced to a simmer.
That is the only way to guarantee that the beans are free of toxins.
Serve Jamaican goat curry, brown stewed chicken, Jerk chicken, and creamy coleslaw, Curry chicken, brown stew fish, and other dishes with rice and peas as a side dish.
If you like Jamaican rice and peas, try my Nigerian Coconut Jollof rice, Nigerian coconut rice, Vegetable coconut rice, and Nigerian tomato rice.