60+ Top Healthy Nigerian Foods for Weight Loss
60+ Top Healthy Nigerian Foods for Weight Loss. Please watch >>>>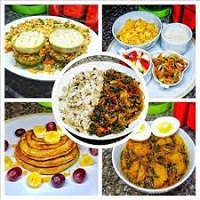 Weight loss is one of the most popular topics on the web, owing to a large number of individuals interested in learning how to lose weight.
Finding out that you're still overweight despite your best efforts at dieting can be discouraging.
It has entailed fasting for long periods during the day and limiting your food quantities, but those stubborn few extra pounds have refused to budge.
Sometimes you're carrying more than a few extra pounds, which can have a significant impact on your physical and mental health.
There's the occasional battle with your self-image and also the increased risk of diabetes, heart disease, stroke, and some cancer types.
It's a circumstance that can have an impact on your career, relationships, and other daily activities, as well as increase your stress levels. You must properly manage your weight to live a full and healthy life.
Related >>>>
Nigerian Foods for Weight Loss
Understanding the cornerstone of any successful diet begins with knowing that what you eat is just as essential as how much you consume, and is the first step in developing an effective weight reduction program.
Different foods move through different metabolic pathways in the body, and their effects on appetite, hormones, and how many calories we burn can be very different.
Losing all the weight that's been bothering you may appear to be a difficult endeavor, but knowing which foods are ideal for weight loss makes it a lot easier.
Even if your weight-loss plan is working, making the appropriate food choices might give you a boost and help you achieve your objectives faster.
They also cut down on the amount of time you need to spend in the gym, making it easier to achieve your fitness goals.
Nigerian Foods for Weight Loss: Top foods to eat if you want to lose weight
Millions of Nigerians are attempting to shed weight and overcome obesity. They've been thinking about how to lose weight in Nigeria and searching for weight-loss Nigerian foods.
Is it possible for me to gain weight eating Nigerian food?
Unfortunately, yes. Nigerian meals are often high in protein, lipids, and carbohydrates, which leads to the sole drawback: due to their high-fat, high-carb content, you can quickly gain a lot of weight by eating these dishes every day.
There is yet hope. You may still eat Nigerian food by swapping lower-carb alternatives for high-carb dishes without sacrificing the distinctive flavors.
Is it possible for me to lose weight by eating Nigerian food?
The good news is that you absolutely can! You may lose weight eating Nigerian food by replacing low-carb meals with high-carb dishes.
A low-carb (or keto) diet is a low-carb, high-fat, medium-protein diet that helps you lose weight while also providing a slew of additional advantages.
Nigerian Foods for Weight Loss: Are you looking to lose weight in Nigeria?
Are you sick of hearing about foods that you can't find?
I apologize in advance because….
I'm about to break your sweet, innocent heart.
You see, no food will make you lose weight.
It's what you eat in general that matters.
These Nigerian weight-loss foods the "magic" I'm about to share will only work if it makes up the majority of your Nigerian diet plan.
… and are consumed in an appropriate amount.
Let's get to the sweet part you've been waiting for now that the bitter truth is out of the way.
Nigerian Foods for Weight Loss: Weight loss with local foods
Your search is now closed because the foods listed below are ones that people in Nigeria have successfully embraced for long-term weight loss and overall health.
They are inexpensive, natural, and simple to obtain.
The combination of a good weight loss diet and regular exercise is the key to successful weight loss. On the other hand, finding a suitable weight loss diet is difficult, especially if you don't know anything about calories.
Many Nigerians are in this situation because it is difficult for a typical Nigerian who eats indigenous Nigerian foods to know which meals to eat to lose weight.
If you want to know how to lose weight quickly in Nigeria, you need to be aware of the various Nigerian weight loss meals available.
Many Nigerian meals, snacks, and dishes are excellent for weight loss. Therefore, losing weight in Nigeria is possible.
Keep in mind that any excellent weight loss diet should be able to accelerate your metabolism, make you feel satiated faster, contain a modest number of calories, and aid fat burning.
Go over the list and make a shopping list for the weekend. Start eating them now for long-term weight loss, heart health, and overall well-being.
Nigerian Foods for Weight Loss
Starting with fruits, here are the top Nigerian foods for weight loss.
FRUITS
Mango
Berries
Avocado
Olive and Olive oil
Apples
Pears
Bananas
Watermelon
Grapefruit
Lemons
Papaya (Pawpaw)
Pineapple
Oranges
VEGETABLES
Cucumber
To tomatoes,
Chilli Pepper
Okra
Cabbage
Broccoli
Carrot
Irish Potatoes
Yams
Grains and legumes
NUTS AND SEEDS
Almonds
Coconut and Coconut Oil
Nuts (Cashew, Peanuts, and Walnuts)
Coffee
Herbs and spices
Animal Produce
Egg (plus the yolk.)
Natural Yoghurt
Low-fat Milk
Turkey
Seafood (e.g. crabs, crayfish, etc.)
Mackerel (AKA Titus)
Others
Apple cider vinegar
Dark chocolate
Plantain
Honey
Green Tea
Here are a few Nigerian meals that will assist you in losing weight!
Keto Jollof Rice
Cauliflower rice
Peppered Goat Meat
Nigerian Egg Stew
Baked Whole Catfish
Keto Native Jollof Rice
Peppered Gizzard
Nigerian Chicken Stew
Efo Riro (Spinach Stew)
Nigerian Peppered Snails
Soup for Weight Loss
Egusi Soup
Draw Soup (Ogbono Soup)
Nigerian Pepper soup
Ofada Stew (Ayamase Stew)
Nigerian Fish Stew
Eggplant Stew
Swallow For Weight Loss
Keto Amala Swallow
Cabbage Fufu
Cauliflower Fufu
The Bottom Line on Nigerian Foods for Weight Loss
Drink plenty of water and stay away from sugary drinks and sodas. Water is a terrific way to fill up and eat less because it has no calories or artificial sweets.
To get the most out of these superfoods, stick to a healthy diet and exercise regularly. You'll be trim as well as healthy and fit in no time.