Wonton Wrappers Recipe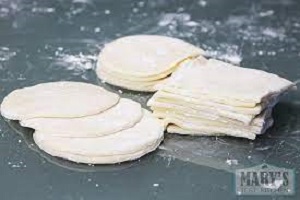 The wrappers are required for the preparation of appetizers such as egg rolls and dumplings.
Did you know they're extremely simple to make at home?
Make a big batch of our recipe and use it to make egg rolls, wontons, dumplings, ravioli, and more!
Related Articles >>>>
What are Wonton Wrappers?
Wonton wrappers are a type of dough made from wheat flour, eggs, and starch. They are cut into 3′′ square or circle thin dough sheets.
They cook to a beautiful golden brown color that goes well with almost any dish.
They're most commonly found in Chinese dumplings and as egg roll wrappers.
But you can do so much more with them than just make Chinese dishes; they make fantastic hors d'oeuvres, sweet treats, and even crispy tortilla chips!
Wrappers for Wonton, Egg Rolls, Dumplings, or Gyoza
You've probably seen wonton wrappers fried to perfection holding delicious cabbage and pork stuffing in an egg roll or the creamy filling in a crab rangoon.
You may have even seen the paper-thin wrappers in your grocery store's produce section (typically found by the bean sprouts and tofu).
Maybe you even bought a package of egg rolls or mozzarella sticks to make at home.
Did you know, however, that those paper-thin wrappers are actually quite simple to make at home? The dough for wonton, egg rolls, dumplings, and gyoza wrappers is the same.
What you use the dough for will determine the size (large for egg rolls, small for wontons) and shape (round or square) of the dough you cut.
How to Make Wonton Wrapper
While the dough for the best gluten-free wonton wrappers is simple to make, the rolling pin will give your arms a workout because it must be rolled thinly for the perfect wonton wrappers.
Don't be discouraged, though.
We like to roll the dough 5-10 strokes and then flip it over, roll 5-10 more strokes, flip, and so on.
When you flip the dough, it will contract, but this helps to ensure that the dough does not stick to the counter.
Here's a tip if you're having trouble getting your wonton wrapper dough as thin as you want it. Roll it halfway and then cover it with a tea towel for 5 minutes to allow the gluten to relax. Then roll it out once more.
(Imagine the gluten in the dough as a tight muscle that needs to be stretched.) It can only stretch so far before it needs to take a break. Then, when you stretch again, you're surprised to find that you can stretch even further!)
If you're one of the fortunate few who own a pasta roller, now is the time to use it.
Using a pasta roller to roll out your wonton dough is a quick and easy way to achieve perfect consistency.
Yield: 16-5″ egg roll wrappers or 30-3″ wonton wrappers
2 hour prep time
2 hours total
Appetizers Cuisine: Asian Number of people: 8
Ingredients
2 cups unbleached all-purpose flour
1 egg
34 teaspoon salt
12 cup water (for rolling and dusting)
Instructions
Sift flour into a large mixing bowl.
Whisk together the egg, salt, and water in a separate bowl.
In the center of the flour, make a well and pour in the wet ingredients.
With a spoon (or your hands), combine everything until it starts to come together.
Knead the dough for 3 to 5 minutes on the counter. When you're finished, the dough should be firm but silky smooth. (If your dough is too tacky, dust your counter with a little more flour.)
Cover the dough with a damp towel and set aside for one hour to rest. (Letting the dough rest will make rolling thin wrappers easier.)
Cut the dough into halves. With your towel, cover one-half of the dough. Roll half of the dough as thin as you can, aiming for a rectangle roughly 20″x10″ if you're cutting 5″ wrappers, or 15″x9″ if you're cutting 3″ wrappers, on a lightly floured counter-top.
Cut the sheet into the shapes you want. Egg rolls can be made with 5-inch squares. Wontons and dumplings can be made with 3-inch squares or circles.)
Continue with the rest of the dough.
Use the wonton wrappers right away or store them in the freezer (see below).
Notes
The dough is the key to perfect wonton wrappers. Knead the dough thoroughly until it is extremely soft and elastic.
Roll the dough out on a work surface dusted with cornstarch (not flour). Cornstarch makes these covers slightly chewy, which is exactly what you want.
Roll out the dough as thinly as you can. To roll the pasta, use a pasta roller.
To keep the wrappers from sticking together, generously dust them with cornstarch.
Do not overfill these wrappers with filling when making dumplings or wontons. Excess filling may cause it to break.
By omitting the egg and replacing it with 1 tablespoon of plain yogurt, these can be made vegan. However, eggless wonton wrappers are lacking in flavor.
How can Wonton Wrapper be made vegan?
By omitting the egg and replacing it with 1 tablespoon of vegan yogurt, these can be made vegan. However, eggless wonton wrappers are lacking in flavor.
Using Cornstarch Rather Than Flour
It's a habit to reach for the flour when rolling out dough to keep it from sticking to the counter. Right? With wonton wrappers, no way!
We cannot emphasize this enough. When rolling out the wonton wrappers, do Not Dust Your Counter with Flour.
The wonton wrappers will become tough and gummy if you use too much flour.
So we use cornstarch instead. Cornstarch coats the dough and does not absorb moisture, creating the perfect non-stick barrier.
What Can You Make With Wonton Wrappers For Dessert?
Wontons with Cream Cheese.
Chocolate Chip Cream Cheese Wontons
Baked Pineapple Recipes for Dessert
Pillows with chocolate.
Dessert Wontons with Sweet Dipping Sauce.
Wonton Cups with Strawberries
Chocolate Dipping Sauce for Baked Cherry Cheesecake Wontons
Dumplings with Pumpkin Pie Filling
Caramel Dipping Sauce for Wonton Apple Pies
Freezing Homemade Wonton Wrappers For Later
We prefer to use our wonton wrappers immediately after they are made. The dough is easiest to work with when it is fresh.
We still make a large batch of wonton wrappers, but we use them to make potstickers, egg rolls, and other dishes. Then we'll put them in the freezer for later.
It's so convenient to have a bag of egg rolls in the freezer so you can grab one or two whenever you want!
However, we have frozen the wonton wrappers themselves, and this is a viable option if you want to save them for later use.
Simply stack the squares of cut wonton wrapper with a generous dusting of cornstarch between them.
A good amount of cornstarch between each wrapper is essential for separating the wrappers later!
In an airtight container in the freezer, the homemade wonton wrappers will last for 2-3 months.
Before using, simply thaw them overnight in the refrigerator.
Wonton Wrappers: How to Use Them
Even outside of the traditional Asian treats, wonton wrappers can be used in a variety of ways. You can even make ravioli with them as pasta!
Baked Crab Rangoon
Baked Vegetable Egg Rolls
Homemade Pizza Rolls
Thung Thong (Thai Crispy Dumplings)
(Fried) Shrimp and Vegetable Egg Rolls
Spinach and Sausage Ravioli
Other Usage Ideas
First and foremost, you can use these sheets to make wontons, which can be fried, pan-fried, or steamed with a variety of fillings.
Wonton sheets can be used to make taco cups, pies, tarts, mini quiches, salad cups, and more. Fill these crispy cups with your favorite fillings after baking these wonton wrappers in a muffin tray.
You can also make wonton pierogi, crab rangoons, samosas, ravioli, wonton wraps, wonton crackers, cannoli, and wonton crips.
Wonton, gyoza, dumplings, egg rolls, or potstickers: what's your favorite?
Potstickers, gyozas, wontons, egg rolls, and dumplings are sometimes confused, so here's a quick rundown of each:
Dumplings and pot stickers are similar in appearance but cooked differently. For the characteristic crunchy bottom, one is steamed, while the other is pan-fried and then steamed.
Gyozas are elongated Japanese dumplings with a thinner wrapper. They're made in the same way as pot stickers: first pan-fried, then steamed.
Wontons are rounder than pot stickers and are made from a different dough. They can be steamed, fried, pan-fried, or boiled.
While both eggrolls and wontons have the same wrapper, wontons are smaller and have different fillings. Wontons can be steamed or boiled, whereas eggrolls are usually fried.
How to Store Wonton Wrapper
Wonton wrappers can be stored in a plastic bag in the refrigerator for up to a week or frozen for up to six months.
Freeze in small batches of 5 to 10 wrappers so you can thaw and use what you need without having to defrost the entire batch.
What Can I Replace Wonton Wrappers With?
It's possible to run out of wonton wrappers in the middle of preparing snacks, especially if you're throwing a party or simply cooking dinner at home.
So going to the store right away might not be an option.
Instead of wonton wrappers, what else could you use? Egg rolls can also be used as a substitute for wonton wrappers. The ingredients for both foods are the same.
The only distinction is in their size, consistency, and application.
If you want to make fried or pan-fried wontons, use egg roll wrappers. They don't work well with steamed wontons, unfortunately.
Ingredients that complement wonton skins include:
Many of the recipes below contain these ingredients. If you have them on hand, you'll be able to come up with more creative ideas.
soured milk
cheese (mozzarella, cheddar, or parmesan)
tamari sauce
sauce de canard
seeds of sesame
Recipes with Wonton Wrappers
From crab rangoon appetizers to crispy fried wontons, this list includes a variety of recipes that use wonton wrappers.
Baked chicken wontons and classic Cantonese wonton soup are also available.
In addition, go over a simple recipe for making your own wonton wrappers at home so you don't have to buy them at the store.
Soup with Wontons
The word "wonton" means "cloud swallowing" in the Cantonese dialect of Chinese. That's because the wonton, a small dumpling, appears to float in soups like clouds do in the sky.
The similarity, however, ends there. Water vapor is far less filling than wonton dumplings. They have a savory flavor and are commonly made of minced pork.
They are popular in wonton soup. Don't let their diminutive size fool you into thinking they're not filling.
Crab Rangoon
Trader Vic's chefs invented the classic crabmeat and cream cheese appetizer crab rangoon, which you can make at home.
This appetizer is also known as a crab puff and is popular in Thai cuisine.
It's not the healthiest way to eat a wonton because it's deep-fried and filled with cheese, but if you're craving comfort food, you can't pass up this decadent treat.
If you want to be a party hit, serve this dish. The best part is that the dipping sauce can be used in a variety of ways.
Serve with duck sauce, sweet and sour sauce, mustard sauce, or spicy chili sauce.
Fried Wonton
Chinese vegetables add flavor to this easy-fried wonton recipe, which involves filling wonton wrappers with ground pork and seasonings and deep-frying them.
The best thing about fried wontons is that you can stuff them with almost anything, from traditional Asian flavors to Hispanic or Italian flavors and ingredients for a unique twist.
Baked Chicken Wontons
Fried wontons are probably not for you if you're on a diet or making lifestyle changes due to health concerns. Instead, try baked chicken wontons.
Instead of deep-frying, this healthy appetizer made with reduced-fat peanut butter, curry paste, and lime juice is baked, which not only cuts down on fat and calories but also seals in the flavors.
Siu Mai (Shumai) Dumplings
Steamed Siu Mai (Shumai) dumplings filled with shrimp (or other meats). They're a healthier alternative to fried wontons, just like baked wontons are. Gyoza wrappers or regular wonton wrappers that have been cut into circles can be used to make this dish.
Vegetables Potstickers
Although traditional potstickers are made with hot water dough, wonton wrappers cut into circles work just as well. These vegetarian potstickers are a great way to get the benefits of vegetables in a delicious package if you're trying to eat more vegetables but don't like the taste of most greens.
Wonton Wrapper (Homemade)
Make your own wonton wrappers with the simple recipe above. You can avoid the sodium and preservatives found in mass-produced versions by making this appetizer in your own kitchen.
Questions Frequently Asked
Are wonton wrappers and egg roll wrappers the same thing?
These two wrappers are distinct from one another. While they're both made with the same ingredients, they're made differently and used differently.
If you don't have any wonton sheets on hand, you can make fried or pan-fried wontons with egg roll wrappers. If you want to make steamed wontons, egg roll wrappers will not work.
How long do wonton wrappers last in the fridge?
The following are the steps for storing wonton wrappers in the refrigerator: Fill an airtight container or storage bag with the mixture. (You can store them in an unopened package if you have one.) Refrigerate for 7-10 days before serving.
Are dumpling wrappers and wonton wrappers the same thing?
Dumpling wrappers can be found in Asian markets and some supermarkets' refrigerator sections. Wonton wrappers can be used in place of dumpling wrappers, though they will not pleat as well. If you're using square wonton wrappers instead, cut them into rounds before using.
Can You Make Ravioli With Wonton Wrappers?
You can make ravioli with the same dough. Use it in the same way that you would pasta dough.
What makes wonton wrappers different from rice wrappers?
Although both wrappers are used as outer coverings, the ingredients used to make them are completely different.
All-purpose flour, egg, salt, cornstarch, and water are used to make wonton sheets, while rice wrappers are made with rice flour, tapioca flour, salt, and water.
Is it possible to simply fry wonton wrappers?
Fried Wonton Strips are deliciously crispy and simple to prepare.
Only wonton or eggroll wrappers and oil are required. They have the same flavor as the crunchy strips served at most Asian restaurants.
What's the best way to make crispy wonton wrappers?
Fill a Dutch oven halfway with vegetable oil and heat to 350° over medium-high heat. Each wonton wrapper should be quartered. Fry 15 to 20 seconds on each side, in batches, until golden brown and crisp. Sprinkle with kosher salt and drain on a wire rack over paper towels.
What are the ingredients in Crab Rangoon wrappers?
Wonton wraps are small square flat dough wraps made with an egg, flour, and water mixture. Eggroll wraps are made from the same dough as regular wraps, but slightly larger.
This recipe can be made in either size. Crab rangoons made at home are typically smaller than Chinese takeout rangoons.
How many carbs in wonton wrappers
58 g
Total Carbohydrate
Wonton wrappers near me ~ where to buy wonton wrappers/ where are wonton wrappers in grocery stores/ where can I buy or find/
You can order them online from big stores like Walmart or target