Lumpia Wrappers: Easy Asian Spring Roll Wrapper Recipe
Lumpia Wrappers | Easy Spring Roll Wrappers Recipe | Asian Wrappers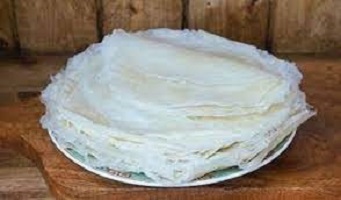 Choosing wrappers to make your own spring rolls might be difficult because most Asian markets have a variety of wrappers to choose from.
You can select between two wheat-based wrappers for lumpia, the Filipino variant of spring rolls.
Lumpia wrappers are thin, spherical skins that resemble crepes when fresh. Because these wrappers are precooked, they do not require frying.
What are Lumpia wrappers?
[Pronounced LOOM-pee-ah]
The thin sheets produced from wheat flour, salt, water, and oil are known as lumpia wrappers.
Because of their square shape, they are ideal for wrapping Filipino spring rolls.
Not to mention that they are vegan-friendly because they do not contain eggs. They have the appearance of a thin crepe.
Lumpia rolls are made with the thin wrappers. Lumpia is a deep-fried Filipino egg roll that is also served fresh.
Spring roll wrappers are frequently offered as lumpia wrappers.
Where To Buy Lumpia Wrappers Near Me. 
Lumpia wrappers can be found in the frozen food area of most Asian supermarkets.
Amazon.com, Walmart.com, Simex.com, Safeway.com, and Target.com are all good places to look for them online.
You may also make your own at home by following the 9jafoods recipe below.
Lumpia wrappers are also quite easy to work with when compared to most other forms of dough.
They don't take much kneading or rising time, and no special ingredients or equipment are required.
Lumpia wrappers are also relatively inexpensive, using only a few pantry staples: flour, water, and salt.
Making your own food is not only less expensive, but also healthier than store-bought goods that have been packaged and processed for days!
Other names for them are Chinese spring rolls, Popiah skins, egg roll wrappers, Shanghai Filipino style, and spring roll wrappers.
What Is Lumpia Wrapper Made Of?
The best wrapper is usually produced using rice flour and water, although alternative components such as maize flour, tapioca starch, and cornstarch can also be used.
In many Asian communities, lumpia wrappers are a popular snack. They're commonly packed with a flavorful blend of ground pork, vegetables, and/or shrimp and wrapped in a thin, transparent spring roll wrapper. Before used, the lumpia wrappers can be fried or boiled.
Best lumpia wrappers come in a variety of shapes and sizes, allowing them to be rolled into any shape desired. They are versatile, as they can be eaten raw or fried for added crunch.
Lumpia wrappers have been on the market for almost three decades and have long been a favorite in Asian cuisines around the world!
Lumpia Wrapper Recipe: How to Make Homemade Lumpia Wrappers – How can I make Lumpia?
Begin by combining the batter to make easy and flawless homemade spring roll wrappers that require no dough kneading or fermentation time. The lumpia wrapper maker machine will do a perfect job
Ingredients for Spring Roll Wrapper
Two Cups Flour
2 tbsp cornflour
¼ Tsp Salt
1 Cup Water
Instructions
Firstly, in a large mixing basin, whisk together the flour, cornflour, salt, and water. Using a strainer, remove any lumps from the batter.
Then, melt the butter in a stick pan over low heat and pour in the batter in a circle. Allow cooking for a few minutes without stirring.
After that, turn up the heat on the skin until it turns white and the sides curl up and become translucent. Transfer on a cooling rack to cool completely.
The next step is to clean the pan and repeat the process all over again. The skins can be used to make shanghai Filipino lumpia, savory spring roll sheets, and pancakes.
Keep the wraps moist by placing them in a bowl and covering them with a damp cloth.
Serve and enjoy!
Tips
If the skin adheres to the griddle, wipe it clean with a damp kitchen towel before re-using it.
Storage
The wraps can be kept in a plastic bag in the fridge for a few days or frozen for months.
FAQs
What Is the Best Way to Defrost Lumpia Wrappers?
If you enjoy Asian pastries, we're confident you'll enjoy lumpia wrappers. People usually store them for later use, but thawing is a delicate process.
"How to defrost lumpia wrappers" is outlined below.
The first approach is to leave them at room temperature for thirty minutes; if you don't have thirty minutes to spare, simply microwave them for a few seconds.
Not to mention, before using the microwave, make sure to cover them with a napkin to prevent them from becoming hard.
Spring roll wrappers vs. lumpia wrappers
Lumpia wrappers, also known as Popiah or spring roll wrappers, are thin paper-like skins that are used to wrap spring rolls.
The homemade lumpia wraps are bouncier and more durable than the store-bought variety. They're produced with only four basic ingredients.
Is a lumpia the same as a spring roll?
Lumpia are spring rolls with a Filipino twist. The wrappers are thin and delicate, but robust enough to contain fillings, and are often prepared with flour, cornstarch, and water.
They can be served either fresh or fried.
Substitute for Lumpia Wrappers – Can I use something else instead of lumpia wrappers?
If you don't have spring roll wrappers on hand, use the following as an alternative:
Egg roll wrappers, which are thicker, can be used.
Similarly, for baked or fried you can use wonton wrappers
Additionally, rice paper or tapioca spring roll wrappers can be used.
What is lumpia in English?
It literally means "wet spring roll," but it's also known as "fresh spring roll," which refers to a spring roll that hasn't been fried.
Served with sweet tauco sauce (another Hokkien term for salted soybeans), it is similar to the Vietnamese spring roll, but with bean sprouts, carrots, shrimp, or chicken.
What is the difference between egg and spring rolls?
Egg rolls are wrapped in a thicker, visibly crispier wrapper that has been dipped in egg for richness, whereas spring rolls are coated in thin flour or rice wrappers.
Preparation is essential. Meanwhile, spring rolls can be baked or fried, and the filling is sometimes not cooked at all.
Are spring roll wrappers healthy?
Are spring rolls good for you? Fresh spring rolls are extremely healthful, especially when stuffed with raw vegetables and lean protein.
The wrapper is the most common source of concern about the healthfulness of spring rolls. The fat and calorie content of spring roll wrappers is modest.
The Bottom Line
Lumpia skins, also known as little chops, have acquired popularity in several areas of the world, including Nigeria.
They are commonly filled with minced beef or chicken and veggies and served as an appetizer before main courses at celebrations, in addition to being wonderful street food.