Papaya Leaf Juice Benefits for Skin, Hair & Health: Recipe
Papaya Leaf Juice Benefits for Skin, Hair & Health: Recipe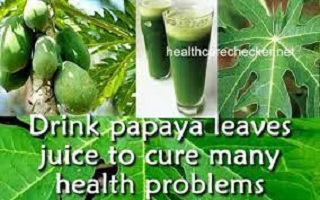 Highlights
Papaya plants can be used for a variety of health benefits.
The leaf, just like papaya, is high in enzymes like papain and chymopapain.
Papaya leaf juice boots the platelet count
In test-tube and animal experiments, papaya leaf includes unique plant chemicals that have proven broad pharmacological potential.
Related >>>>
Despite the paucity of human study, many papaya leaf preparations, such as teas, extracts, pills, and juices, are frequently used to treat ailments and boost health in a variety of ways.
Papaya Leaf Juice Benefits
Several plant parts have been utilized in traditional medicine to cure both basic and deadly human and animal ailments.
Neem, holy basil, dandelion, aloe vera, and mint leaves are the most prevalent.
However, papaya leaf has lately been included in this list of therapeutic leaves. Its extract, commonly known as papaya leaf juice, can help you recover from parasite fevers like dengue and boost your immunity.
What Is Papaya Leaf Extract or Juice? Papaya Leaf Juice Benefits
Papaya leaf extract is a concentrated extract used to treat skin allergies, wounds, scars, blemishes, hair loss, dandruff, and fungal and bacterial infections.
This thick, bitter extract is diluted with water to produce a gentler juice that you can drink.
Nutritional information of Papaya Leaf Juice Benefits
One of the best detox drinks you can get is papaya leaf juice.
Vitamins A, B, C, and E, as well as minerals like calcium, phosphorus, and iron, are all present.
Phytochemicals such as saponins, tannins, alkaloids, and flavonoids, particularly -carotene, are abundant in the leaves and work synergistically to cleanse your blood, enhance circulation, and heal the GI tract issues.
Manage hypertension, diabetes, and a variety of cardiovascular disorders by protecting your liver and kidneys against inflammation.
Papaya Leaf Juice Benefits: Here are 7 papaya leaf uses and benefits.
This yellowish-orange fruit is high in nutrients and therefore beneficial to our health.
It has antimicrobial characteristics and can be utilized in practically any section of the papaya plant.
Papaya is the most consumed portion of the papaya plant, aside from the fruit.
The most popular therapy for raising platelet count is papaya leaf juice.
It has exploded in popularity in recent years as a result of its numerous health benefits.
It's high in digestive enzymes including papain and chymopapain, which help with digestion, bloating, and other digestive problems.
It contains an alkaloid ingredient that effectively combats dandruff and baldness.
Vitamins A, C, E, K, and B are abundant in the leaves.
Teas, extracts, juices, and pills made from papaya leaves are frequently used to treat illness and maintain good health.
Below are seven health benefits of papaya leaf juice, as well as how to make it the right way:
Can treat dengue symptoms
Has anti-cancer properties
Can help in balancing blood sugar level
Support hair growth
Has anti-inflammatory effects
Supports digestive health
Can promote healthy skin
How to make papaya leaf juice ~ Papaya Leaf Juice Benefits
To make the juice, firstly, take 5-10 fresh and tender papaya leaves. Then, wash them under the running water 5-6 times.
Secondly, cut off the stem. After that, chop the leaf, just like you would chop cabbage, and add it to the blender with some water.
Thirdly, puree it and the juice are almost ready. Lastly, strain the mixture, fill the fresh juice in glass bottles, and refrigerate to use later.
Dosage
One can have up to 100 ml of papaya leaf juice in three parts during the day to treat symptoms of dengue.
You can add a bit of salt or honey to make the juice taste better.
Side Effects of Papaya Leaf Juice
Papaya may trigger severe responses in persons who are allergic to it.
On the skin, papaya latex can be a strong irritant and vesicant.
When taken orally, papaya juice and seeds are unlikely to cause side effects; however, heavy consumption of papaya leaves may induce gastrointestinal irritation.