How to Make an Avocado Shake: Avocado Shake Recipe
How to Make an Avocado Shake: Simple Avocado Shake Recipe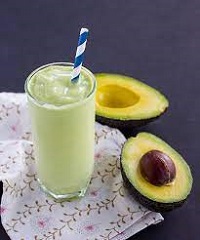 Avocado is a tasty and versatile fruit that is also extremely nutritious. This buttery fruit is high in monounsaturated fats, which are beneficial for you, yet it has no cholesterol.
They're also a good source of potassium, vitamin K, vitamin B6, vitamin C, and vitamin E for vegans.
Related >>>>
How to Make an Avocado Shake
Avocados are ideal for making creamy, substantial milkshakes since their flesh is thick and buttery.
With only a few more ingredients, you can make a delicious and gratifying drink that can be enjoyed at almost any time of day.
Make one for breakfast to get your day started right, or for a filling afternoon snack.
An avocado smoothie can also be enjoyed as a sweet and healthy dessert.
Turn avocados into a delicious, refreshing season cooler when they're in season. Depending on how sweet you prefer your drinks, you can add as much (or as little) sugar as you like.
How to Make an Avocado Shake
This simple avocado shake recipe creates the healthiest,  richest, creamiest, and most delectable milkshake that you can enjoy at any time of day.
Avocados are packed with vitamins and minerals, and they're easy to customize as vegetarian or vegan snacks/keto avocado shake with your favorite toppings.
Nutritional Information – Benefits
Avocados are a nutrient-dense fruit that is high in potassium; folate; Vitamins K, C, E, B5, and B6.
Avocados are very fatty–as much as 77% fat–but they're low in saturated fats and rich in heart-healthy, monosaturated fatty acids.
The avocado's richness and healthiness make it ideal for a refreshing milkshake that seems healthier than your typical dessert.
Avocado Shake is subtle and tempting – avocados are one of my favorite fruits! It is not an exaggeration to state that it tastes fantastic! Discover how simple it is to prepare this delicious avocado shake.
Step-by-Step Instructions
Avocado shake recipe: How to Make an Avocado Shake
Making a great, healthy, and deliciously refreshing avocado smoothie at home takes only a few minutes.
Make a batch for breakfast or an afternoon snack by following these simple steps.
Ingredients
1 ripe avocado, peeled and pitted
2 cups ice (16 to 20 ice cubes)
½ cup condensed milk, fat-free and sweetened
½ to 1 cup non-fat milk, cold
Instructions 
Firstly, halve the avocado. Then, fill a blender halfway with avocado flesh.
Secondly, puree until fully smooth with the ice cubes, condensed milk, and the least amount of non-fat milk.
After that, taste and adjust the consistency with more milk if necessary
Serve immediately in two (2) large glasses.
This recipe serves two people.
Notes on the Recipe
Before using, make sure your avocado is ripe. Avocados that aren't fully ripe have a bitter flavor.
Then, cut the avocado in half by slicing it around the pit.
Don't cut it down the middle. From the top of the stem to the bottom, slice the avocado.