Krispy Kreme Doughnut Recipe (Copycat)
Krispy Kreme Doughnut Recipe (Copycat)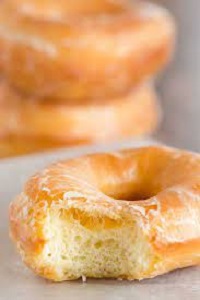 A copycat recipe for Krispy Kreme doughnuts – they're light, airy, and covered in a barely-there glaze
Best Krispy Kreme Glazed Doughnuts are the original glazed yeast-raised doughnut that made Krispy Kreme famous.
When the "HOT" sign at Krispy Kreme is on, I've been known to take a detour, but since I discovered the recipe secret at home, I've become immune to the allure of the brightly illuminated signage.
If you are a Krispy Kreme Doughnut fan, you'll adore this simple and delicious recipe that has received amazing reviews.
I know what you're thinking: why make these at home when the store-bought version is so much affordable and just as good? Making these at home is incredibly fulfilling for me.
Another Copycat Recipe >>>>
Krispy Kreme Doughnut Recipe (Copycat)
It works! With a few tweaks, these Baked Krispy Kreme donuts are a great knockoff. They're not perfect, of course, because part of the Krispy Kreme Doughnut magic is in their air-pressurized extruders, but if you want to make this recipe at home, look no further.
The greatest time to eat these doughnuts is right after the glaze has dried! You can create these if you can make a cake. It's not difficult to make them. These are about to become your new go-to snack.
It's even possible to make it without using a mixer or without yeast and if you do not want to oven bake, you can simply use an air – fryer.
Enjoy a Krispy Kreme Copycat Doughnut Recipe glaze recipe anywhere and anytime
This donut recipe is going to take you straight to that feeling you get, the moment you walk into a Krispy Kreme shop and the "HOT NOW" neon light illuminates, signaling that a fresh batch of chewy doughnuts has just been removed from the oven.
ENJOY!!
Krispy Kreme Doughnut Recipe (Copycat) – Donut Recipe Inspired by Krispy Kreme – How to make
These doughnuts have a similar flavor to Krispy Kreme's. Every bite will melt in your mouth because they're light and fluffy. They're easy to make and everyone will enjoy them!
When you can create everyone's favorite donuts fresh in your kitchen, there's no need to worry about whether the "hot light" is on.
People won't believe you prepared these delectable morning delights at home because they taste so much like the original.
Krispy Kreme donut ingredients
Doughnuts
2 ¼ tsp active dry yeast
½ cup warm water, 110 degrees
¼ cup granulated sugar, divided
¼ cup evaporated milk, warmed to 110 degrees
½ tsp salt
¼ cup vegetable shortening, at room temperature
1 large egg
1 egg yolk
½ tsp vanilla extract
2 ½ cups all-purpose flour, then more as needed (scooped and leveled)
3 – 4 cups vegetable shortening, for frying
Glaze
2 Tbsp unsalted butter, melted
1 1/3 cups powdered sugar
1 pinch salt
2 tsp evaporated milk
½ tsp vanilla extract
3 – 4 tsp hot water
Instructions
Firstly, combine yeast, warm water, and 1½
teaspoon sugar in the bowl of an electric stand mixer. Then, allow for a 5- to the 10-minute recovery period. Meanwhile, combine evaporated milk, remaining granulated sugar (3 tbsp + 2 ½ tsp), salt, ¼ cup shortening, egg, egg yolk, and vanilla extract in a mixing bowl.
Secondly, add half of the flour and beat until smooth in a stand mixer fitted with a whisk attachment. Then, switch to the hook attachment and gradually add the remaining flour, kneading on low speed for 4 to 5 minutes, or until smooth and elastic, adding more flour as needed.
Thirdly, place dough in a lightly oiled bowl, cover with plastic wrap and set aside to rise for 1 ½ hour in a warm place.
Fourthly, knead the dough and roll it out into a uniform sheet on a floured board to a thickness of just less than ½ inch.
After that, using a doughnut cutter or two circular circle cutters, make doughnut shapes (one large and one small for holes). Allow 30 – 40 minutes for the dough to double in size.
In a cast iron dutch oven, heat shortening to 360°F (don't walk away from the oil while it's preheating, and don't let it rise beyond 375°F; remove from fire and adjust heat as needed).
Donut Glaze: In the meantime, make the glaze by combining all of the glaze ingredients in a shallow dish (don't add too much water; you'll be dipping warm doughnuts in it, so it shouldn't be runny; it should be fairly thick).
Carefully transfer doughnuts to oil (I could cook 3 at a time) and fry until golden brown on the bottom, then turn with a wooden chopstick and fry until golden brown on the other side.
Lastly, transfer to a wire rack to cool for 1 to 2 minutes before dipping the top half in glaze while still warm and returning to the wire rack to set at room temperature. It's best served hot.
If preferred, reheat in the microwave for 5 to 10 seconds once cool.
Nutrition ~ Krispy Kreme Doughnut Recipe (Copycat)
Calories: 335kcal | Carbohydrates: 39g | Protein: 4g | Fat: 17g | Saturated Fat: 15g | Cholesterol: 6mg | Sodium: 122mg | Potassium: 65mg | Fiber: 1g | Sugar: 18g | Vitamin A: 70IU | Vitamin C: 0.1mg | Calcium: 20mg | Iron: 1.3mg
Frequently Asked Questions on Krispy Kreme Doughnut Recipe (Copycat)
How to Store ~ Krispy Kreme Doughnut Recipe (Copycat)
Donuts are best consumed the same day they are made. If you can't finish them all in one sitting, keep them out of the air or they'll dry out. A foil-wrapped baggie or plate is an excellent option.
How Long Do You Think They'll Last? Krispy Kreme Doughnut Copycat Recipe
Store for up to 2 days at room temperature. If you keep them in the fridge, they'll last a little longer (3-4 days).
Is It Possible to Freeze Them? Krispy Kreme Doughnut Recipe (Copycat)
Yes! Donuts can surely be frozen. Eat within 2-3 months of freezing for the best benefits. Microwave for 20-30 seconds to thaw after freezing, or bake for 5 minutes at 350 degrees.
The dough can also be frozen. Cut into rings and freeze for one hour on a baking sheet before storing in an airtight container.
Donuts are best consumed the same day they are made. If you can't finish them all in one sitting, keep them out of the air or they'll dry out. A foil-wrapped baggie or plate is an excellent option.
Because ice crystals might cause oil to splatter, make sure doughnuts are thawed and at room temperature before frying.
What's the best way to reheat frozen Krispy Kreme donuts? Krispy Kreme Doughnut Recipe (Copycat)
Freeze any leftover doughnuts in a resealable plastic freezer bag. To reheat the frozen doughnuts, place them on an oiled baking sheet and microwave for 8 seconds.
What is it about Krispy Kreme donuts that makes them so good? Krispy Kreme Doughnut Recipe (Copycat)
They're cooked in-house (and fried, not baked).
Krispy Kreme produces (and fries) its doughnuts in-house, which is one of the reasons they're so fantastic, especially when compared to competitors that simply bake pre-made doughnuts in an oven.
Those establishments serve hot, fresh, and high-quality donuts. They're fantastic.
What is the secret to Krispy Kreme Donuts? Krispy Kreme Doughnut Recipe (Copycat)
You accomplish the precise doughnut shape using an air-pressurized extruder, which also gives the pastries a head starts on puffiness.
After 30 minutes of proofing (or rising), fry the doughnuts in vegetable shortening on both sides before glazing with a warm sugar glaze.