KFC Coleslaw (Copycat) Recipe – So Easy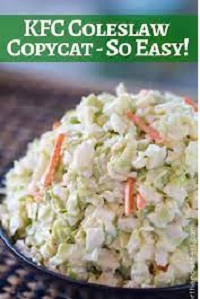 Copycat Recipe for KFC Coleslaw is a five-minute side dish made with your favorite chicken and other ingredients.
Tastes precisely like the original, it's sweet and oh-so-creamy, and it's a delightful, crunchy, and sweet side dish you'll want to make at home.
Do you frequently eat breakfast, lunch, or supper at a favorite restaurant, such as KFC, and wonder if you can replicate their dishes at home?
Easy Copycat KFC Coleslaw – This KFC Coleslaw (copycat) is definitely one of the easiest copycats I've ever worked on. The ingredients were easy to come by.
As a result, I can prepare my favorite restaurant dish at home in my own kitchen! This recipe is perfect! This dressing has the same flavor as the original.
When it comes to KFC's menu options, coleslaw isn't the only thing that springs to mind.
However, if you've never tasted the finest Kentucky fried chicken coleslaw recipe, you're missing out.
You'll become a raving fan of KFC's mouth-watering, crisp, and sweet Cole slaw side dish.
This is an excellent knockoff of the famous KFC Coleslaw recipe. It's zesty, sweet, and creamy all at the same time!
This is my go-to recipe for coleslaw. Is there anyone who dislikes KFC's Coleslaw Recipe?
KFC Coleslaw Recipe – What Makes This Recipe So Delectable?
Preparation is easy.
Ingredients are easy to find
In a big mixing cup, combine all ingredients and refrigerate until ready to eat.
For a picnic, combine this coleslaw with other favorites like Macaroni & Cheese, or serve it with chicken for a delicious meal.
This recipe has the added benefit of being able to be made with or without milk or buttermilk, depending on your preferences.
How to Make a KFC Copycat Coleslaw Recipe
Coleslaw Copycat from KFC
This Copycat KFC Coleslaw is outstanding. The flavor is perfect! Remember to include the two secret ingredients to make it taste exactly like (or even better than) the restaurant version!
Instructions
Firstly, shred the cabbage and then, dice the carrot nicely.
Secondly, mix all veggies in a large mixing bowl.
After that, whisk together the dressing ingredients in a medium mixing bowl.
Then, pour over the veggies and stir all with a wooden spoon.
Finally, cover the bowl with a saran wrap and place it in the fridge for at least 4 hours, preferably overnight.
Stir again before serving.
What is KFC Copycat Coleslaw made of?
To make the coleslaw you will need:
Course: Salad
Cuisine: American
Servings: 8 people
Calories: 125 kcal
Ingredients
½ cup mayonnaise
¼ cup milk
¼ cup buttermilk
1/3 cup granulated sugar
1 tsp salt
¼ tsp ground black pepper
1 and ½ tbsp white or apple cider vinegar
2 and ½ tbsp lemon juice
4 cups shredded then diced cabbage about ½ of a medium head
1 medium carrot
¼ medium yellow onion minced
Enjoy KFC Coleslaw Recipe with