Iwuk Edesi: How to Cook Nigerian Native Jollof Rice
Iwuk Edesi also referred to as Palm Oil rice or native jollof rice is a rich Jollof rice dish common with the Ibibio and Efik tribes of South Southern Nigeria.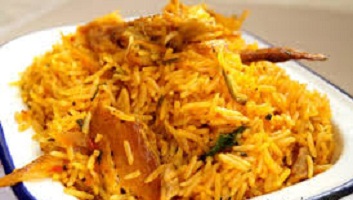 Native jollof rice is a delicious Nigerian delicacy prepared with palm oil hence the name "palm oil jollof rice, unlike Jollof Rice that is prepared with Vegetable oil.
Palm oil gives this village rice an orange color and a distinct taste and flavor.
Iwuk Edesi is a dish rich in seafood and can be cooked with or without vegetables. You can add as much protein as you'd like, although smoked fish is commonly used.
Other local ingredients like fermented locust beans, vegetables – Ugu (pumpkin leaves)/spinach/kale, and dried seafood are also added to the dish.
Iwuk Edesi aka palm oil rice should be comparable to any Jollof recipe but the reverse is the case.
This concoction rice has been relegated to the background over the years maybe because of the now-debunked theory that Palm oil is bad for your heart.
To learn more about palm oil, please read:
4 Simple Ways Of Extracting Palm Oil At Home And Health Benefits
Native Jollof Rice Recipe: How to Cook Iwuk Edesi
Like a lot of Nigerian foods, there are different versions of this local recipe which can be prepared with an assortment of proteins.
A combination of dried and fresh fish, as well as meat, is typically used, which, with the addition of vegetables, makes it a complete one-pot meal.
But for this post, the version I used involves the use of tomatoes and bell peppers; which is optional
You can use any kind of rice you like, Ofada rice also go well with this recipe
Iwuk Edesi Ingredients
2 cups of medium to long grain rice (washed in warm water and drained)
4 tbsps. Palm oil
2 plum tomatoes(cut into little pieces) (optional)
1 red bell pepper (optional)
1-2 crushed habanero peppers or ata-rodo
Medium-sized onion
tbsp dry ground pepper or red chilli flakes
2 tbsps. Dry ground crayfish
¼ cup whole dry prawns
1 large dry fish or 6 small ones
½ cup of chopped basil or scent leaves
Bouillon
2 cups hot meat stock or water
Salt to taste
Instructions
Firstly, wash the rice in lukewarm water and drain
Then, puree the bell pepper, habanero peppers and half of the onion and drain out the excess water
After that, slice the tomatoes into thin slices
Lastly, soak the fish and prawns in warm water to soften, then drain and set aside
Method
Firstly, in a cooking pot or skillet, melt the oil (do not bleach), slice, and pour in the remaining onion and sauté until translucent.
Secondary, add the tomatoes and blended crayfish. Sauté tomatoes for 5 minutes; then add the pepper blend and fry for another 5 minutes; while stirring constantly.
Thirdly, add half of the dry fish and prawns, the bouillon or salt along with the rice and stir; ensure the oil coats each grain of rice.
Fourthly, pour in the meat stock or water just to the level of the rice or a little above. Bring to a boil; then reduce the heat.
Cover the pot with a foil wrapper and a tight lid. Cook the rice for about 15 minutes on low heat.
Lastly, adjust for seasonings and add the dry pepper, scent leaves, the remaining dry fish, and Prawns.
Furthermore, if the rice is still hard, do not stir. Cover the pot and turn off the heat. Leave for about 10 minutes untouched.
The remaining heat in the pot will steam the rice until aldente (firm to the bite). Stir the rice and serve
Recipe Notes
You may wish to add a tbsp. of Ogiri Okpei or Iru for that sharp traditional distinct taste.
Just as you would serve any rice dish you can serve iwuk edesi with beans, moi – moi, fried or boiled plantains or with a side dish of sautéed leafy greens