Stuffed Sausage Recipe: Keto, Gluten-Free & Low-Carb
Stuffed Sausage Recipe is perfect for any night of the week. It is an easy dinner for the whole family.
Stuffed Sausages is a fun meal and the kiddies and adults will love them! Oh, and it's quite affordable!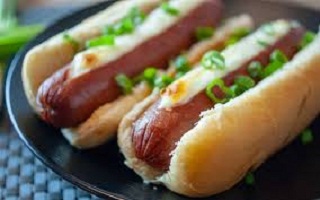 These stuffed sausages are a really versatile meal. You can use vegetarian sausages if you like, otherwise go for a meaty option with either pork, chicken or beef sausages.
Sausage balls are classic examples of what the ultimate comfort food should be. They're game-changers.
Learn how to make: https://9jafoods.com/sweet-sausage-rolls/
Not only is it a delicious sight to behold, the flavors from the mixture of cream and cheese are undeniably awesome.
Stuffed Sausage Meaning
According to https://www.merriam-webster.com/:
A highly seasoned minced meat (such as pork) usually stuffed in casings of prepared animal intestine
Also: a link or patty of sausage
https://www.wordnik.com/words/sausage
Finely chopped and seasoned meat, especially pork, usually stuffed into a prepared animal intestine or other casing and cooked or cured.
A small cylinder-shaped serving of this meat.
Trying to think up new ways to serve up the humble snag at dinner time? Here is a great way to cook sausages.
However, Do you know that with one easy trick you can stuff your own sausage? In just in few minutes you can stuff sausage and pop it into the oven to bake for dinner.
Stuffed Sausage Recipe
Now this is a simple dish you could make in just a few minutes. Without further ado, here's how it's made.
Ingredients (serves 6)
6 Thick sausages of your choice
2 Sweet potatoes
100 g Chopped spinach leaves
150 g Diced bacon
Sprinkle Cheese to top
1 Brown onion
Method
Firstly, cook off the onions and bacon in a pan
Secondly, chop the sweet potato into cubes and microwave until tender. Mash
Then, add the onion and bacon to the mashed sweet potato. Add chopped spinach, salt, and pepper to taste and mix
After that, cook sausages and split down the middle. Stuff with sweet potato mixture and top with the preferred amount of cheese
Lastly, place in a 180-degree oven until cheese is melted. Enjoy!
What to Serve With Stuffed Sausages
Serve this healthy meal with veggies, though a nice fresh salad in the warmer months would be great too
Recipe Variation
Above all, you can stuff in sausages with shells, mushrooms, acorn squash, peppers, cheese and onion, garlic and potato mash, etc.