Sweet Sausage Roll is a snack made with beef or pork filling wrapped in dough. It is a well-liked snack in Nigeria, which is why almost every eatery or fast food restaurant usually include sausage roll on its menu. Sweet sausage roll was introduced into the Nigerian market with Gala, the first brand name by UAC foods, in 1962. After that, Gala became the generic name for sausage rolls in the country. Sweet sausage rolls are also sold in supermarkets, commercial motor parks, open markets, street kiosks, and by street vendors. This snack is mostly served with a chilled drink (like coca cola, lacasera, yogurt, to mention but a few) and has saved many Nigerians from starvation especially when trapped in heavy traffic.
Also Read: Meat and Potato Pie Recipe In Nigerian Style
Sweet Sausage Rolls are best prepared at home where you can be sure of the quality and hygiene. Am yet to see a Nigerian who does not love freshly baked homemade sweet sausage roll-full, golden brown, warm, and fresh from the oven. Also, little children love to take this snack to school with packaged fruit drink. The beef or pork adds protein to it making it highly nutritious. In this write-up, I will be showing you how to make sweet sausage roll just like our Nigerian gala sausage roll.
Sweet Sausage Rolls Ingredients for the dough
4 milk cups of flour
A ¼ teaspoonful of Baking Powder
½ cup of Margarine
¼ a teaspoon of salt
¼ cup of cold water
1 egg (for coating the rolls)
Sweet Sausage Rolls Ingredients for the Filling
¾ cup or 170g of minced/ground sausage meat
¼ teaspoon of spices-ground nutmeg, dry pepper and grated onion(optional)
2 Tablespoon flour
1 seasoning cube
Direction
First of all, put your minced/ground sausage meat in a bowl; add spices (nutmeg, grated onion and dry pepper) and seasoning cube to taste. Mix very well and put aside. It's best to season the sausage to prevent a plain taste.
Equally important is to sieve the flour after which you add baking powder and a pinch of salt. Mix the dry ingredients thoroughly in a medium-sized bowl. Then add the margarine in bits, mix well by rubbing the butter into the flour with your hands. Continue mixing until the ingredients are well combined.
Thirdly and most importantly, add water gradually until a smooth and soft dough is achieved.
After that, sprinkle some flour on a dirt-free surface and knead with your hands. After that, place a small piece of the dough on a flat board and flatten the dough using a rolling stick.
Outline square/rectangular shape on the flattened dough and add the sausage filling along a straight line, then roll the dough over the sausage. Similarly, repeat the process for the remaining dough and sausage.
Then add butter to the baking tray, put little flour on the tray, turn the tray upside down to remove excess flour from the greased tray. This is done to prevent the sausage roll from sticking to the pan
Finally, place the sausage rolls (2 inches apart) on the greased baking tray, egg wash with the whisked egg and bake in a pre-heated oven at 350 degrees for 40 minutes or until the sausage rolls are lightly browned. Do not forget to turn the rolls at 10 minutes intervals for even baking.
Your sweet sausage roll is ready. Best served with a chilled drink of your choice.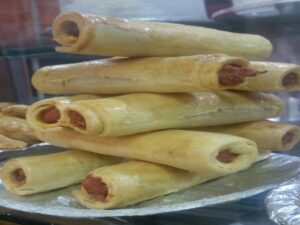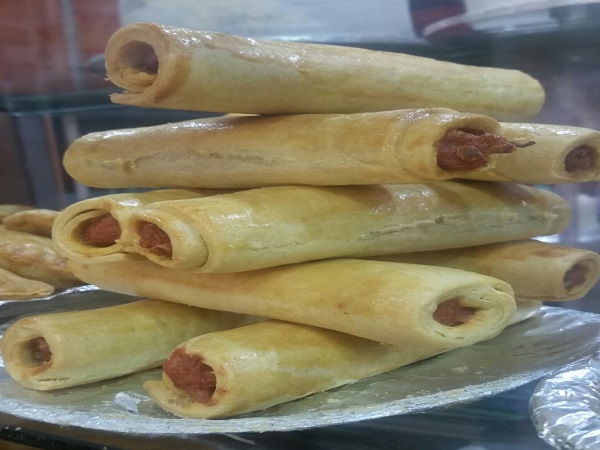 HAPPY NEW YEAR EVERYONE!