Nigerian Weekly Meal Plan for Breakfast, Lunch & Dinner
Nigerian Weekly Meal Plan for Breakfast, Lunch & Dinner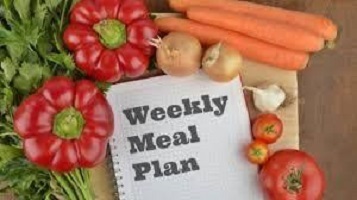 The Nigerian breakfast lunch and dinner meal plan for a week. Balanced diet menu for a week in Nigeria plus how to create a balanced diet plan using Nigerian menu
Please Read >>>>
Nigerian Weekly Meal Plan
Let's discuss Nigerian Weekly Meal Plan and the dining times in Nigeria for breakfast, lunch, and dinner.
Should we truly be able to eat whenever we want? Should the first thing we do when we wake up be to eat? Is it so important when we eat and how we eat?
It certainly does. You must prepare your body to receive nourishment daily. When you wake up in the morning, the first thing you should do is drink water, not bread.
It is a preparation mechanism to drink water first thing in the morning. Keeps you hydrated while flushing and cleaning your system. Some people even forget to drink water in the morning when they eat.
What can you consume in a week to maintain a healthy diet? Nigerian Weekly Meal Plan
Eat at least 5 pieces of a variety of fruits and vegetables each day
Eat at least 5 pieces of a variety of fruits and vegetables each day
Include some dairy or dairy substitutes (such as soya drinks)
Incorporate beans, lentils, fish, eggs, meat, and other sources of protein in your diet.
Nigerian Balanced Diet Weekly Meal Plan ~ Nigerian Weekly Meal Plan
According to the most recent recommendations, a balanced diet includes vegetables and fruits, which must account for around half of a human's plate serving because vegetables and fruits are the healthiest meals to consume.
Proteins and grains should make up the rest of the meal plate portion.
The best time to eat!  Knowing when to eat Nigerian breakfast, lunch, and dinner is essential.
BREAKFAST. – Eat within 30 minutes of waking up. – Ideal time to have breakfast is 7 am. …
LUNCH. – Ideal time to have lunch is 12.45 pm. …
DINNER. – The ideal time to have dinner is before 7 pm. …
WORKOUT MEALS. – Never workout (especially weight training) on empty stomach.
Nigerian Weekly Meal Plan
How to create a balanced diet plan for a week using Nigerian menu
Breakfast should be served between the hours of 7 and 9 a.m. Breakfast is no longer breakfast after 11 a.m., and breakfast should be light.
Don't start the day like a fighter…Hot soup with fufu. Your first meal has an impact on your entire body system for the rest of the day.
Combine tea, bread slices, and watermelon in a bowl. You can eat half a slice of bread with half an avocado (one avocado contains 324 calories, but some individuals eat two or even three, totaling almost 900 calories).
This is one of the reasons why people overeat.) It is best to eat half a slice. Breakfast can be beans, moi moi, or akara, which is preferable to fufu.
There are certain items that you consume in the morning that ruin your stomach for the rest of the day. So, in the morning, don't just eat anything.
To improve digestion, lunch should be 4 hours after breakfast. If you have your breakfast and lunch too close together, you can become constipated.
Lunch is the most important meal of the day, so include some veggies and meats. Eat a lot of meat, especially goat, chicken, or turkey. Every 2-3 days, eat an egg.
Their high protein content aids muscle growth. Fruit can be consumed one to two hours after lunch. Dinner can start at 6 p.m. and end at 8 p.m.
Food should not be consumed after 10 p.m., 11 p.m., or 1 a.m. Sleep like that if you didn't get your dinner.
Nigerian Weekly Meal Plan
People who eat late at night are more likely to gain belly fat and get constipation. Make a light dinner. 2 slices, not fingers, unripe plantain slices are fine.
Simply eat oatmeal or a fruit salad. Don't eat and sleep right away; instead, belch first, then sleep for two hours after dinner to allow your meal to digest.
Some people fall asleep while eating and wake up the next day, and for them… We are at a loss for words.
Don't stuff your belly with Eba for dinner… It's too hefty….  too weighty. That's why some people have headaches and stomachaches when they wake up in the morning.
And don't forget to drink plenty of water. Blend fruit instead of drinking fruit juice and you'll be OK.
Balanced diet menu for a week in Nigeria ~ How do you make a food schedule? Nigerian Weekly Meal Plan
Weekly Meal Plan for A Typical Nigerian Food Time Table
Sunday
Breakfast: Boiled yam, vegetable, fish stew, beverage, and water.
Lunch: Jollof rice, plantain, meat/chicken in fried pepper, and water.
Dinner: Sweet potatoes, egg with vegetables, and water.
Monday
Breakfast: Bread, peanut butter, tea, and water.
Lunch: Jollof spaghetti with vegetables and chicken/meat.
Dinner: Yam pottage with vegetables and fish.
Tuesday
Breakfast: Pancake, beverage, and water.
Lunch: Eba/amala, soup (okro/ewedu/ugwu), meat/fish, and water.
Dinner: Irish potatoes (grilled), fish stew, and water
Wednesday
Breakfast: Bread, sardine, and water
Lunch: Pounded yam, soup (ogbono/egusi), shaki/meat, and water.
Dinner: Spaghetti and corn beef stew
Thursday
Breakfast: Breakfast cereal, milk, and water
Lunch: Beans pottage with boiled yam and water
Dinner: White rice, vegetable sauce, plantain, and chicken
Friday
Breakfast: Bread, pepper stew, meat/chicken, and water
Lunch: Concoction rice with shredded fish or saki or pomo, water, and apple
Dinner: Yam pottage with vegetable and meat/turkey
Saturday
Breakfast: Moi moi, pap, water, and watermelon/pineapple
Lunch: Pounded yam, water, and ofe nsala
Dinner: Macaroni with mixed vegetables, meat/fish, water, and any fruit.
The key to a well-balanced diet is to include as much of each food group as feasible in each meal.
6 Steps to a Successful Meal Planning ~ Nigerian Weekly Meal Plan
Step 1: Assess the situation. Examine your pantry and refrigerator for staples that you already have and enjoy, as well as items that need to be used.
Step 2: Create a Meal Plan.
Stage 3: Concentrate on the word "fresh."
Step 4: Load up on protein…
Stage 5: Appreciate Your Leftovers…
Step 6: Make a plan ahead of time.
In Nigeria, how can I consume a well-balanced diet? Nigerian Weekly Meal Plan
Limit your consumption of animal fats. Cereals, legumes, roots/tubers, fruits, vegetables, seafood, lean meat, and local cheese should be included in the diet as much as possible (wara).
Salt, bouillon cubes, and sugar should be consumed in moderation. It is suggested to eat as much fruit as possible when it is in season.
Conclusion
Take care of your health by paying attention to what you eat and how you eat it. Take your time with this. Decide to live a healthy lifestyle…