Pawpaw Magical Health Benefits and Side Effects
Pawpaw, papaw, paw paw, or paw-paw, it doesn't matter how you pronounce it, is also commonly called Carica Papaya in many regions.
It is a cerise-orange colored juicy fruit that grows on deciduous tree producing a large, yellowish-green to red fruit.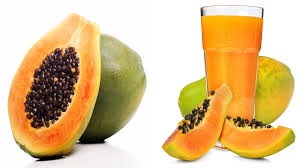 Popularly known as the fruit of the Angels, pawpaw is a fruit being enjoyed for its sweetness and medicinal purposes across the globe.
For You >>> Health Benefits of Monkey Kola You Should Know
What's a Pawpaw Tree?
Pawpaw trees produce large, edible, green fruits, also called pawpaws. The fruit is fragrant and has a distinctly bright, tropical flavor.
Most people agree that the best way to enjoy pawpaws is to eat them raw, picked from the tree when they are ripe and fresh.
But there are other several ways to use them- in a recipe and prolong the enjoyment of their tropical flavor further than the end of the harvest season.
Nevertheless, all parts of the pawpaw fruit; from its seeds to its leaves, peels, and many more are known and used for our health.
With many benefits for skin, health and hair, coupled with its tastiness, pawpaw is regarded as one of the most beneficial gifts nature has blessed mankind with.
Health Benefits of Pawpaw (Carica Papaya) – the benefits of this fruit will shock you!
Contains antioxidants
Used to treat digestive disorders
Helps to boosts male virility
Prevents premature aging
Helps ease menstrual pain
Asthma prevention
Protects against arthritis
Great eye care
Used as a cleanser
Boosts human immunity
Good for diabetics
Rich in fiber
Prevents heart attacks and strokes
Treats inflammation
Helps to improve hair health
Rich in vitamin
Helps with weight loss
Protects against skin damage
Improve heart health
Help to reduce stress
Relieves toothache
Prevents infections
Pawpaw Fruit Ideas
Firstly, the fruits are often eaten raw, picked fresh from the tree and eaten out of hand. But there are many other ideas for pawpaw fruit.
Secondly, the green pawpaw is an excellent alternative for squash or cherimoya.
Thirdly, the exotic flavor and creamy texture of pawpaw make it a star in jelly and jams, as well as a darling among bakers, who use the pureed flesh in pies and tarts.
Then, you can drink them, too.
Finally, their tropical quality means they can easily be swapped into recipes that call for papaya, mango, or banana.
Above all, pawpaw fruit ideas are numerous, whether it is eaten raw out of your hands, or you puree them and add them to a smoothie, recipe, ice cream, or pie. The list can go on and on.
Side effect
Pregnancy/Lactation
Please avoid usage. Information concerning safety and efficiency in pregnancy and lactation is lacking.