Carrot Soap Benefits For Skin Care + Recipe
Carrot Soap Benefits For Skin Care + Recipe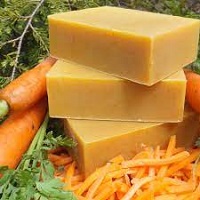 What Are the Benefits of Carrot Soap?
Carrot complexion soap benefits
Benefits of carrot soap for skin
Carrot health soap benefits on face
The carrot soap contains anti-aging properties, as well as vitamins A and C. Carrots, contain natural beta-carotene, which aids in cell repair. This lovely soap also contains organic coconut milk, which helps to moisturize.
The soap is one of the best skin care products available to thousands of Nigerian women today. It not only effectively cleanses the skin, but it also has several beneficial beauty properties.
Discover the benefits of carrot soap and try the carrot soap recipe!
Skin benefits of carrot soap ~ Carrot soap benefits for skin
So, what can carrot soap do for your lovely skin? The following are the most important beauty benefits of carrot soap.
Carrot Soap Benefits ~ Cleansing
Most importantly, carrot soap can serve as an excellent first step in your skin care regimen. After a long day, it gently but effectively removes dirt and grease from your skin, leaving it clean and ready for the next beauty steps.
Carrot Soap Benefits ~ Pores 
Carrot soap is well-known for its excellent pore-cleansing properties. Introduce carrot soap into your beauty routine if you have clogged pores and enjoy your new, dirt-free pores.
Furthermore, carrot soap reduces their size and visibility on your face.
Carrot Soap Benefits ~ Skin exfoliation
If regular scrub is too harsh for you to use daily, try carrot soap to achieve the smoothest skin ever.
The soap gently smoothens and polishes your skin, leaving it silky and smooth to the touch.
Carrot Soap Benefits ~ Acne
Carrot soap for acne is one of the most effective treatments for this common skin condition due to its well-known ability to cleanse pores and exfoliate the skin.
Using carrot soap regularly will gradually reduce the frequency of acne breakouts and the visibility of acne scars.
Carrot Soap Benefits ~ Lightening of the skin
Many women's lifelong dream is to have glowing, radiant skin, and carrot soap's whitening abilities are one of the reasons for its enormous popularity.
Is it true that carrot soap lightens the skin? The carrot soap skin-lightening effect is visible and real, according to thousands of online testimonials.
Other Carrot Soap Benefits include
Rejuvenates the skin
Effective in the treatment of blackheads and pimples
Heals wounds
Cures eczema
Useful for expanding veins
Dry acne
Good for the circulatory system
Prevents foot sweating
Improves hemorrhoids
It provides an anti-aging rejuvenating effect
It is beneficial for rose disease
Effective in the treatment of psoriasis
Carrot Soap Benefits For Hair
It prevents hair loss
Facilitates hair styling
Build up the scalp
Prevents eczema
Promotes new hair growth
Makes the hair look beautiful and well-groomed
Turns white hair into its true color
Removes dandruff
How to Use?
Use for hair care.
To use the soap, first, wet your hair, then apply it to your hair and thoroughly massage the scalp; finally, rinse with water.
Do not wash your hair or use shampoo for two days after application to prevent the nourished hair from losing its effect.
Use in facial care ~ Apply to the face.
If it is to be used for facial care and skin problems, the skin should be thoroughly cleaned and rinsed before use.
You can use the soap to massage your skin twice a day, in the morning and evening.
Use on the body
Bacteria and germs on the skin are cleaned and the body is cleansed by using carrot soap in every morning and evening bath and shower.
What is the best carrot soap?
The only question for those who want to experience the benefits of carrot soap is whether to buy it or make it at home.
There are several reputable skincare brands available; however, if you want to be completely certain of the ingredients you're using on your skin, make your carrot soap – it's not difficult!
Carrot soap recipe ~ How to make carrot soap
This recipe for carrot soap uses only the best ingredients that are known to be beneficial to the skin. What you'll need is as follows:
Carrots – 50g
Coconut oil – 150ml
Almond oil – 50ml
Olive oil – 200ml
Lye – 55g
Honey – 1tsp
Carrot oil – 5 drops
Water
Follow the steps below to make carrot complexion soap:
To begin with, boil the carrots until soft, and then mash them with a fork. Save the water used for boiling the carrots.
After that, stir in 100ml carrot water to achieve a smooth consistency.
Then, add the lye, stir well to combine, and set aside for a couple of minutes.
In addition, stir in the remaining ingredients – carrier oils, carrot oil, and honey – with a wooden spoon to incorporate the ingredients. You'll notice the mixture thickening quickly.
Lastly, pour the soap mixture into the prepared molds and allow hardening for up to 2 days before using it on your skin.
This is the most popular carrot soap recipe. You can customize it for your skin by using different carrier oils and replacing honey with another liquid ingredient if necessary.
Local markets have everything you need for effective skin care.
People also ask
Does carrot soap make your skin lighter? Does carrot help to whiten skin?
Yes, carrots are high in vitamins, and the beta-carotene in them helps to whiten the skin.
Is carrot soap effective for treating dark spots?
Carrot Soap Beauty Care Face is a highly effective soap made with Carrot extract, coconut oil, and Vitamin C as its main ingredients.
It exfoliates gently to remove dead skin, which clears the skin and eventually black spots. It also helps to brighten and tone the skin.
Can you wash your face with carrot soap?
With Shea Butter packed into a nourishing bar of soap, you can feel the difference between nature's best.
This natural soap for the face and body contains no fragrance or palm oil. The soap's smooth texture is intended for normal, sensitive, and dry skin.
How often should I use carrot soap?
Daily
Carrot Soap with Carrot Extract cleanses the skin, leaving it fresh and ready to use.
Use soap to cleanse your face, hands, and body daily. Massage into skin and thoroughly rinse.
What are the side effects of carrots?
Some people are allergic to carrots, and common side effects include skin rashes, diarrhea, anaphylactic reactions, hives, and swelling.
These allergies are caused by an allergen found in carrot pollen.
Can carrot soap get rid of pimples?
Shulammite Carrot Soap treats the following skin issues: pimples, blackheads, whiteheads, dark acne marks, oily skin, excessive sweat, mild rashes, and irritations like prickly heat.
Is hydroquinone present in carrot soap?
No, there is no hydroquinone in it.
Is carrot oil good for your hair?
It's said to even out skin tone and pigmentation. Hair Care Benefits:
This nutrient-rich, hydrating oil promotes scalp circulation, which strengthens hair roots and promotes stronger, healthier hair growth.
Carrot oil's nourishing and moisturizing properties make hair softer, smoother, and shinier.
Is carrot oil effective at removing dark spots?
Avila Carrot oil lightens dark spots and aids in scar healing.
It is effective for a variety of skin conditions, including psoriasis, eczema, boils, abscesses, itching, and vitiligo.
How do you lighten your skin with carrots?
It can be mixed with almond oil and added to cream to tone the skin and even remove wrinkles.
It is usually sufficient to add 3-5 drops of carrot essential oil to the base of 10 g oil or cream.
Helps to compensate for vitamin deficiency in the skin during the winter and early spring.
How many carrots are required to make your skin glow?
"It would take about 20 to 50 milligrams of beta-carotene per day for a few weeks to raise your levels enough to see skin discoloration," Dr. Piliang says.
"A medium carrot contains about 4 milligrams of beta-carotene." So, if you eat 10 carrots per day for a few weeks, you might develop it."
How good is the carrot on your skin?
Carrots are a fantastic snack for anyone looking to increase their intake of skin foods. They are well-known for treating skin conditions such as acne, dermatitis, pimples, and rashes.
Aside from being high in antioxidants, they are also high in beta-carotene, which helps to heal scars and blemishes on the skin.
What are the 8 benefits of carrots?
Benefits of Carrots
Help Promote Healthy Vision:
Aids Weight Loss:
Diabetes Management.
May Help Bones.
Improves Skin Health:
Helps Improve Immunity:
May Support Heart Health:
Digestive Health.
Does carrot juice clear skin?
"Carrot juice's beta carotene content makes it effective in controlling sebum production and reducing the incidence of acne breakouts," Mitsios said.
"I recommend drinking carrot juice in addition to applying it topically for more effective results."
Is it true that carrot soap bleaches the skin ~ Does carrot whiten the skin? 
Yes, carrots are high in vitamins, and the beta-carotene in them helps to whiten the skin.
Carrot soap for the Face ~ is carrot soap good for your face?
This soap's carrot ingredient will help to cleanse pores and improve skin and color. It also aids in the rejuvenation of sun-exposed mature skin.
Your skin will regain its radiance and youthful appearance.
Carrot soap for dark spots ~ what completely removes dark spots?
Dark spots on the skin can be removed with laser treatment.
Although dark spots on the skin do not require treatment, some people may wish to have them removed for cosmetic reasons.
A dermatologist can recommend creams or procedures to lighten or, in some cases, remove dark spots.
How long does carrot soap take to lighten skin?
The formula combines the natural lightening power of Carrot Oil and Gold Flecks extracts with other natural whiteners and Vitamin C to provide the desired skin solution in less than 2 weeks!
Extract-lightening herbal soap is beneficial for smooth, radiant skin.
How potent is carrot soap?
The soap contains anti-aging properties, as well as vitamins A and C. Carrots, contain natural beta-carotene, which aids in cell repair.
This lovely soap also contains organic coconut milk, which helps to moisturize.
Carrot Soap for Acne
Carrot Soap has been shown to treat skin irritations such as pimples, acne, and blackheads while also promoting healthy and youthful skin.
The soap extract is included, which slows skin aging and treats skin irritations like pimples, acne, and blackheads.
Carrot and Honey Soap
This soap is made with fresh carrots and is high in vitamins A and C, as well as antioxidants.
Carrot and papaya soap benefits
Benefits:
It regenerates the skin cells.
Promote healthier looking and more radiating beautiful skin.
Anti-aging.
It helps brighten hyperpigmentation.
Carrot and turmeric soap benefits
Turmeric reduces inflammation and brightens the skin, whereas carrots contain antioxidants, vitamin A, and beta-carotene, which improve skin tone.
Honey moisturizes and aids in scar reduction. Essential oils of frankincense and orange tonify, brighten, and even out skin tone.
Carrots are also known for their anti-aging properties, which aid in the treatment of uneven skin, blemishes, and age spots.
The addition of honey and avocado oil will calm, soothe and moisturize your skin.