Rice Seasoning ~ Quick and Easy Seasoned Rice Dish
Rice Seasoning ~ Quick and Easy Seasoned Rice Dish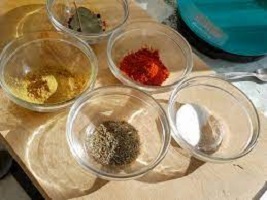 With rice seasoning in the house, rice will never be boring again! It's our favorite seasoning for quickly transforming plain white rice into a tasty meal.
It's rice's best friend, whether you sprinkle it directly on top or mix it in.
Seasoned rice will quickly become your go-to rice recipe! Aside from the irresistible and addictive buttery and savory flavors, it is also extremely simple to prepare.
It won't take much of your time because it's a one-pot meal you just throw everything in and wait for it to cook.
Rice Seasoning
Seasoning for rice provides the desired taste and aroma of perfectly blended Spicy Rice, enhancing your taste buds.
Ingredients
Units: US
3⁄4 cup chicken bouillon granule
1⁄2 cup dried parsley
1 tablespoon dill weed
1 tablespoon basil
2 tablespoons dried onion flakes
1 teaspoon seasoning salt
2 teaspoons garlic powder
1 cup almonds, coarsely chopped, optional
1 teaspoon lemon pepper seasoning
Direction
Begin by combining all the ingredients
Then, store it in an airtight container (I use a pint canning jar).
Whenever you're ready to cook rice, simply combine 1 cup of rice, 2 cups of water, and 3 tablespoons of seasoning.
After that bring the water to a boil, and add rice and seasoning.
Lastly, reduce to simmer, cover, and cook for 18 minutes
What is Seasoned Rice?
It's essentially rice cooked with herbs and spices like onion and garlic powder, paprika, and thyme.
A simple rice dish that can be tailored to your preferences; simply put, seasonings are added to plain rice to make it savory and flavorful.
It's the ultimate comfort food, suitable for the entire family! Furthermore, it requires very little effort to make and is less expensive.
It's similar to fried rice, except that fried rice is cooked rice sauteed with various spices. Seasoned rice, on the other hand, is uncooked rice that has been cooked with spices.
How to Season Rice
Cook the Rice Along with the Seasonings
Combine all of the ingredients in a large pot and stir well.
Bring to a boil over high heat in a saucepan.
Reduce the heat to low. Cover and reduce to low heat as soon as it begins to bubble.
Allow it to simmer. Simmer for 18-20 minutes, or until all of the liquid has been absorbed.
Fluff the Rice and Mix
Remove from the heat. Allow it to rest for 5 minutes, then add another tablespoon of butter if desired, fluff with a fork, and serve.
FAQs
Four seasons Costa Rica ~ Are there Costa Rica 4 seasons?
Seasons. Unlike other countries with four established seasons, the climate in Costa Rica can easily be divided into two seasons: rainy and dry. Or, summer and winter. High and low.
Rice seasoning Japanese ~ what is Japanese rice seasoning made of?
Japanese Rice Seasoning packets
Furikake is a popular Japanese rice seasoning that can be used in a variety of dishes other than rice.
It's usually made with nori (dried seaweed), sesame seeds, sugar, and salt.
Dried fish, usually bonito flakes, dried shrimp, or freeze-dried salmon, is frequently included.
Rice seasoning sushi ~ what seasoning is used for sushi?
Sushi rice is made by cooking Japanese short-grain rice and then seasoning it with a mixture of rice vinegar, sugar, salt, and, in some cases, kombu (kelp).
Sushi rice is also known as sushi-meshi (鮨飯), su-meshi (酢飯), or shari (シャリ)
Asian rice seasoning
What seasonings are good on rice?
Garlic, thyme, and parsley are three of my favorite seasonings. The combination imparts just the right amount of flavor without being overpowering.
Cooking rice in chicken broth rather than water gives it the most flavor boost. If you have a flavorful broth, you may not need to add salt at the end.
What gives Chinese rice its distinct flavor? What gives fried rice its unique taste?
In fried rice, the most important sauces to use are soy sauce, oyster sauce, and fish sauce. All three add distinct flavors to rice, but it's easy to overdo it.
Make sure to add small amounts of each and to taste the rice regularly. Your objective should be to emphasize the flavors of your rice, meat, and vegetables.
What can I add to flavor rice?
One of my favorite ways to flavor rice is to use a cooking liquid other than water (bouillon or broth is an easy substitute) or to stir in fresh herbs, dried fruit, peas, nuts, or other flavor and color boosters.
Recipe for Jollof rice seasoning
Jollof rice seasoning recipe ~ jollof rice spice Mix; what are the best spices for Nigerian jollof rice?
Some of my favorite seasonings to use are:
Nutmeg
Tumeric
Paprika powder.
Herbs other than just great thyme, but oregano and bay leaf are special.
Ginger and garlic powder (in addition to or as a substitute for fresh ginger and garlic)
What is the best seasoning for Nigerian jollof rice?
Type of seasonings: The basic seasonings in most traditional Jollof recipes were salt, dried thyme, curry powder, and Maggi cubes.
What is the secret ingredient in jollof rice?
The Two Secret Ingredients:
White pepper is added along with the spices and seasoning, and butter is added at the end, about a few minutes before the dish is done.
White pepper gives Jollof rice its distinct flavor and taste, while butter gives it a rich appearance and flavor
Mexican rice seasoning ~ what is Mexican rice made of?
Mexican rice (also known as Spanish rice or red rice in Tex-Mex cuisine), also known in Spanish as arroz a la mexicana, arroz mexicano, or arroz Rojo, is a Mexican side dish made of white rice, tomato, garlic, onion, and possibly other ingredients.
Why is Mexican rice so brightly colored? Why is Mexican rice so orange?
There are several reasons why Mexican rice is frequently orange. One reason for this is that it is frequently made with tomato sauce, which gives it an orange tint.
Another reason is that it is frequently prepared with saffron, a yellow-orange spice. Finally, it is frequently made with cumin, a brownish-orange spice.