Garlic Butter Steak and Potatoes Skillet Recipe
Garlic Butter Steak and Potatoes Skillet is an easy one-pan steak and potatoes recipe that is so simple to prepare and so flavorful too!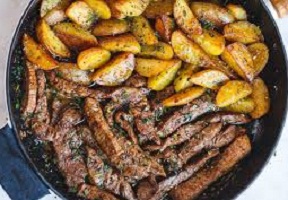 This meal is best when you are having friends over because it's picture-perfect enough to impress them and also, easy enough you don't need to work too hard to make it.
Garlic Butter Steak Bites with potatoes are such a simple meal that is full of tender garlic herb melt in your mouth steak with potatoes.
This easy meal are pan-seared and cooked to perfection with luscious garlic, herbs, and butter sauce.
What makes it exceptional is the garlic and butter that's basted over the steak as it's seared.
You end up with all the flavors of a steakhouse, except that it is from the comfort of your own home.
Above all, you can't find a more filling and hearty meal than this skillet garlic butter herb steak and potatoes recipe.
Garlic Butter Steak and Potatoes Recipe: How do you make the steak bites?
This one-pot, gluten-free meal that takes less than 30 minutes to make, and its steak!
Plus, with potatoes, smothered in herbs, garlic, and butter!
That's it! Ready, set, let's go!
Ingredients
1 tablespoon olive oil
1 pound potatoes sliced about ½ inch in thickness
One teaspoon thyme chopped
2 tablespoons butter divided
1 teaspoon rosemary chopped
3 garlic cloves minced
One teaspoon oregano chopped
1 ¼ pounds sirloin steaks cut into 1-inch cubes
Salt and pepper
Instructions
Firstly, heat a large cast-iron skillet over medium-high heat and add potatoes, olive oil and butter, thyme, garlic, rosemary, and oregano.
After that, cook for about 3 minutes, stir and cook for an additional 3 minutes until fork tender. Remove and set aside on a plate.
Thirdly, turn the skillet to high heat. Then, add the 1 tablespoon butter and steak bites. Let the steak sear for a minute and then continue to stir the steak until they are golden brown.
Lastly, top the steak with fresh chopped herbs.
What Side Dishes Do I Serve With This Meal?
This meal is best served with a simple side salad and dinner rolls
Recipe Tips
You can cook steak and potatoes in foil in the oven, with a crockpot or even turn it into a casserole