Dodorishi: How to Make Your Delicious Recipe with Ease
Dodorishi is our recipe today! Yes, we are taking the pressure off rice and showcasing another special delicacy from our great Nation Nigeria.
If you have not tried this dodorishi recipe before, you are missing out! But, don't worry, you can still make up after learning the recipe with ease today.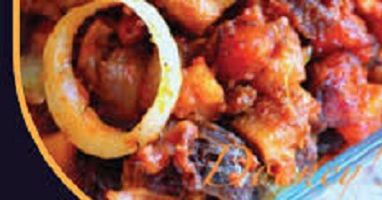 Nigerians love meat (which can be a variety of beef, shaki, smoked mackerel and stockfish) and plantain.
The plantain can be ripe/unripe, bake or grill plantain in place of frying.
What Is Dodorishi?
Dodorishi simply means having assorted meat combined with plantain, then garnished with some vegetables in one savory dish.
This dish is an entire mood; it can be an appetizer with a burst of flavors, from sweet fried plantains to savory meats, spicy stew, and vegetables.
It is also great for Fitfam (the hashtag for fitness lovers), when using unripe plantain, bake, or grill in place of frying. Then, fried with olive or coconut oil
Dodorishi Recipe
This recipe has been streamlined and can be made flexible to your taste and liking's.
Ingredients
Assorted Meats- half a kilo (Goat Meat, Beef, Offals, Cow Leg, Snails, Chicken, etc. based on preference)
2-3 Pieces of Ripe Plantains
6 Plum Tomatoes
3 Bell Peppers (Red, Green, Yellow)
5 Habanero peppers
2 Onions
Curry Powder
Thyme
Seasoning Cubes
Bay leaves
Vegetable oil or butter
Salt
Cooking Direction
Firstly, wash your assorted meats, put in a pot; season with salt, curry/thyme, seasoning cubes and leave for 20 minutes to allow the ingredients to marinate.
Secondly, add a little water and cook till tender. If using chicken, snails, and offals, cook separately in different pots because their cooking time varies.
Thirdly, cut the meats into small cubes and set aside. Then, wash and cut the vegetables – onions, bell peppers, and habanero peppers. Put aside.
Fourthly, blend tomatoes, onions, and red bell peppers into a pepper mix. Pour in a pot and allow boiling until the water is disappears.
After that, slice the plantains into cubes and fry with vegetable oil. Remove from the oil when it has turned golden brown.
Similarly, fry your beef, chicken, snails, offals, etc. using the same oil
Add more of the vegetable oil from the plantain in a saucepan and sauté the chopped veggies. Sprinkle in the spices – salt, chili, seasoning cube, curry, thyme – and fry till soft.
Then, pour your pepper mix with the veggies and allow frying for a bit. When the pepper is well fried, add the stock from your meats and allow simmering.
Add your fried plantains and stir. Allow simmering for 3 minutes. Then, add your chopped assorted meats, stir and allow cooking for a few minutes.
Lastly, check for salt and seasoning and adjust if needed, add bay leaves (optional) for that extra flavor. Then lower the heat and allow simmering a little.
DodoRishi is ready. Serve garnished with onions and enjoy!
Is There Any Difference Between Dodorishi And Gizdodo?
For more information, please read:
Fried Chicken Gizzard and Plantain (Gizdodo)