100+ Top Foodstuff shopping List/Ingredients in Nigeria
100+ Top Foodstuff shopping List & Food Ingredients in Nigerian Homes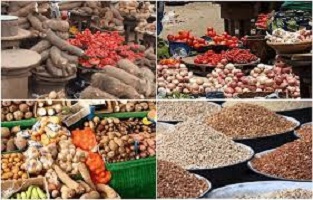 Top Food stuff shopping List: Foodstuff in Nigeria – Food Store Ingredients | Household Basic Foodstuff List
Foodstuff shopping in Nigeria is a personal and one-of-a-kind adventure. There are no two identical shopping lists. Raw food items are constantly adjusted to suit the needs and situations of people and environments.
Related >>>
Top Food shopping Lists Ideas ~ How to Make a Great Grocery list in Minutes
Best Nigerian foodstuffs and ingredients include spices and major constituents in any Nigerian recipe.
There is a plethora of raw food lists in Nigeria, as well as a variety of healthy foodstuffs and ingredients required to prepare these cuisines.
All Nigerian food comes in a variety of flavors, dishes, snacks, meals, and drinks, with different recipes used by different tribes or ethnic groups.
Most of the popular Nigerian meals that we know today are not only enjoyed by ethnic groups to whom the food is unique but have also become mainstream foods in Nigeria.
The Nigerian food culture is well-known, and even people who reside outside of Nigeria, whether in West Africa or elsewhere, yearn for a taste.
These Nigerian dishes are in high demand around the world, and guess what? For these delectable foods, you can have a healthy Nigerian food menu list.
But where do you start if this is your first time making a grocery list? Hence, here's a basic shopping list to help you get started.
Top Foodstuff shopping List ~ Basic Food Checklist
It's nice to have a shopping list for food with you when you go shopping, but this household and food list makes it much easier to get groceries.
Nigerian staple dishes and ingredients come in a wide range of flavors and textures. People, particularly those traveling abroad or looking for a list of Nigerian foodstuffs, frequently seek the essential ingredients of Nigerian dishes.
Because Nigeria has so many tribes and ethnic groups, there are some unique dishes and foods that are acceptable to all Nigerians; nevertheless, there are a few others that are only known by smaller ethnic groups.
Top Foodstuff shopping List on a budget 2021 ~ Essential Nigerian Food Ingredients
People frequently ask me for the necessary Nigerian cooking ingredients that any Nigerian cook should have on hand.
Monthly list of foodstuffs to buy at home ~ all of these ingredients can be sold or purchased in Nigerian food markets and African food shops in all major cities across the world.
If you're looking for a list of all of Nigeria's key foodstuffs, as well as the tribes to which they belong, the most popular delicacy, and more, you've come to the correct place.
I've compiled a Top Household Shopping List and Ingredients for Nigerian Food Recipes in this article.
In today's Nigeria, the most often purchased master grocery items include (not in alphabetical order)
Soup Foodstuff List – Top Foodstuff Shopping List:
Egusi (Melon Seed)
Ogbono (Seed or powder)
Stockfish (Head or full body)
Dried fish (Asa, Azu okpor, Mangala, )
Cocoyam (Ede – soup thickener), Ofor (Soup thickener), Or Achi (Soup thickener)
Crayfish (dry or fresh)
Periwinkles
Dried Prawn
Snail (frozen or fresh)
Locust beans ( Iru)
Ogiri (Castor beans)
Ugba (for African Salad or soup)
Protein – Beef, chicken, turkey, goat meat, pork, Fish
Cooking Oil
Palm oil
Vegetable oil
coconut oil
Groundnut oil
Soya bean oil
Foodstuff for Nigerian Swallows ~ Top Foodstuff Shopping List:
Garri for Eba (Yellow or white)
Amala – Yam Flour
Cassava – Fufu (Akpu)
Pounded Yam
Plantain fufu
Wheat
Tuwo
Semo
Vegetables ~ Top Foodstuff Shopping List:
Many varieties of vegetables are found in Nigeria, and they are eaten in large amounts daily by Nigerians.
Ugu leaves (fluted pumpkins)
Waterleaves
Ewedu leaves
Onions
Fresh Tomatoes
Fresh Pepper – Ata rodo
Okra (fresh or dry Okro)
Scent Leaves
Okazi leaves
Efo leaves
Oha leaves
Uziza leaves
Bitter leaves
Utazi Leaves
Zobo Leaves
Other Foodstuff List
Beans
Rice
Indomie
Spaghetti
Macaroni pasta
Maize (Corn)
Yam
Plantain
Abacha (Cassava flask)
Ukwa (Breadfruit)
Okpa Seed
Black Beans (Aikido)
Guinea corn
Wheat
Millet
Sweet Potatoes
Nigerian Snacks/Nuts~ Top Foodstuff Shopping List:
Chin Chin
Peanuts /Ground Nuts
Dry Tigernuts (Aya, Aki Hausa)
Dates (Debino)
Fried Ukwa
Kuli kuli (Groundnut Snack)
Cashew Nuts
Plantain Chips
Bitter kola
Almond nuts
Foodstuff for Nigerian Spices ~ Top Foodstuff Shopping List:
Seasoning cubes
Pepper Soup Spice
Jollof mix Spice
Suya Spice (Yaji)
Banga Spice
Ehuru
Uda
Uziza
Cameroon Pepper
Salt
Yellow pepper (Nsukka Pepper)
Nigerian Fruits ~ Top Foodstuff Shopping List:
Orange
Banana
Icheku, Awin, Black Velvet Tamarind
Udara, Agbalumo (Yoruba), African Star Apple
Avocado pear
Carrots
Garden Egg
Uber (Pear)
Paw-paw
Pineapple
Mango
Soursop fruit
Cucumber
Watermelon / Golden melon
Dairy and Beverages ~ Top Foodstuff Shopping List:
Tea
Powdered milk
Milk: – Tin Milk/Evaporated milk
Eggs
Soya milk
coconut milk
Yogurt /Yoghurt
Cheese
Butter / Margarine
Cocoa powder
Milo/Bournvita
Coffee
Soft drinks
Soda
Canned Food ~ Top Foodstuff Shopping List:
Tomato paste
Peas (Green Peas)
Sweet corn
Sauce
Baked Beans
Sardine
Foodstuff Dressing Condiment 
Sugar
Ketchup
Honey
Mayonnaise
vinegar
peanut butter
Jam
The bottom line on Top Foodstuff shopping List & Ingredients in Nigerian Homes
Lastly, Nigerians have a specific affinity for foodstuffs and ingredients.
Many people struggle to identify Nigerian foods and ingredients, and I hope that this guide can alleviate that stress and assist you in locating any specific item you require.
Questions People Ask
What are basic food items in Nigeria?
Staple Food
Fufu (or foofoo, foufou) is one of the most commonly eaten Nigerian foods
Eba is a popular Nigerian swallow food made with dried and fried cassava flour called garri.
Tuwo Shinkafa. Tuwo Shinkafa is a type of Nigerian swallow food associated with the Hausa people of northern Nigeria
What are the lists of food items?
Basic Foods Checklist: How to Stock Your Kitchen for Simple Meals
Breakfast & Cereals.
Canned, Jarred, & Pouched Foods.
Grains, Pasta & Sides.
Produce
Baking & Cooking Supplies.
Condiments & Salad Dressings.
Snacks
What are local foodstuffs?
Native or indigenous foods are foods that are produced within a short distance of where it is consumed, often going by a social structure and supply chain different from the large-scale supermarket system.
What are groceries in Nigeria? List of Grocery Items in Nigeria
Food Stuff:
Cleaning Supplies.
Kitchen and Dining Supplies.
Medical Supplies (Household Use)
Baby/Children Care.
Pets Supplies.
Personal Care.
Other Household Items.
What are the basic food items?
This is a big move from the VAT Act (1991) which only included white and brown bread as zero-rated products.
Maize Meal. Try our spinach and feta maize meal muffins.
These cheesy rice balls are so tasty.
Brown bread. There are so many options with brown bread!
Vegetables
Fruits
Dried beans.
Samp
Vegetable oil
Top 8 Foods for Health
Drink 8 to 12 cups of water daily.
Dark Green Vegetables. Eat dark green vegetables at least three to four times a week.
Whole Grains. Eat whole grains at least two or three times daily.
Beans and Lentils. Try to eat a bean-based meal at least once a week.
Winter Squash.
Soy
Fish
Berries
What are the five food groups?
Fruit and vegetables.
Starchy food.
Diary
Fat
Protein
What are the 7 types of food?
Food is divided into 7 different groups; drinks, fruits, carbs and vegetables, dairy, meat/fish/eggs, fats, and high-sugar foods. Each of these groups provides dissimilar nutrients and should be consumed at a different rate.
What are the top 10 Favourite foods?
Top Favorite Foods
Pizza Pizza is a yeasted flatbread generally topped with tomato sauce and cheese and baked in an oven
Ice Cream
Chocolate Chocolate is a typically sweet, usually brown food preparation of Theobroma cacao seeds, roasted and ground, and often flavored with vanilla
Fried Chicken
What are the common food items usually? What are 5 food products?
The five food groups are Fruits, Vegetables, Grains, Protein Foods, and Dairy
Food that provides us with energy to do work includes-
Carbohydrates: rice, bread, etc.
Proteins: lentils, fish, etc.
Fats: butter, red meat, etc.
Minerals: nuts, seeds, etc.
Vitamins: green vegetables, citrus fruits, etc.
What are general groceries?
Bakery and Bread.
Meat and Seafood.
Pasta and Rice.
Cereals and Breakfast Foods.
Soups and Canned Goods.
Oils, Sauces, Salad Dressings, and Condiments.
Frozen Foods.
Dairy, Cheese, and Eggs.
What are 3 popular foods in Nigeria?
Nigerian Food: 16 Popular and Traditional Dishes to Try
Jollof Rice.
Iyan (Pounded Yam)
Àmàlà (Yam Flour/ Cassava Flour/ Plantain Flour)
Ogbono Soup (African Mango Seed Soup)
Puff-Puff (Fried Sweet Dough Ball)
Àkàrà (Fried Bean Cake)
Pepper Soup.
Suya (Spicy Grilled Kebab)
What food do Nigerians eat most?
Rice is by far the commonest food in Nigeria and has been so for a very long time. It is grown mostly in the Northern part of Nigeria due to its climate suits rice farming.
Besides the Northern part of Nigeria, Rice is also grown in the South-East, specifically in Ebonyi state, and exactly in Abakaliki.
What is the cheapest food in Nigeria?
Below are the 11 top low-budget Nigerian foods that are also easy to prepare.
Noodles
Low Budget Yam Recipes
Fried Yam and Sauce.
White Rice and Stew
Tea and Bread.
Low Budget Porridge beans
Spaghetti Jollof.
Plantain Porridge. Plantains are affordable during certain seasons in Nigeria.
What are the 4 basic food types?
There are 4 main food groups to eat every day to get the nutrients you require for your physical and mental health.
These are vegetables and fruit, grain foods, milk and milk products, and protein foods.
What are the 3 basic foods?
The basic food groups are rice, pasta, bread, cereals, noodles, and other grains. Vegetables and legumes; Fruit
What are the types of food? Types of Food
Vegetables
Fruits
Grains, Beans, and Nuts.
Dairy Foods
Meat and Poultry.
Fish and Seafood.
Types of Food Quiz ~ what are the 6 types of food?
The 6 Major Food Groups
Whole grains and starchy vegetables
Fruits and non-starchy vegetables
Elective or Discretionary Calories
Dairy and non-dairy alternatives
Fish, poultry, meat, eggs, and alternatives
Heart-healthy oils