What Is Club Steak? | How to Cook Club Steak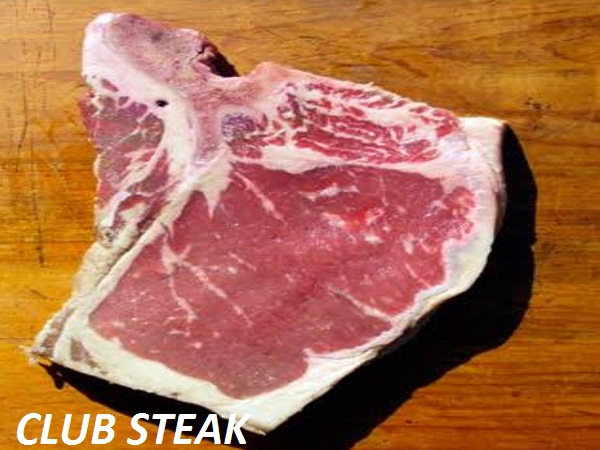 Club steak is often known, confusingly, as strip steak, a Kansas City strip steak, a sirloin club steak a shell steak, a Delmonico steak, a hotel steak, or a New York strip steak. In common usage, the term may be used improperly to describe both a boneless and a bone-in steak.
Steak is high-quality beef taken from the hindquarters of the animal, typically cut into thick slices that are cooked by grilling or frying. Steak and other meats are made from the muscles of animals.
A steakhouse, steak house, or chophouse is a restaurant that major in steaks and chops. Am sure there is a steak house near you, just look/ask around.
What Is Club Steak?
The proper meaning of a club steak is a bone-in steak cut of beef from the smaller end of the short loin near the rib. A club steak is smaller than a T-bone or porterhouse steak, and rectangular- shaped (in some areas, it is a triangular cut.)
It is typically a strip loin steak, but that name is kept for the boneless steak that is cut from the start of the short loin area (often named the strip loin), right next to where the prime rib area ended.
Please Read: How to cook and Peel Beef Tongue In Nigeria
However, it has very similar eye section as does the T-bone, but unlike T-bone or porterhouse steaks; it has no part of the tenderloin muscle (often called the fillet) in it. The club steak is likely to be a thinner cut steak than a porterhouse steak.
Club steaks are a tender cut of meat, so they are great for grilling. In tracing the origin, they got their name from country clubs because they used to be sold in such higher-end places.
Availability
In Nigeria, it is available all year long.
Gluten-Free: Yes
How to Cook Club Steak
They are best cooked using the following techniques: broiling, grilling, sauteing, deep fat frying, baking, spit roasting, roasting, sous-vide, and smoking.
The price is not cheap in Nigeria, so make sure you're cooking it the right way. It should not take long, but there are a few simple rules to follow if you're going to get it just the way you like it
Pan-Fried Club Steak Recipe
Ingredients
2 club steak
Paprika
Salt
Pepper
Flour
1 ½ tbsp. Butter
Sauce
¼ cup butter, melted
1 ½ tbsp. Parsley
½ tsp. Dried basil or tarragon
1 ½ tbsp. Vegetable oil
Instructions
Firstly, season steaks with paprika, salt, and pepper on both sides.
After that, dust with flour.
Then, heat the butter and oil in a skillet and brown steak over medium heat on both sides (about 3 minutes per side, depending on your cooking liking).
Finally, mix the sauce ingredients and pour over steaks.