Coconut Flour Pie Crust Recipe – Low Carb, Gluten Free
Coconut Flour Pie Crust is Low Carb, keto, gluten-free and grain-free.
Everything in coconut or that makes up coconut (the husk, coconut water, and the white flesh) is useful. In addition, you can also extract coconut milk, flour, and multipurpose oil from the nut.
Please Read: Meat and Potato Pie Recipe in Nigerian Style
Are you trying to remove grains from your diet?  Or perhaps reduce wheat in your diet? Do you think there is no way out when it comes to pies? Try this coconut flour pie crust.
Pie crust coconut flour is best for those who have tree nut reactions and cannot use almond flour.
Coconut Flour Pie Crust Recipe
All you need to make this healthy coconut pie crust recipe are 4 basic ingredients:
Ingredients
3/4 cup coconut flour (lump-free)
2 eggs
1/3 cup coconut oil melted
1/4 teaspoon salt or 1 tablespoon powdered sweetener for a sweet pie
You can use this old fashioned coconut oil pie crust to make savory meals by eliminating the sweetener and vanilla.
Directions
Firstly, preheat oven to 400°F.
After that, beat butter, eggs, honey, and salt together in a medium bowl with a fork.
Then, add coconut flour. Stir until pie pastry dough holds together.
Fourthly, fold the carb-free dough into a ball, pat into a 9" greased pie pan. Prick the dough with a fork.
Finally, bake for 8-10 minutes or until lightly brown. That is it! Your quick pie crust is ready.
Let cool and enjoy.
Is coconut flour healthy?
Coconut flour is soft flour gotten from the pulp left over after the production of coconut milk
Secondly, this popular, protein-rich, gluten-free meal is a good alternative for traditional wheat flour.
Thirdly, it is low carb and great for diabetic recipes.
Above all, coconut flour contains a high amount of fiber and easily digests, thereby making it a great choice for weight management.
However, the good news is that you can easily do it yourself at home. This is to make sure the flour is free from preservatives and other unknown ingredients.
How to make coconut flour at Home
Direction 
Firstly, crack open the coconuts (the number depends on how much flour you need; 8 should yield about 300 grams) and remove the husk.
Secondly, cut into bits that you can wash and easily blend.
After that, blend well and using the hand, drain the milk from the coconut chaff using a muslin cloth/chiffon cloth.
Fourthly, keep the milk or proceed to extract oil if you wish.
Then, use the sun or oven-dry the chaff until it is crispy dry.
Finally, grind into a smooth powder if you wish or you may use the coconut flour that way.
Coconut flour Nutrition Facts
Low carb coconut flour pie crust
Amount per serving (1 12th)
Calories 129-calories from fat 90
% daily value*
Fat 10 g-15%
Saturated fat 5 g-31%
Cholesterol 47 mg-16%
Sodium 146 mg-6%
Potassium 10 mg-0%
Carbohydrates 5 g-2%
Fiber 3 g-13%
Protein 2 g-4%
Vitamin a 275 iu-6%
Calcium 6 mg-1%
Iron 0.1 mg 1%
* percent daily values are based on a 2000 calorie diet.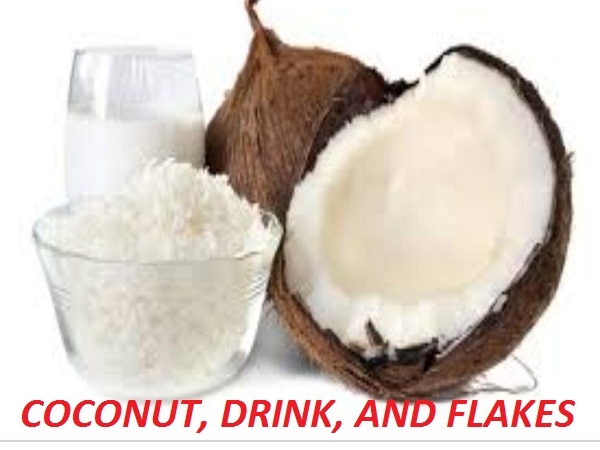 .