Scented Candles: How to Make Homemade Scented Candles
Isn't it amazing how easy it is to make scented candles at home?
Do you want to learn how to make your own scented candles? To get the best scent throw recipes, you must first learn candle fragrance words, styles, and how to measure the right amount of fragrance.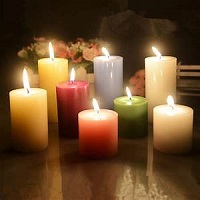 Candle scents enchant everyone. I've been making homemade scented candles nonstop! For me, it begins in the rainy season when the weather begins to cool and I crave the warmth.
Nothing says cozy like curling up with a good book and a homemade scented candle.HCandle Fragrance Load Calculator ow to Make Homemade Scented Candles
Moreover, what could be better than learning how to make your own scented candles?
As the rainy season gives way to the dry season, I'm excited to speed up my candle-making for beautiful, but practical, handmade gifts.
There are many reasons why you'll enjoy learning how to make candles at home, regardless of the season.
These are seven compelling reasons to learn how to make scented candles at home
Scented candles made at home are less expensive than those purchased at a shop.
Secondly, choosing candle holders is just the start of the fun.
Creating your own fragrance mix is energizing, and you can easily control the fragrance intensity to create solid or lightly scented candles.
Upcycling containers like glass yogurt jars or coffee mugs may also help you go green.
If you enjoy seasonal decorating, you'll enjoy making candles for each season.
Did I mention that scented candles made at home make wonderful gifts for any occasion?
Finally, you can even make candles at home, from the bottle to the fragrance and even the paint, to match your decor and style.
How to Utilize Candle Fragrance Load Calculator to See How Much Fragrance you'll need.
It all comes down to knowing how to make scented candles that are tailored to your specific needs, desires, and preferences!
If you think about it, scented candles are one of life's little pleasures that make many of us feel relaxed and at ease, or cozy.
Interesting to Read: Scent Leaf Health Benefits and Side Effects
Perhaps it's in our genetic code, inherited from our forefathers who built fires to keep evil at bay at night and lit candles to drive the darkness away and lengthen our days.
In either case, candlelight has been a constant in human history, and our lives will be incomplete without it.
In today's world, a candle's scent has become the most distinguishing feature. If you want to learn how to make scented candles at home, you should first learn about the different types of candle fragrances.
Also, how to figure out how much fragrance a candle needs. Let's get this started!
Candle Making Terminology for Beginners: Candle Fragrance Terms
What does the candle fragrance word "cold throw" mean? It refers to the volume and intensity of fragrance released by a candle when it is not lit.
What is the significance of a candle's cold throw? Whether you're giving a candle as a gift or selling candles, the first thing people do is smell it before they light it.
And if they can't detect it or it's a very faint scent, they'll probably think it won't smell any different when lit (even if this isn't the case).
Hot Throw:
What does hot throw mean?
This candle fragrance term describes the strength of fragrance that is released from a candle when burning.
The part of a candle that is most appreciated is the hot throw. Striking a match to light a candle that will fill your home with moody musk's, rich spices, or fresh floral will instantly raise your senses will be fully transported.
As a result, it's important to get this candle-making stage right.
Sweating:
What does candle sweating mean? What does it mean when a candle sweats?
Sweating is described by small beads or pools of fragrance accumulating on the top of a container candle or seeping out the sides of a pillar candle.
Candle sweating can be caused by a variety of factors, but one of the most important is the fragrance load.
What is a fragrance load, and what does it mean? The percentage of fragrance used in candle making corresponds to the fragrance load of a candle.
It determines the candle's scent throw, which involves both cold and hot throw.
How much fragrance does a handmade scented candle contain? The most popular fragrance load is 6 percent.
Despite the fact that certain waxes will retain up to 12 percent. When making strong scented candles at home, however, there are a few things to bear in mind.
Adding too much fragrance to a candle will cause it to self-extinguish or fail to burn properly. (When I was learning how to make scented candles, this happened to me many times.)
Using your eyes to judge the fragrance load rather than calculating and measuring it correctly can lead to candle sweating and other issues. (This is something I'm still guilty of.) Don't hurry your candle-making – always do the math first!)
Use a candle fragrance load calculator if all else fails to get the best ratio for your handmade candles.
Also, check the labels to make sure you're using the right wax temperature for the scent. Natural fragrance oils should be added at a much lower temperature than standard fragrance oils, which can be added at 185 degrees Fahrenheit.
This must be done correctly in order for the wax and fragrance to tie together for the best perfume throw.
Another important aspect of candle making is thoroughly stirring the scent after it has been applied to the molten wax. For at least two minutes, it should be stirred!
After making homemade scented candles they are required to cure for at least three days for a good scent throw. For natural waxes, a cure period of 1 to 2 weeks is even better.
Beginner Candle Making: Candle Fragrance Types
Let's take a look at the various candle fragrance options. I've mentioned the benefits and drawbacks of each fragrance choice for making scented candles.
Essential Oils: What Are They?
It's no wonder that essential oils have become extremely common for a variety of uses, including candle making. But, when it comes to scented candles, do they deserve the hype? The benefits and drawbacks of using essential oils in candles are mentioned below.
The most significant advantage of producing candles with essential oils is that they are 100% natural and completely safe. Who doesn't like the fact that they're all made of plant material?
It's always a good idea to use natural ingredients! • Pure essential oils are highly fragrant, which is a feature that many buyers, including myself, find appealing.
Essential oils are the most common way to experience aromatherapy because of their medicinal properties.
Cons:
Essential oils, despite their powerful fragrance, have the lowest hot throw of all the candle fragrance styles. Since essential oils degrade at high temperatures.
Since essential oils are only obtained from particular plants, you have a small range of scents to choose from.
I'm sorry to break it to you, but essential oils aren't cheap. It'll cost you a lot of money, considering it takes hundreds of pounds of plant material to make a single pound of oil.
Standard Fragrance Oils:
The most popular ingredient in scented candles is this form of candle fragrance. However, to protect the trade secret of candle makers, perfume, scent, or "parfum" Standard Fragrance Oils are often mentioned as broad words.
Pros: • They have a fantastic cold and hot scent throw; • There are almost endless fragrance oils available for candle making.
A little goes a long way; regular fragrance oils are essentially chemicals mixed to imitate natural scents, so they don't need any plant content.
Fragrance oils have a higher flash point, allowing for more flexibility when melting wax and mixing in fragrance.
Fragrance oils are more likely to contain toxic chemicals like phthalates and parabens, which can cause a variety of health problems.
They're number two and three on my list of the top five ingredients to stay away from
Natural Fragrance Oils:
I discovered natural fragrance oils after I started making candles many years ago. They're made up of natural aromatic isolates and essential oils.
Similar to how the French have been collecting scents from nature for centuries to make perfume.
Pros: This kind of candle scent is free of phthalates and parabens, and many are also cruelty-free, including these from Wooden Wick & CO.
They have an excellent scent throw.
Natural fragrance oils are less expensive than pure essential oils, and they have a strong scent throw.
Natural scent, unlike regular fragrance oils and essential oils, is difficult to come by in the United States.
Because there isn't as much detail about using natural fragrance oils for candle making as there is about using synthetic fragrance oils, pay careful attention to the packaging.
My Best Tips for Making Scented Candles at Home
For the sake of your well-being and that of your family, avoid using standard fragrance oil. Natural fragrance oil is the next best thing.
You get almost all of the benefits of essential oils without the drawbacks of standard fragrance oils.
If you insist on using pure essential oils in your candles, do so at a very low temperature and use all of the tips mentioned under fragrance load to get the most out of them!
If you really want to go all out and make candles with toxins, go with a natural candle wax such as soy, beeswax, or a carefully made wax blend
Do you want to know which wax has the best perfume retention?
Natural candle waxes are considered to last twice as long as synthetic waxes. As a result, you'll get a better-scented candle with more burn time!
Are you ready to make your first scented candle from scratch?
Begin with this natural fragrance of creamy vanilla and coconut sugar. It has a decadent sugared vanilla scent with a soft coconut swirl.
Have you started drooling yet? It's available individually or as part of a sample candle fragrance package.
This is a very useful and enjoyable method of selecting and making your own scented candles.
Combine this fragrance with a wonderful virgin coconut oil soy wax and a lead-free cotton wick to create a beautiful candle.
Scented Candles Recipe: How to Make the Best Scented Candles
Here's how to make your own scented candles.
Creamy Vanilla Candle Making Supplies for Beginners:
1 digital kitchen scale
1 candle thermometer
2 centering devices
1 candle melting pitcher
2 heat-safe ramekins
20 ounces virgin coconut soy candle wax
2 pre-waxed cotton wicks
2 ounces vanilla oil
Step-by-Step Instructions for Making Candles at Home:
Weigh the Soy Wax
To make two candles, weigh 20 ounces of soy wax flakes on a kitchen scale. Alternatively, use this candle tip to determine the appropriate amount for your containers.
Melt Soy Wax
Pour measured soy wax into a candle melting pitcher to safely melt the wax. In a large saucepan filled with around 2 inches of water, position the wax-filled pitcher.
Set on medium to low heat in a double boiler, with a gentle simmer at most. Using a metal whisk or a heat-resistant silicone spatula, stir frequently.
Cool & Scent Soy Wax
To prevent the wax from being too hot or burning, remove the pitcher from the heat as soon as it has melted.
Then, to keep an eye on things, place a candle thermometer inside the pitcher. Alternatively, a contactless infrared thermometer may be put to use
Allow the wax to cool to between 125 and 120 degrees Fahrenheit before applying 2 ounces of vanilla oil. Stir continuously for 2 minutes to fully add the fragrance.
Pour Soy Scented Wax and place Wicks
Dip the metal tab of each cotton wick into the wax as the wax starts to harden.
Then carefully center and adhere each mug's rim. Keep your hands in place for a few seconds.
(After a few minutes, the wax will harden and have a strong grip on the container's bottom.)
After that, gently pour each jar with your vanilla-scented wax. To help hold the wicks in place throughout the curing process, place an optional centering device over each one.
Enable 30 minutes to 1 hour for the candles to cool and the wax to harden before trimming each wick.
Cut each wick to about a 14-inch length. Do not light your homemade scented candles until they have cured for at least 3 days, no matter how tempting they may be.
Best scented candles for sale | What are the best-scented candles to buy?
Our Top Picks
Best Overall:
Nest Fragrances Grapefruit Candle at Sephora
Best Budget:
Mrs. Meyer's Clean Day Aromatherapy Candle at Amazon
Best Splurge:
Diptyque Baies Candle at Amazon
Best Gift:
Homesick Candles at Uncommon Goods
Best for Kitchen:
Voluspa Glass Jar Candle at Amazon
Best for Bathroom:
The Black Home Soy + Coconut Candle at Theblackhome.com
Best for fall:
Bath & Body Works Single Wick Candle at Bathandbodyworks.com
Best Aromatherapy:
Otherland Canopy Candle at Otherland.com