Buffalo Wild Wings Fried Pickles Recipe
Buffalo Wild Wings Fried Pickles Recipe – for a real Buffalo Wild Wings experience, make this recipe and serve it with homemade buffalo wings.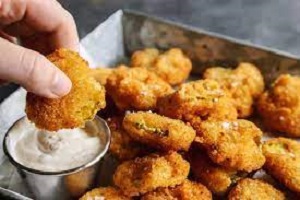 Buffalo Wild Wings Recipe for Fried Pickles 2021
To take this dish to the next level, dip your fried pickles in your favorite ranch dressing.
The sweet and creamy dip complements the sour, salty, and spicy flavor of our fried pickles, making it even more appealing. You'll see what we're talking about once you try it!
Enjoy fried pickles at home with this recipe for crispy and zesty pickles coated in a highly seasoned batter and then deep-fried till golden brown.
It complements the sweet and creamy ranch dip well, giving the dish a richer flavor.
Buffalo Wild Wings Copycat Fried Pickles Recipe
This recipe involves deep-frying pickle slices that have been dipped in pancake batter and breadcrumbs.
Vegan fried pickles, on the other hand, are a popular snack that can be purchased in the food area of most stores around the state.
They are usually crunchy, crispy, and tasty; if you have never tried fried pickles, I recommend that you do so because you will enjoy them.
You won't believe how simple and tasty these Southern-fried pickles dish is to make! With a decent dipping Fried pickle sauce, this dish becomes a delectable breakfast!
Buffalo Wild Wings Fried Pickles Recipe Ingredients
·     2 cups whole dill pickles, sliced and drained
·     ½ cup & 4 oz all-purpose flour, divided
·     ¼ cup corn starch or cornflour
·     ½ tsp Italian Seasoning
·     2 tsp Cajun Seasoning
·     ½ tsp cayenne pepper
·     salt to taste
·     1 cup cold soda water
·     Vegetable oil, for frying
Detailed instructions on Buffalo Wild Wings Fried Pickles Recipe
1. In a big frying pan, heat 1 inch of oil to 375 degrees.
2. Sift together all of the dry ingredients for the batter in a mixing bowl, then slowly stir in the soda water until smooth and evenly incorporated. Set aside in a cool location.
3. Using a paper towel, pat the pickles dry. Combine the dried pickles with 4 oz all-purpose flour in a mixing bowl. To coat, dredge and toss.
4. Coat each slice in batter thoroughly.
5. Remove them from the batter with a tong and place them one at a time into the pan, then fry until golden brown (1-2 minutes)
6. Using a slotted spoon, remove the fried pickles. Alternatively, you can fish the pickles out of the oil with a mesh skimmer.
7. Drain on paper towels after cooling. To drain the pickles correctly, you can alternatively use a wire basket.
8. Immediately serve with ranch or ketchup!
Notes on the Recipe
Make sure the pickle slices are completely dry before applying the batter.
To avoid limp and oily fried pickles, make sure the oil is heated enough before frying.
What sauce should be served alongside fried pickles?
Homemade Ranch Dressing: This herb dressing is a smooth, creamy blend of delight.
Tangy and silky blue cheese dressing It's a great dressing to use.
Avocado-Cilantro Ranch: A greenish delicious tint is achieved by combining fresh avocado and cilantro.
Pickles can be deep-fried, baked, or air-fried using an air fryer. If you're in the area, the fried pickles at Buffalo Wild Wings are usually delicious.