Date Syrup Recipe: How to Make Natural Date Sweetener
Date Syrup Recipe: How to Make Natural Date Sweetener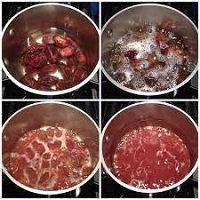 Homemade date syrup is unbelievably delicious, and I am confident you will never buy store-bought again. It takes a little more effort to make at home, but the end result is well worth it!
Date syrup is a super healthy natural sweetener that is extremely beneficial to the body, especially to kids and toddlers
Moreso, it is ready in less than 5 minutes and is superior to store-bought versions, which typically contain artificial sweeteners, additives, and preservatives.
Furthermore, this date syrup is both inexpensive and simple to make! It's a natural sweetener that's both healthy and delicious, tasting almost like caramel syrup!
It has a wonderful creamy texture and has greatly aided me in giving up refined sugar.
Very nutritious, natural, and delicious. It only takes 2 simple ingredients, 5 minutes, and a powerful blender to make. I hope you enjoy it!
Date syrup is widely available in markets, but homemade versions are better and purer, as well as providing a sense of accomplishment in making it at home.
Related >>>
Date Syrup Uses
You can use a few tea spoons of this homemade syrup in the following ways:
Can be used as a sweetener for baby/toddler porridges, kheer, purees, and so on.
Can be used to sweeten desserts instead of sugar.
For Baking recipes
In coffee
Serve with dosas, pancakes, Chapati/roti, or bread as a spread.
Mixed with milk.
Best Homemade Date Syrup Recipe
Instructions
Using a measuring cup, measure out the dates and set them aside.
How to Make Date Syrup
Firstly, deseed the dates and place them in a vessel that has been washed once. After that, the dates' should then be soaked in 1 cup of hot water for 10 minutes.
It should be pliable now. Some dates require additional soaking; soak until soft enough. Heat for 2 minutes and then allow cooling so that it's simple to mash.
Thirdly, mash the dates with your hands and strain the dates' water through a cheesecloth. Squeeze out all of the water by stirring with your hand.
After that, remove the dates and place the water in a saucepan. If necessary, repeat the process with less water.
Then, in a saucepan, bring the dates and water to a boil until it thickens. To avoid burning at the bottom, keep the flame low to medium and stir it occasionally.
Lastly, boil it until it's dark, thick, and has a honey-like consistency. When finished, turn off the flame.
Notes:
Squeeze out and extract the water slowly so that you get a good amount of water. Adding more water dilutes the syrup.
Soaking time is entirely dependent on the type of dates used; if using a softer variety, soak it in hot water for 2 hours before proceeding with the remaining steps.
Because this dates' syrup thickens as it cools, turns off the heat accordingly. Don't let it get too hot.
Keep it refrigerated and use it within a few weeks.
When dates' syrup is given to the baby on a regular basis, it develops a sweet tooth. As a result, it is always advised to use this raisins syrup in moderation.
Before introducing any new food, consult with your pediatrician
Honey or dates: which is better? What's the Difference Between Dates and Honey? Dates vs. Honey
Both have a high-calorie level, with honey having a slightly greater calorie content. Dates are higher in dietary fiber, protein, potassium, vitamin B6, calcium, magnesium, and iron than honey. Date fruits' glycemic index is likewise somewhat lower than honey's glycemic index.
What Are The Advantages/Benefits Of Using Date Syrup?
It contains antioxidants
The antimicrobial effects are well-known.
Dates are high in nutrients and vitamins that the body needs.
It can provide you with the energy you require during the day.
Fiber is abundant
It's devoid of cholesterol
Is date syrup good for you? Absolutely, it's even good for your heart!
Date syrup, which is simply liquified dates, has the same heart-healthy properties as the fruit itself.
it is sodium-free, cholesterol-free, trans-fat-free, and saturated-fat-free. It's also abundant in minerals like potassium and magnesium, which help the heart operate.
How to keep date syrup fresh? How to preserve it
What is the best way to store? Store: Refrigerate when it has cooled for several weeks.
It will thicken up more when refrigerated, so heat it up before using or thin it up with a little hot water for a runny consistency (or reduce it less).
Is date syrup expensive? – Where can I buy it?
In stores and marketplaces, date syrup is becoming more commonly available. So what's the big deal about making your own? One excellent reason is the price.
Because store-bought date syrup is more expensive, producing your own is a more cost-effective solution.