Red Cocoyam Porridge – Spicy African Pottage Recipe
Red Cocoyam Porridge – Spicy African Pottage Recipe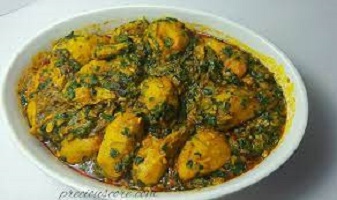 A one-pot meal that is both simple and hearty, and full of delicious flavors. Cocoyam porridge aka "naangtarre"
Cocoyams are tubers, hence they're basics. It's not as big as an ordinary yam. It may be boiled, fried, or used to create porridge, among other things.
Cocoyam has a stronger flavor that isn't easily overpowered by spices, whereas yam absorbs flavors and thus resonates with a variety of flavor profiles.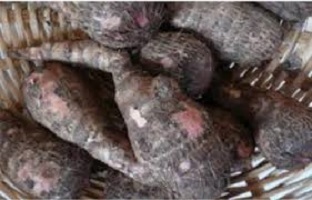 Types of cocoyam in Nigeria
Colocasia esculenta(L.) Schott (Taro) and Xanthosoma mafaffa (Tania) are two edible aroid species found in Nigeria. They are perennial, plants grown as annuals.
The Nutritional and Health Benefits of Eating Cocoyam
Vitamin B1, commonly known as thiamine, is found in cocoyam and is important for improving focus, vitality, combating chronic stress, and even avoiding memory loss.
A well-functioning, well-regulated gastrointestinal system can improve your general health and minimize your risk of cancer courtesy of cocoyam
Other Benefits Of Cocoyam Include:
Cancer Prevention
Reduce Symptoms of Rheumatoid Arthritis
Blood Pressure and Heart Health
Immune System Health
Cramps
Digestive Health
Enhances Learning
Boosts Vision
Helps Maintain Dental Health
Diabetes
Thickens Hair
Circulation Stimulation
Prevent Bone Loss
Skin Health
Red Cocoyam Porridge is one of my favorites.
TARO (Red Cocoyam Porridge)
Taro is another name for cocoyam in America. It would be wonderful if I could grow coco yams in my backyard, but that is not possible. These can be found in an Asian or Hispanic supermarket.
You'll need "red coco yams" for this dish. They have a reddish tinge to them, as you can see. Any other type could be a bit too mushy. When peeling and washing cocoyams, exercise caution.
If you have sensitive skin, you may want to put on some kitchen gloves.
Keep it Simple (Red Cocoyam Porridge Recipe)
The simplicity of my mother's cooking is one of the things that strikes me the most. She uses only the freshest herbs and spices, and she uses finesse to develop flavors with only a few ingredients.
I made this recipe to be as straightforward as possible.
Red Cocoyam Porridge is extremely cost-effective. Red Cocoyam Porridge is the best of Cameroonian comfort food.
The addition of Kale to Red Cocoyam Porridge is a finishing touch. Bitter leaf is preferable, but any green will suffice.
Make the best of what you've got. Spinach, collard greens, or turnip greens are all good options.
What is cocoyam porridge made of?
Ingredients
12 medium cocoyam (Taro)
1 Tbsp. crayfish
1-2 Tbsp. palm oil
1 cup packed kale (or bitter leaf)
Salt to taste
Maggi to taste
¼ small onion
1 small scotch bonnet (or habanero)
2 cups of water
Instructions
Firstly, peel, wash and cut about 12 cocoyams (taro) into chunks. Then, fill a medium saucepan halfway with water.
Secondly, blend in the peppers and onions with about a tablespoon of water and add
Also add a ½-1 cup of palm oil, 2 cups of dried fish, ¼ cup crayfish, a teaspoon of salt, 3 small Maggi cubes, and some minced garlic
Then, over medium heat, combine everything and simmer until the cocoyams are fully cooked.
After that, mix with a handful of the bitter leaf that has been washed. I used spinach instead of bitter leaf because I didn't have any.
Note: You may use as many or as few veggies as you choose. Turn the heat off and savor the warmth. Cutlery is not permitted! Honestly, finger-licking is best!!
Lastly, season to taste and savor. When it is done, serve.
Enjoy your meal!
FAQ
Is red cocoyam beneficial to diabetics?
Boiled cocoyam has a high glycaemic index and should be coupled with foods that have a low glycaemic index to make it appropriate for diabetics.
What is the best way to cook cocoyam?
Instructions
Firstly, peel the cocoyams, wash, and cut them into chunks. Then, transfer into a medium saucepan.
Then, blend the pepper and onions with about a tablespoon of water. Add into a saucepan with water.
After that, simmer for about 20 minutes, stirring occasionally. Lastly, add more water, about ¼ cup at a time if necessary
How many minutes does it take to cook cocoyam?
Allow simmering under medium heat for 20 minutes
What can I do with cocoyam? Cocoyam recipes
Fried cocoyam is made of medium cocoyam, salt, oil for frying.
Cocoyam (Makani/gwaza) with egg sauce.
Cocoyam Soup
Fresh spicy cocoyam chips
Spicy cocoyam chips
Boiled cocoyam
Onion flavored cocoyam chips with sweet chili sauce.
Cocoyam porridge
Cocoyam and red oil
Does cocoyam make you gain weight?
Cocoyam is low in calories, containing just 142 calories per 100g, or around 13% of the total calorie intake.
Your weight is a delicate balancing act, but the formula is straightforward: consume more calories than you expend, and you will gain weight.
You lose weight if you eat fewer calories and burn more calories via physical exercise.