How to Bake Soft | Stretchy | Chewy Nigerian Agege Bread
Agege bread is a mainstay in Nigerian food. This popular, locally made bread is loved by Nigerians because it is ubiquitous and affordable.
The bread sellers, who are mostly young girls, can be seen walking around with a tray of bread loaves balanced on their heads. This bread business has changed a young girl's life.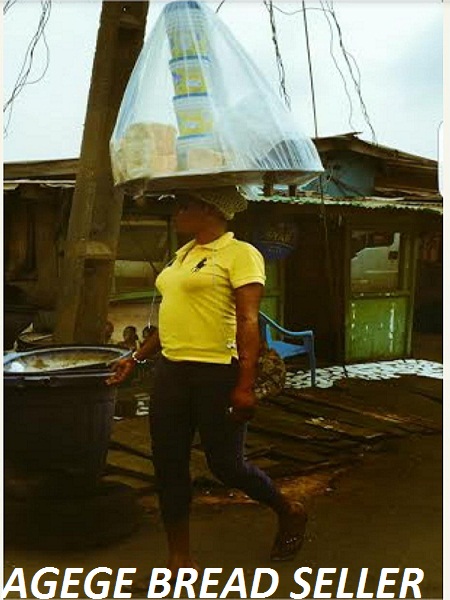 Agege bread seller turned model Olajumoke Orisaguna grass to grace story tells it all. Jumoke the bread seller has added limelight to this Nigerian bread by giving it more international recognition. We now have more agege bread documentaries especially after featuring on CNN and Huffington Post.
Agege Bread History
The bread is called Agege Bread because it originated from a place in Lagos called Agege. Every day in Lagos you see people hawking them from street to street especially in the morning.
Without any publicity or branding, agege bread has managed to maintain its popularity and demand as The Nº1 Nigerian bread.
Even though it gets a really bad rap for the poor conditions under which some of them are normally baked, it is still in high demand and accessible food items in the country.
Need I mention that people believe that the traditional Agege Bread mostly mass-produced in factories are made with additives like potassium bromate, dough improvers and preservatives such as (Edc 2000, E-281 &E-202).
Even with these entire claims, many still agree that Agege bread tastes better than sliced bread, with some even joking that the poor conditions contribute to its superior taste.
The softness, stretchy and chewy texture of agege bread is its most-loved features. People always target Agege bread sellers coming out of the bakery to buy it fresh from the oven.
Agege Bread can be paired with several staple Nigerian foods including Ewa Agoyin, bean cake (akara), moi-moi, pepper soup, spicy tomato sauce, and fried plantain, warm spread butter on top or beverage of choice.
The soft texture of the bread makes it easy to break and pull apart without needing a knife to slice it into small, or large, pieces.
Now, you don't need to wait for bread sellers or go to the bakery yourself. Get into the kitchen and prepare yourself on how to make Agege bread at home.
Nigerian Agege Bread Recipe
Ingredients
550 g (3.6 cups) strong bread flour
3 and 1/8 teaspoon (8.8 g) active dry yeast
1 and 1/8 teaspoon (6.4 g) salt
50 gr Butter, at room temperature (cut into smaller pieces)
70 g (1/3 cup) sugar
130 ml milk
Tip for using milk:
– Milk is not added to agege bread, but since it is homemade bread, you can add a little to make the bread richer and softer.
80 ml lukewarm water
200 g tangzhong
How to Make Tangzhong
Tangzhong is an Asian method for making soft fluffy bread. It involves cooking a portion of the flour and liquid in the recipe in to a thick slurry sauce before adding the remaining ingredients.
50 g (1/3 cup) bread flour
250 ml (1 cup) water
Steps
Firstly, combine flour and water in a saucepan or small pot until smooth.
Then, cook on medium heat, stirring steadily with a spatula or whisk to prevent burning.
After some seconds, you will begin to see lots of small bubbles forming on the top of the roux
Then, keep on stirring and when the bubbles disappear, you will see lines in the mixture, stop at this stage. In case you are using a thermometer, this should be about 150°F/65°C.
Pour this mixture into a bowl and cover with a cling film sticking onto the tangzhong. Leave to cool to room temperature.

Directions for Bread/How to Prepare the Main Dough
Firstly, combine the flour, salt, and sugar in a mixing bowl.
Secondly, put water in another bowl, 1 teaspoon of sugar and yeast and whisk. Leave the mixture for 5-10 minutes till the yeast foams.
Thirdly, whisk together the milk, tangzhong (all) and butter in a different bowl (making it three bowls in all).
Fourthly, make a well in the center of the flour and add in the mixture in the three bowls. Mix and knead until the dough comes together. Keep kneading until the dough is smooth.
Then allow the dough to sit for 10 minutes, so that the flour will completely absorb the liquid before transferring the sticky dough, onto a lightly floured table.
After that, knead for about 20 minutes, using the "stretch, slap and fold method"(in this method you stretch, fold the sticky dough over itself, lift and throw back down onto the table over and over again until the dough is less sticky and elastic).
The dough will be very sticky at first, but keep on kneading, and incorporating as little flour as possible. Too much flour will result in hard bread. Use the scraper to remove sticky flour from your fingers instead.
Now, knead the butter into the dough for another 20 minutes until well incorporated and you get soft, smooth and stretchy dough that does not break easily when stretched. Trust me you want the strongest person to help with this task.
When the dough is ready, you should be able to take a piece of it and stretch it to a very thin membrane before it breaks and the break should be form a circle (Windowpane test).
Similarly, knead the dough into a ball shape. Grease a bowl with oil, place dough into the greased bowl and cover with a wet towel. Allow the dough to double in size. This takes about 50 minutes or more depending on the weather.
Punch down on the risen dough and put onto a flat floured surface. Divide the dough into 5 portions. Knead into balls.  Cover with cling film and let it rest for 10 minutes.
Shape and place each of the rolls into a greased bread pan, cover with the wet towel and let them rise until double the size. This will take approximately another 50 minutes.
Bake bread in preheated oven and bake at 180 degrees Centigrade (370 F) for 30 minutes. Preheat for 5 minutes. After the 1st 15 minutes (though optional) baste the risen bread with egg wash (raw egg+2 tablespoon water) or melted butter (to give it glow/shine.
Take the bread out of the pan and put on a cooling rack to cool. Unlike many homemade types of bread, this bread remains soft and fluffy for days not just when it's out of the oven!
The look, the smell, the texture, and taste is Agege bread like!
Some bread recipe uses egg but with this bread, you do not need the egg. The bread made with eggs is a little crumbly like the sliced pieces of bread in Naija. Making it without egg will give you the agege experience.