Egg Stew: How to Make Nigerian Egg Sauce
Egg stew recipe is one of the quickest and easiest Nigerian dishes you can make. The delicious taste of egg well-seasoned in the stew will make you try this quick and easy recipe again and again.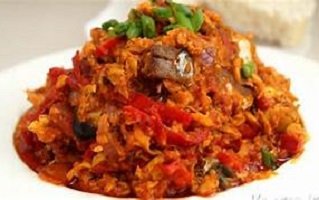 This appetizer is a favorite in many households in Africa because of its versatility. Eggs are a great way to make a variety during meals. You can eat it at any time of the day – for breakfast, lunch, or dinner.
Egg stew is often mistaken for Tomato Omelette. Both are not the same. Though both are prepared with the same ingredients, but not in the same quantity.
While Tomato Omelette contains mostly eggs, Egg Stew has a lot of tomatoes. Moreover, egg stew is "not set" like Tomato Omelette.
This egg sauce recipe may appear like a light dish but the look can be deceptive. It is very filling and nutritious. It's beginner-friendly, so you can't go wrong with it!
Nigerian Egg Stew Recipe
This recipe will show you how one ingredient (eggs) can be cooked in different ways. The same applies to egg stew Ghana.
A simple dish enjoyed in a lot of delicious ways
Ingredients
2 large eggs
4-6 medium plum tomatoes
1 small onion
Salt to taste
Dry pepper or freshly chopped habanero pepper (Ata Rodo)
1-2 Knorr cubes
Curry powder
1/2 cup or 4 tablespoons of canola/vegetable oil
1 garlic clove
Method
Firstly, in a large or medium frying pan/skillet, heat the oil on medium heat
Secondly, the minute the oil is hot enough, add the onions and minced garlic and fry for about 3 minutes on medium heat or until the onions are translucent; stir occasionally
Then, add the chopped tomatoes and fry on medium-low heat for about 7-10 minutes or until the sauce begins to taste more like stew and the tomatoes and onions are completely separated from the oil.
Similarly, add the salt, pepper, and seasoning cube(s) and stir the mixture
Then, on low-medium heat, slowly pour in the well-beaten eggs, do not stir the mixture immediately. If you stir immediately, the eggs will completely dissolve into the stew.
After that, let the eggs cook and set (this takes about 2 minutes; you will begin to see bubbles at the top of the mixture.
Lastly, you can stir the mixture for about 2-3 more minutes until the eggs are completely solid and cooked.
Taste for salt and add if you need some.
Cooking Tips
If you want your stew to have larger chunks, after pouring it in, wait a bit and stir slightly.
But if you prefer the pieces smaller, then stir them immediately after pouring them in to break them up.
What Do I Eat With this Nigerian Stew?
Egg stew is the best thing to ever happen to Boiled Yam and Boiled Potatoes. You can also pair it with White Rice, Fried Plantain, Fried Yam, or Potatoes.
Not to mention the Nigerian Egg Stew and plain sliced Agege bread Combo