Kontomire Stew (Palava Sauce) with Salmon & Melon Seeds
Kontomire stew AKA palava sauce is very popular in Ghanaian cuisine made with cocoyam leaves popularly called kontomire.
Its English title palava sauce is said to originate from the people of Elmina.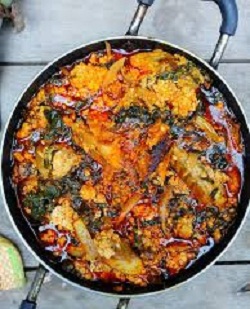 For You >>>>  How to Prepare Shito (Ghana Pepper sauce) 7 Easy Steps
There are other versions of Palaver sauce or palava sauce or plasas in other West African countries but the kontomire stew in Ghana is a bit unique in its way.
Ghana is always associated with amazing dishes, and this stew is no exception. The kontomire stew recipe can also be substituted with spinach, kale, and collard.
Kontomire Health Benefits
Kontomire leaves contain calcium oxalate, fibers, phosphorus, calcium, starch, as well as vitamins A, B, and C.
They also contain anthocyanins.
Anthocyanins have been reported as having the capacity to lower blood pressure, reduce cancer cell proliferation, improve visual acuity, inhibit tumor formation, prevent diabetes, lower the risk of CVD modulate cognitive and motor function.
These are also reported to have anti-inflammatory and anti-bacterial activity.
Kontomire Stew Recipe
The flavor and the rich taste of the kontomire stew are priceless. This stew takes about 45 minutes to prepare.
Ingredients for Kontomire Stew
2 packs of kontomire or spinach
Half a cup of Egusi/melon seed
Smoked fish or meat
2 fresh tomatoes
Spice: Ginger/Garlic
2 large onions (chops and blends)
Pepper
Palm/Red oil
Salt
Seasoning
Instructions
Firstly, clean the leaves with clean water, then shred
Secondly, chop some onions and tomatoes separately. Blend a small amount of onion, with garlic, ginger, and pepper. Put aside.
Thirdly, put a pan on fire and add some red oil. When the oil is hot, add some chopped onions in the oil to fry. Fry the onions until translucent.
Then, pour the mixed blend into the oil and allow cooking for 5-10 minutes.
After that, add the chopped tomatoes and stir. Add seasoning and allow cooking as you stir simultaneously for 10 minutes.
Wash and blend a half cup of melon seed (akatoa/agushie). Pour blended mixture into the stew. DO NOT STIR, cover and reduce heat to low. Allow simmering for 8 to 10 minutes or till the blended melon seeds thickens and then add the chopped kontomire
Lastly, Cook under very low heat making sure it doesn't get burnt. Add the smoked fish last to avoid breaking in the stew. Leave to stew for at least 5 minutes.
Adjust the seasonings and you're good to serve. Feel free to serve the stew with any dish of choice. I prefer mine with partially ripe plantains. What would you eat yours with?
Facts about Cocoyam Leaves (Kontomire)
Cocoyam or Taro (Colocasia esculenta) is a starchy edible tuber and bears broad greenish leaves locally called kontomire.
The plant is grown in several places around the world.
Both the root and leaves have many health benefits for the body because they are rich in nutrients.
Kontomire Stew is a staple food used to make delicious vegetable soup in some African countries like Ghana, Guinea-Bissau, and Cameroon.
It's used same way we use our ugu leaves or spinach to prepare our soups and stews.
In china and India the leaves are used to make chips, snacks, and curry sauce.