Minced Meat Stew: Savory Nigerian Recipe
Minced meat stew recipe is very comparable to the traditional Bolognese sauce; the only difference is the length of time the tomato stew is cooked.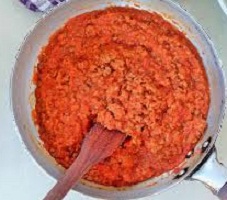 Minced beef stew is very adaptable; you can pair it with spaghetti, plantain, boiled/fried yam, or rice. They can even be used for pie filling or stuffed peppers. Corned beef can also be used for this recipe.
The good news is that it is affordable, healthy, quick, and super easy to make. Try using the best mince you can get or it could end up being greasy.
I came up with this recipe years ago when my kids were much younger and would fuss about chewing meat whenever I make chicken stew, beef stew, and even fish stew.
I introduced this stew to them and it became an instant hit.
If you cannot afford a steak mince, then firstly, cook the meat until tender, then strain it before adding to the rest of the ingredients according to the recipe.
Minced Meat Stew Recipe
The tomato-Pepper Blend mix makes it very rich and gives it so many flavors. I hope you will enjoy this Nigerian stew as much as we do. Now, let's start!
Ingredients
A Pound of raw Minced Meat
8 cooking spoon of Tomato-Pepper Blend Mix
1 tablespoon of grated ginger
2 cloves of garlic
1½ cooking spoon of Vegetable Oil
½ bulb of Onion
1 Scotch Bonnet Pepper (Ata rodo)
One Teaspoon of Chili Powder (dry pepper)
1 teaspoon of Black Pepper
Seasoning cubes
Method
Firstly, rinse and season your minced meat with one seasoning cube, black pepper, and chili powder.
Then, heat your oil and toss in your chopped onions, garlic, pepper, and ginger. Fry for a minute.
Thirdly, pour in your minced meat and stir-fry on high heat for 1-2 minutes.
After that, lessen the heat to medium and allow the minced meat to cook in its juices.
Watch until the juices are nearly dry and then add in your tomato-pepper blend and stir in.
Finally, add another seasoning cube and adjust for seasoning. Then, serve hot.