Koose (Spicy Bean Cakes from Ghana) – Best Method
Koose is a very popular Ghanaian breakfast meal dominant in the Northern part of Ghana.
It is daily street food, and a similar variation is more popularly known in most of West African countries.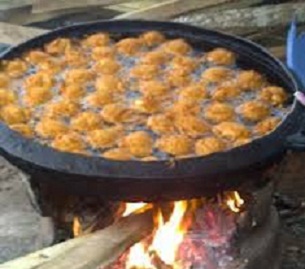 Origin of Koose
The dish was introduced to West Africa by the Hausa's, who largely live in northern Nigeria and some parts of West Africa, such as Ghana, Cameroon Sierra Leone, etc.
Black-eyed bean fritters (Koose English name) is a popular West African street food. In Ghana, it's referred to as Koosé and in other West African states such as Nigeria, it's called Akara. Cubans call it Bollitos de Carita while the Brazilians refer to it as Acarajé.
It's safe to say this is a common snack that cuts across various cultures and borders; as you will also find it in countries such as Togo, Benin, Gambia, and Mali.
Koose (kosai, akla, akara) is made from soaked, peeled, blended cowpeas, brown beans or Black- eyed beans mixed with spices and blended to form a batter.
They can also be made with ground beans flour, cowpea flour or by grinding whole black-eyed peas.
The batter is then fried into beautiful golden brown fritters and served with either sauce or enjoyed with porridge-like Pap from Nigeria, (Hausa Koko from Ghana – koko and koose), or filled with a spicy sauce with seafood in Brazil.
Koose or Akara Recipe (Black Eyed Bean Fritters) – Homemade
Ingredients 
200 g of Black-eyed beans
1 large Habanero Chilli
1 medium-sized Onion
20 g of Spring Onions (optional)
60 ml of water
600 ml of Vegetable oil
1 teaspoon of salt
For You >>> How to Peel Beans with Hands
Preparation
Firstly, peel the beans and allow soaking for about 5 hours or more.
Secondly, pour the soft beans into a sturdy blender and begin to pulse until smooth. Add a little water at a time to facilitate the blending process.
Thirdly, add the onion (and pepper optional) Add the onion, ginger (if you wish) and scotch bonnet pepper to the blender and pulse until smooth. Add the sea salt flakes and mix them into the batter.
After that, heat the oil for deep frying until very hot. Then, use a ladle or spoon to scoop the paste into the hot oil.
You will see them puff up into round balls, and floats to the surface of the oil. Continue turning until golden brown, remove and allow excess oil to strain off in a paper towel.
Lastly, repeat the process until all pastes are used up.
Koose – Calorie Content, Nutrition Facts
Serving size: 50 g
Calories: 102 •Carbs: 12 g •Fat: 5 g •Protein: 4g