Marugbo (Eweta) Soup Recipe: Ondo State Native Black Soup
Marugbo (Eweta) Soup is a traditional soup from the South West region of Nigeria. A delicacy loved by the Ondo people, particularly the Ikale people. Ondo kare o, Ikale Kare!!!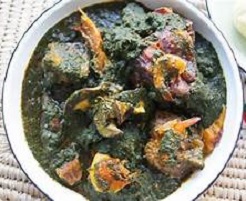 It is also known as Eweta, Black soup, Gbanunu (sweep belle clean) soup among the Ondos, Obetadudu among the Idanres, and Obenetete among Urhobos.
Checkout >>> Nigerian Black Soup | Edo's Pride | Easy Healthy Meal
What is Marugbo in English?
I am yet to find the English name for Marugbo leaf. Though, its botanical name is Clorendendrum volubile. Conversationally, Marugbo soup is called "Ondo native soup or Ondo black soup" in English.
Marugbo soup or Eweta soup is an enjoyable soup made from a combination of two main vegetables
It is prepared with a mixture of two leaves. Marugbo being the main leaf and spiced with other medicinal leaves like Iteji, efinrin,, lapalapa, epojebu, ekikan, or iseketu.
It's a black soup cooked with Marugbo leaf (which can come fresh, dried, or powder) blended to form a delicious pot of soup.
The leaves are rarely used fresh; they are naturally used after being fully sun-dried, this is what gives the soup the dark-green black coloring.
Due to the use of many medicinal vegetables, while preparing the soup, marugbo soup has a laxative effect on the body; this is why the soup is therapeutic particularly for nursing mothers. It aids their healing process.
The procedure of cooking the soup itself is comparable to other vegetable-used Nigerian soups such as Afang soup and Black soup.
Related >>> Afang soup Nigerian Recipe: A Step-by-Step Guide
An earthy broth of fresh/dried fish is prepared and the pureed vegetable is added to thicken the broth.
The pureed vegetables quickly thickened the broth as soon as the vegetables absorb water.
Nutritional Content or Value of Marugbo (Eweta) Soup
Marugbo leaf soup is a rich source of amino acids and minerals like magnesium, selenium, potassium, zinc, iron, dietary fiber, low in cholesterol and fats.
Marugbo (Eweta) Soup Health Benefits
Firstly, this traditional soup stimulate lost appetite and replenish vitality for mothers who just put to bed
The leaves contain a high content of zinc and iron that is good for keeping the skin fresh
A soup rich in amino acid and minerals such as magnesium, potassium, selenium, zinc, which aids in cleaning the bowel and easy digestion
The soup also serves as a colon cleanser
Marugbo leaf soups are effective for general therapeutic and laxative effect on the body.
The soup is highly medicinal. Many people use it to treat Gout, Arthritis, Rheumatism, Oedema (leg swelling in pregnancy), Diabetes, Hypertension, Alzheimer's disease, Parkinson's and improve cognitive function.
Furthermore, Obe Marugbo or Eweta soup has other beneficial features which include:
Lowering of blood cholesterol
Good for heart diseases
Lower blood sugar and good for diabetics
Rich in iron and helps boost the production of red blood cells in the body
Boosts ovulation and increases the chances of a woman getting pregnant
A perfect meal for pregnant women and women that just delivered
Helps remove stale blood from the womb after delivery. Hence, the Ondo, and Edo people prepare it with pounded yam for pregnant women.
Perfect for weight loss as it helps burn excess belly fat and body fat.
Marugbo (Eweta) Soup Recipe: How do you cook Gbanunu soup?
Ingredients 
Goat meat
2 cups of dried Marugbo vegetable
1 cup of dried Efirin
Smoked fish
Dry fish
2 tbsp. crayfish powder
1 fresh ginger
2 ata-rodo
1 onion bulb
¼ cup of palm oil
2 seasoning cubes
Salt to taste
Method
Firstly, wash the goat meat and dry fish, and boil in a pot with 2-3 cups of water, seasoned with salt and 2 seasoning cubes. Cover and allow boiling until the meat is soft.
Secondly, put some more water and add smoked fish and crayfish powder. Cover and allow simmering for a few minutes. Then, add palm oil and stir. Allow boiling for 7-10 minutes, stir, taste, and regulate seasoning accordingly.
After that, blend the dried vegetables with ginger, onion, hot pepper, and water until smooth, then add vegetables to thicken the broth. Stir and taste. Adjust seasoning and water accordingly.
Finally, cover and allow simmering for 12-15 minutes, then turn off the heat.
Your soup is ready! Serve with solid carbohydrates like the pupuru (smoked cassava flour), fresh pounded yam, Eba, starch, amala, fufu, rice, or any choice of a swallow.
When in Ondo state next time, Marugbo (Eweta) Soup is a traditional soup worth trying.