Most Expensive Soup in Nigeria | State of Origin | Recipe
Most Expensive Soup in Nigeria | State of Origin | Recipe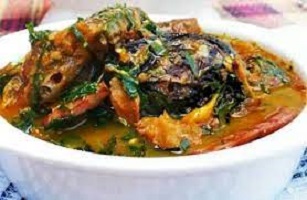 Nigeria is undeniably endowed with a diverse range of indigenous foods because of the country's diverse tribes.
Some dishes are unique to particular tribes. Each tribe takes pleasure in their cuisine and promotes it as the best.
There are, however, foods that are outstanding to others. In this essay, I'll tell you about Nigeria's most expensive soup.
The tribe and state that owns it.  Also, I'll give you a general outline of how to make this Nigerian soup.
Most Expensive Soup in Nigeria | State of Origin
"Ofe Owerri" is the most expensive soup in Nigeria. This soup is native to the people of Imo State, and its name means "Owerri soup" (Owerri is Imo state capital). It is also known as the "Jewel of the South-East" since it is one of the most expensive soups in Igboland.
I've cooked and tasted it, so I know what I'm talking about.
Because it is produced with a lot of costly healthful locally made ingredients, Ofe Owerri is referred to as a rich man soup. this soup is not like your regular Igbo soups like egusi soup or ogbono soup one can afford at random.
The money spent on one pot of Ofe Owerri can be utilized to make several pots of other ordinary soups. It's dubbed wealthy man's soup because, even though it's made with a variety of meats, fish, and pricey components, it's a cook-and-finish dish.
This implies that you cook it today and finish immediately, or the next day.
Songs like 'onye ne ejiro ego, o na eri ofe Owerri' have been written on this local food.  This translates to "Can someone without money eat Owerri Soup?" it asks.
It is one of the sought-after soups in Owerri and, by extension, the entire country's eastern region.
How do you make Owerri? How is Ofe Owerri prepared? Ofe Owerri Recipe
Please Note >>> You do not need to break the bank to make this delectable soup from Imo State, Nigeria! Just buy as much fish and meat as your budget will allow, alright?
The Igbo people of Eastern Nigeria have a traditional vegetable soup called Ofe Owerri. As you may have guessed, "Ofe" means soup, and "Owerri" is the capital of Imo state in South-Eastern Nigeria, hence Ofe Owerri is unique to the people of Owerri.
Ofe Owerri is typically made with four distinct vegetable leaves: Okazi, Ugu, and Uziza, as well as Oha and Uziza, though Uziza, which is highly aromatic, and Oha aren't as popular as Ugu and Okazi.
Why is it termed a rich man soup? Or better still considered the most expensive soup? Take a look at the ingredients, you will understand better:
Most Expensive Soup in Nigeria Ingredients
Dry fish
Stockfish
Beef
Snails
Cowskin (ponmo)
Sliced ugu leaves
Thinly sliced okazi leaves
3 tablespoons of palm oil
5 medium-sized ede
1 tablespoon of ogiri
3 tablespoons of ground crayfish
1 medium-sized onion
3 teaspoons of pepper
4 cubes of seasoning
Salt
Water
Steps on how to make Owerri soup
Firstly, bring your ede to a boil.
Secondly, boil your varied meat, stockfish, and dry fish, three cubes of seasoning, onions, and salt in a separate pot with a small quantity of water at first to allow the meat to absorb the flavors.
Thirdly, a generous amount of water will be added to make up the soup's volume. After that, remove your ede, which should be soft, and pound it while the meat heats.
Fourthly, return to the meat and see if it is tender. Then combine your palm oil and ede, allowing the ede to dissolve in the palm oil.
After that, toss in the crayfish, ogiri, pepper, and Okazie leaves and cooks for a few minutes. The okazie leaf is added now since it is hard and takes longer to soften than the other leaves.
Taste the soup to see if any ingredients are missing, then add your ugu.
Allow for a minute of boiling before turning off the heat and serving.
Serve with pounded yam, garri (eba), or your preferred swallow…
While you're here, take a look at our other Igbo soups >>>
If you decide to make this Most Expensive Soup in Nigeria – Ofe Owerri dish, please let us know, and don't forget to subscribe to receive automated notifications of new recipes. In the meantime, stay tuned for the next recipe!