Egg Sauce | Delicious Breakfast Sauce for Boiled Yam
Egg sauce is just one of the many egg recipes that I love. Eggs are versatile. They are used for baking and preparing almost every snack in Nigeria.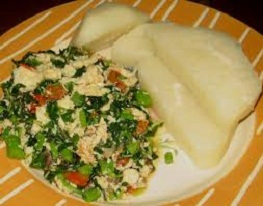 Eggs are incredibly versatile food. From egg sauce to scramble to poached, there are many ways to cook an egg exactly the way you like it.
Egg Sauce: Calories in an Egg
A single large egg contains roughly 72 calories: 17 in the whites and 55 in the yolks.
Nigerian – Boiled Yam (Net Carb)
Serving Size: 1 Slice
118 Calories: 23 g carb, 0 fat and 1g protein
Egg sauce and boiled yam are very easy to prepare. It entails making a delicious sauce by combining eggs and several other ingredients and eating it with boiled yam.
Though optional, you can garnish with a handful of green leafy vegetables mostly fluted pumpkin leaf (ugu) or spinach to make it more nutritious.
Egg sauce in Nigeria is popularly served with yam, plantain, agege bread, Jollof rice, potatoes, etc.
Egg Sauce and Boiled Yam Recipe
Typically in Nigeria, egg Sauce is made with eggs, tomatoes, peppers, onions, vegetable oil and a pinch of natural sweetener (Maggi, knorr, etc.)
Feel free to make this your own. Yes! You can own this recipe by changing some of the ingredients to suit you.
Ingredients
Tuber Yam
Eggs
Fresh tomatoes (Diced)
Onions (Diced)
Fresh pepper (Diced)
Vegetable oil
Salt for taste
Seasoning Cube of choice
Green bell pepper (Diced)
Methods
Firstly, peel and wash the yam, and then boil with a dash of salt.
Secondly, boil the yam until it is soft, drain and then, set aside.
Thirdly, break the eggs in a bowl and add a pinch of salt and whisk properly.
Then, heat the frying pan, and once it is hot, add vegetable oil, diced onions, tomatoes, pepper, salt, and cube and fry for about 10 minutes and taste for salt.
Stir continuously to avoid the sauce from burning.
Lastly, pour the egg into the frying pan and wait for a minute before stirring, (this will allow the egg to set a bit) Stir to scramble egg and then add the green bell pepper and stir again
Serve with boiled yam if you wish or do the Aboki style and serve with bread and tea!  The truth is that the sauce is delicious however you want to use it.