Indomie Noodles Stir Fry: How to Cook Nigerian Noodles
Indomie noodles stir fry? What's not to like? When you think of noodles in Nigeria, the first thing that comes to mind is Indomie.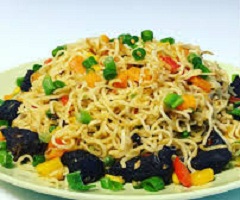 This comfort food is so delicious and takes only about 15-20 minutes to put together.
We all live busy lives and from time to time snappy, easy, and quick to cook meals are essentially the orders of the day in various homes.
The noodles are packaged with all the required ingredients needed for preparing them, feel free to add or remove/reduce some of the ingredients
This hearty Nigerian Indomie Noodles Stir Fry is chock-full of healthy veggies, making for a very satisfying meal.
Indomie Noodles Stir Fry Recipe
You can never have a dull breakfast with this simple Nigerian Indomie recipe.
Discard your plain instant noodle dish and try this gourmet recipe instead.
Below is how to make Nigerian Indomie Noodles Stir Fry with all the extra ingredients to spice up the color and flavor.
Ingredients
Vegetables of choice (carrots, peas, green peppers)
Fresh tomatoes
Onions
Fresh pepper
Two sachets of noodles (or as many as you like)
Fluted pumpkin leaves
Eggs or Shrimp
Vegetable oil
Preparation
Firstly, break the noodles in a bowl and pour hot water to it, allow for about five minutes for the noodles to get soft.
Secondly, put your frying pan on fire, and then add sliced tomatoes, fresh pepper, onions, and fry for about five minutes also.
Thirdly, remove water and then add the follow-come ingredients while still in the bowl, at this point the noodles will be both soft and hot.
It's best to use the ingredient from one sachet to prepare two sachets to reduce the intensity of the flavor.
After that, break the two eggs or your choice of protein into the same bowl containing the noodles and stir together.
Then transfer to the frying pan and finish up with the rest of the preparation process.
The frying pan now contains the fried tomatoes, vegetables, onions and peppers, cook and stir fry for about two minutes
That it! Your Nigerian Indomie Noodles Stir Fry is ready.
Recipe Notes:
Like any stir-frying recipe, it's essential to have all of the ingredients ready; have all of the veggies cut up to be added in the stir-fry.
Secondly, stir-fry at all times on high heat as to keep everything crisp, tender, and not mushy.
Lastly, there might not be a need for salt if you choose to use the seasoning packet that comes with the noodles.