Mocktails: How to Make Orange Sunset Mocktail
Mocktails: How to Make Easy Summer Orange Sunset Mocktail at Home. Please Watch >>>>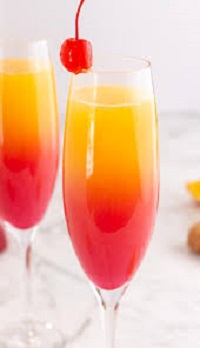 One of the simplest mocktail recipes for the summer is Orange Sunset Mocktail. This Orange Watermelon mocktail is a refreshing summer drink that comes together quickly and easily at home.
This beautiful summer drink, also known as a Sunset mocktail or a Sunrise mocktail, is a combination of watermelon juice and oranges that is refreshing and looks as beautiful as a sunrise or sunset.
The best cocktail recipe for capturing the sunrise in a glass! Have you ever stood in front of a sunset and wished you could capture the colors and keep them forever?
This is something we have definitely considered.
While we cannot assist you in preserving the true colors of the sunrise, we can provide them to you in a glass.
This stunning summer sunrise drink is as tasty as it is beautiful. It will undoubtedly remind you of every summer sunrise you've ever seen!
Summer Sunrise Mocktail Recipe
With a slight variation on my cocktail recipe, this non-alcoholic cocktail – the Sunset Mocktail – checks all the boxes, so you know it's a winner.
Ingredients
1 teaspoon fresh mint leaves, chopped
2 teaspoon lemon juice, freshly squeezed
2-3 lemon slices (optional)
¼ cup, 60 ml orange juice
6-8 ice cubes
¼ cup, 60 ml sprite or sweetened club soda
¼ cup 60 ml fresh watermelon juice
1 Orange slice & mint leaves, for garnishing
How to Make Summer Sunrise Mocktail
To begin, combine the chopped mint and lemon juice in a tall glass.
Using a muddler, rolling pink, or the back of a large spoon, crush the mint in the lemon juice. This enhances the minty flavor.
Add a few lemon slices if desired (optional) then, pour the orange juice over the lemon juice mixture. Fill with enough ice cubes
Then, place the sprite on top of it. You can substitute any aerated translucent drink if you don't have a sprite.
Pour the watermelon juice over the sprite carefully next. Slowly, so that the layers do not mix.
lastly, decorate the glass with an orange slice and mint leaves.
People also ask
What is the sunset drink made of?
What exactly is this? The Starbucks Sunset Drink with Iced Tea is a customized Iced Peach Green Tea Lemonade that has become popular on TikTok due to its colorful layers. Simply shake an iced peach green tea lemonade with raspberry syrup and layer with Passion Tango tea.
Is mocktail an alcoholic beverage?
What Exactly Is a Mocktail? Mocktails are non-alcoholic mixed drinks that are intended to mimic the presentation and complexity of craft cocktails but lack the alcohol.
Mocktails combine sodas, juices, herbs, and syrups to create unique flavors.
What is a blue mocktail made of?
Blue Mocktail Recipe
Fill each glass with 14 cups of blue curacao syrup. Fill each glass halfway with lemon and orange juice.
Top each mocktail with seltzer and give each glass a quick stir with a cocktail stirrer. Garnish each glass with a lemon and orange slice and serve.
How do you make a sunset refresher?
Are mocktails healthy?
Mocktails can be tasty and healthy when made with nutritious ingredients like kombucha, ginger, and mint.
Quitting alcohol may appear to be a major challenge, but considering the numerous benefits of limiting your alcohol intake, it may be worth reconsidering.
What is the origin of the term "mocktail"?
Mocktails, an abbreviation for "mock cocktails," are non-alcoholic party drinks.
The term "mock" implies a façade of an alcoholic cocktail that lacks any alcoholic content.
Are mocktails safe to consume while pregnant?
Mocktails are perfectly safe during pregnancy because they are defined as a non-alcoholic drinks.
How many different kinds of mocktails are there?
Cocktails without alcohol are both tasty and stylish. Mocktail is an abbreviation for mock cocktails,' which is a non-alcoholic drink.
Mocktails are non-alcoholic drinks that have been blended together with various fruits, syrups, juices, or cream.
What happens after you consume a mocktail?
Mocktails allow you to partake in the festivities without the aftereffects of alcohol. Decisions will not be influenced:
Alcohol reduces inhibitions while impairing judgment and decision-making abilities.
Its effects on your brain can result in potentially dangerous or embarrassing situations.
When should I consume mocktails?
It is called a mocktail because it resembles or looks like a cocktail. Mocktails are less expensive than cocktails and are popular among those who do not like or want to consume alcohol