Indomie Recipe:  Indomie Noodles Stir Fry Nigerian Style
Indomie recipe has taken over the hearts of many Nigerians with a series of quick and easy good recipes and of course their often fascinating promo songs.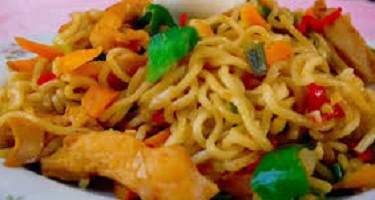 What drew my attention to indomie is this advert: Indomie You like no other – Children's day. Kids love eating indomie.
Especially for you >>> Indomie instant noodles stuffed with carrot and peas
If you grew up in Nigeria like me, I am sure you will be conversant with some of their adverts.
Indomie is common globally. The instant noodle produced by Indofood is circulated in Australia, Asia, New Zealand, Africa, the United States, Canada, Europe the Middle East, and of course Malaysia.
When you think of noodles in Nigeria, the first thing that comes to mind is Indomie.
We all love Indomie, though it's not the healthiest choice out there – but on days we are lazy, it's all we want!
From my calculation, tea and bread combination is the most popular breakfast recipe in Nigeria, then followed by noodles
The most common kind of Indomie is the "Mi Goreng" (stir fry) range which was built on the Indonesian dish of the same name.
Indomie Recipe:  How to Cook Indomie Noodles in Nigeria
There is a noticeable difference in how Nigerians make their Indomie. We do not drink Indomie as soup.
Unlike the Asian cuisines that make instant noodles as a soup, with the noodles swirling in lots of liquid when cooked.
In Nigeria, we prepare indomie the same way we cook our spaghetti. The noodles must be completely free of liquid.
Indomie Recipe:  Indomie Noodles Stir Fry Nigerian Style
There are lots of Indomie flavors and there's so much you can do with them! Below is a quick breakfast delicious recipe.
Ingredients
1 pack of Indomie instant noodles
100 g of chicken pieces
1 tablespoon of satay sauce
½ cup of leafy vegetables
¼ cup of onions (chopped into chunky pieces)
Olive oil for cooking
Water for cooking the noodles
Optional Ingredients
Eggs
Without oil/without frying
Instructions
Firstly, heat water until it boils, and then put the noodles without the flavor pack.
Secondly, strain the cooked Indomie noodles and set aside.  Fry the onions in a large pan
Thirdly, add one teaspoon of olive oil, 1 tablespoon of satay sauce, and the flavoring packs into the large pan. Heat the sauce
After that, add the drained noodles and turn up the heat to medium and fry the noodles
Lastly, throw in the leafy vegetables and fry them up together with the noodles. Serve on a plate
Enjoy your Indomie noodles!