Pineapple Ginger Juice Recipe: Healthy Detox Drink
Pineapple ginger juice is a deliciously cleansing sweet, fresh, juice, packed with anti-inflammatory, digestive-boosting, and liver cleansing properties.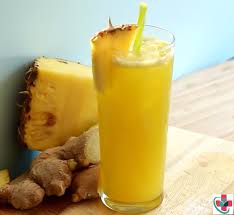 The main ingredients here are pineapple and ginger just as the name of the juice specifies spiked with lime.
Thereby making this wonderful cleansing combo a nutrient-dense drink, perfect to add to your daily detox diet
The weather these days is hot and one of my solutions for cooling the body after a hot day is to make all the West African drinks – fresh fruit juices, tea, cocktail, and smoothies.
However, that makes the heat bearable especially when the fruits are affordable and fresh in our Nigerian markets.
Nutrition Facts: Diet Info and Calories in Pineapple Ginger Juice
Eight ounces of unsweetened pineapple juice contains about 130 calories.  It provides about 30 mg of magnesium, 25 mg of vitamin C, and 0.78 mg of iron.
It is also loaded with other nutrients and also contains lots of weight-loss properties.
Pineapple Ginger Juice Benefits
Pineapple is an outstanding source of bromelain, an enzyme that helps in digestion and can help avoid indigestion and bloating.
Plus, pineapples provide antioxidants and vitamin C, which both assists in repairing muscles and tissues and aid in recovery.
Ginger contains antioxidant and anti-inflammatory components while limes are also a good source of Vitamin C, and contain flavonoid compounds
Pineapple Ginger Juice Recipe
This pineapple ginger recipe is so easy, it takes about 5 minutes to prepare
Ingredients
4 cups pineapple chunks from one medium pineapple
1 lime
2 inches ginger root washed and roughly chopped
1 cup of water
Method
Firstly, simply blend the pineapple and ginger with the water until all the ingredients are pureed.
After that, strain the juice into a clean container with a fine mesh strainer, a nut milk bag better yet cheesecloth.
Lastly, squeeze the lime juice, not with the seeds and stir.
Serve the juice chilled
Recipe Notes
The juice should last about 1 week in the refrigerator. If the juice has been sitting in the fridge for a while, it may settle, so shake or stir lightly before serving.
This Pineapple Ginger Juice is sugar-free but if you want some more sweetness, feel free to add sugar, honey, or any sweetener of choice.
Other detox recipes I am sure you will like: