Calories in Rice noodles, cooked Nutrition Facts
Calories in Rice noodles, cooked Nutrition Facts. Rice noodles, or just rice noodle, are but one variety of noodles made from rice and a popular ingredient in Asian cuisine.
Rice noodles are often used in Thai, Vietnamese and Malaysian cuisines. The principal ingredients are rice flour, water and at times other ingredients such as tapioca or cornstarch are included to advance the transparency or increase the gelatinous of the noodles.
Related >>> Indomie Noodles-Indomie Noodles Stir-Fry Nigerian Style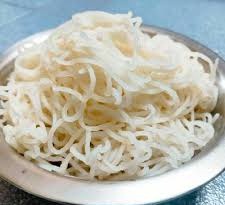 Are rice noodles healthy?
Rice noodles offer a healthy substitute for yellow egg noodles and can be used in almost all traditional Asian recipes.
They do not have any wheat flour, which means that they are gluten-free and right for anyone with gluten intolerance or celiac disease.
Rice noodles can be bought in many widths for example rice sticks (long straight ribbons) and rice vermicelli (very thin noodles, thinner than spaghettini).
Rice noodles are best for busy cooks as they barely need any cooking. Once cooked, rice noodles can be used hot or cold in all kinds of Asian dishes from stir-fries to salads.
Rice noodles are great for stir-fries as they soak up strong flavors often used in stir-fry sauces.
Most rice noodles are gluten-free (always check the label), making them a good substitute for wheat noodles in recipes.
They can be used as a garnish to curries as well as stir-fried meat and vegetable dishes.
Above all, they are also known as rice threads or sticks – subject to their thickness. Some health food stores sell rice noodles as gluten-free products.
Calories in Rice noodles: How to Use Homemade Rice Noodles
These rice noodles are available for eating steaming. You can also stir-fry them or put them in noodle soups.
Calories in Rice noodles: Rice noodles Recipe
Step 1
Firstly, put noodles in a large heatproof bowl.
Step 2
Secondly, pour over enough boiling water to completely cover noodles and allow soaking for 4-8 minutes, subject to their thickness. Vermicelli or very thin noodles need 2-3 minutes to soak while Rice sticks need 6-7 minutes to soak.
Step 3
After that, drain noodles and use a fork or spatula to separate them. Use a small oil to stop them from sticking if not using straightaway. Use as required.
Calories in Rice noodles, cooked Nutrition Facts