Egg Whites Cake Donuts: Simple, Moist, and Fluffy
Egg whites cake donuts are light, puffy goodness with holes that have been eaten since time immemorial.
Leftover egg whites can be very beneficial. If you must separate your eggs into whites and yolks, don't throw the egg whites away.
Related >>> Fresh Doughnuts: How to make Nigerian Donuts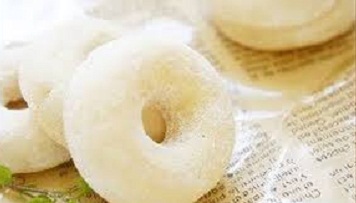 Though both can be used in a lot of recipes, I will be making use of the whites today to make cake donuts hence the name – Egg whites cake donuts
White egg cake donuts are spongy and perfect for breakfast or a snack. It is also fluffy after baking, but if left uncovered, it may harden slightly.
Egg Whites Cake Donuts Recipe  
Cooking Tips:
While making doughnuts, keep the dough soft and malleable by using as little flour as possible during rolling
Evade dough over handling to remove the possibility of producing a tough product with a compact texture.
You may chill the dough slightly in the refrigerator before rolling to make the cutting easier.
Ingredients
8 egg whites
300 g of flour for cakes
100 g of butter at room temperature
150 g of sugar
Glass of milk
A packet of yeast
Pinch of salt
Method
To prepare the egg whites donut, firstly mount the butter with the sugar until frothy.
Secondly, start to add the sifted flour with the baking powder alternating with milk to keep the dough soft. Add a pinch of salt.
After that, whip the egg whites until stiff and embed them gently in the mixture gradually, stirring with a spatula from the bottom up not to remove the compound.
Then, grease and flour a ring mold and pour the dough, then bake in a 180°C oven for 40 minutes (do the toothpick test to make sure it's ready).
Finally, allow cooling before removing it from the mold.
That's it! Your snack is ready. Enjoy