Stroopwaffles: How to make Dutch Stroopwaffels
Stroopwaffles are popular sights in shops, stalls, and even vending machines throughout the Netherlands and the former Dutch Empire.
The average Dutch person consumes 20 of these waffles each every year thereby arguably becoming one of the best known Dutch dishes. Wikipedia
Stroopwaffles History
First made in the Dutch city of Gouda by a baker in 1784, this biscuit was termed 'biscuits for the poor' in its inception, it because of the cheap price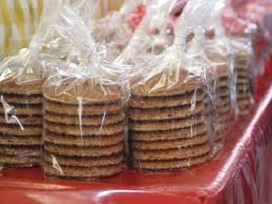 But over time, the position of the poor man's cookie became reformed and by the 19th century, numerous treacle waffle makers were established in Gouda hence the reference to Goudse waffles.
However, it is the combination of the crispy waffle and the soft caramel filling that made this waffle to be treasured all over the world.
These genuine Caramel Cookie Waffles are called 'Stroopwaffels' by the Dutch. It is richly filled with chewy centers and is one of Holland's true specialties.
The syrup waffles are also known as Treacle Waffles or Caramel Cookie Waffles.
Stroopwaffels Recipe
This recipe is a wafer cookie made from two thin layers of baked dough joined by a caramel filling.
It is richly filled with chewy centers and is one of Holland's true specialties.
Stroopwafels Recipe: How to Make
Ingredients
4 cups all-purpose flour
11/8 cups butter, melted
¼ cup warm milk
1 egg
1 ½ cups molasses
2 (.25 ounce) envelopes active dry yeast
1 1/3 cups packed brown sugar
¾ cup white sugar
1/3 cup butter
1 teaspoon ground cinnamon
Directions
To Make the Dough
Firstly, mix the flour, melted butter, sugar, yeast, milk, and egg in a large bowl.
Then, when the dough becomes stiff to stir, turn out onto a floured surface and knead by hand for a few minutes.
After that, set aside to rise for 45 minutes.
To Make the Filling
Firstly, heat the molasses, brown sugar, remaining butter, and cinnamon in a saucepan over medium heat.
Then, stir to blend, and set aside.
To Make the Stroopwafel Wafer Cookies 
Firstly, preheat a pizzelle iron. Then, knead the dough briefly, and divide the dough into 2 inch balls
After that, press the balls in the preheated iron and cook until the iron stops releasing steam, or until the waffles are golden brown.
Thirdly, carefully remove with a knife or spatula, and split in half horizontally (like pocket bread)
Lastly, while still warm, spread filling on the insides, and put the halves back together.