How to Prepare Jollof Rice ~ How to Cook With Chicken
How to Prepare Jollof Rice ~ How to Cook With Chicken
There isn't a West African cuisine that is more popular than jollof rice, in my opinion. It is delicious, which is why it is so well-liked.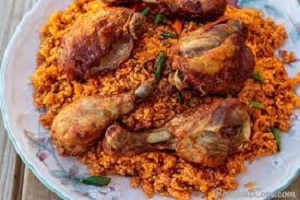 Jollof rice is a staple in West African cooking, the main ingredients include; Rice, tomatoes, onions, peppers, and additional seasonings.
It's a one-pot meal and making it at home is quick and simple, and the results are fantastic!
Nigerian jollof rice is a classic rice dish and a staple in most Nigerian parties, where you can rest assured that there will always be pans upon pans of party jollof rice
This is the reason, I first and foremost, enjoy going to Nigerian parties (LOL)
What is Jollof rice?
For those of you who are unfamiliar with Jollof rice (also known as Jellof rice). It is a delicious, aromatic, and highly tasteful West African one-pot meal.
It is Jambalaya rice-like in flavor but with distinctly African spices. Cooked rice and tomato stew are the major ingredients, while thyme, scotch bonnet pepper, onions, and garlic are used to flavor it.
The dish is a mainstay of West African cuisine, especially that of Nigeria, Ghana, Senegal, and Gambia, and is frequently consumed and savored at celebrations such as festivals, weddings, birthdays, and other important occasions.
It is a very adaptable cuisine that is typically cooked from scratch with rice, tomatoes, onions, scotch bonnet, pimento peppers, tomato paste, salt, and other spices.
Recipe for Nigerian jollof rice ~ How to make really tasty Jollof Rice with Chicken!
How to prepare delicious Jollof Rice With Chicken. I love how this recipe makes a complete meal with just rice, chicken, and veggies!
It is incredibly tasty and works well for dinner or entertaining.
Jollof Rice with Chicken Recipe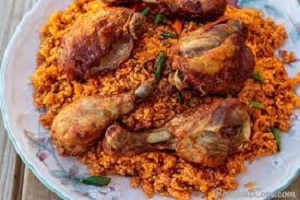 There are numerous ways to prepare jollof rice. Rice, tomatoes, tomato paste, onions, red bell pepper, scotch bonnet peppers, salt, and spices are the major ingredients used to make this dish.
Truly, Jollof cannot be made if the materials listed above are absent.
Whose Jollof is better (Nigeria vs. Ghana)
The question of which country's jollof is superior (Nigerian jollof rice vs. Ghanaian jollof rice) has generated a lot of discussion on social media, but in all honesty, it just comes down to preference.
I personally think that basmati/jasmine rice used in the preparation of Ghanaian rice jollof is too sweet and soft of a grain to be used in the meal, though it does give the jollof a lovely flavor, and that's why I prefer My Nigerian rice Jollof!
Geographical range and variants
Jollof rice is a delectable royal delicacy from West Africa.
It is among the most popular foods consumed in West Africa in the nations of Nigeria, Ghana, Togo, Senegal, Gambia, Mali, Sierra Leone, the Ivory Coast, Cameroun, and Liberia,.
In addition, the Wolof people of northwest Senegal are said to be its originators.
On the continent, the recipe varies from nation to nation and area to region, but it always begins with a tomato base.
Versatile!
You can alter this jollof rice dish to fit your tastes and preferences by adding any of your preferred vegetables, such as sliced carrots, green beans, sweet peas, or sweet corn.
It goes well with fish, poultry, cattle, lamb, goat, and other meats that are not chicken; although my favorite accompaniments are baked chicken, coleslaw, and fried plantains.
Guidelines for making the BEST Jollof Rice
To avoid having mushy rice at the end, it is essential to use parboiled rice.
When the tomato stew is finished cooking, the oil will float to the top as a sign. It will be a dark red color and have lost the tomato's entire bitter flavor.
To help keep the rice from burning, set aside ¼ of the tomato sauce and add it just before serving. Additionally, it imparts the rice with its signature gorgeous red color.
To assist keep all the steam within the pot, cover the top of the pot with plastic wrap before covering it with the lid.
Jollof Rice Recipes
There are countless different foods in the world, but only a small number of them have enough flavor for me to consume by myself. One of those dishes is a bowl of Jollof rice.
I mean a situation where, after you've finished eating, you can still taste the spoon or fork? You would want to lick it clean or even scrape the made-in-Taiwan comot self. Jollof rice is deliciously addictive.
Jollof Rice with Chicken Recipe
How to make tasty Jollof Rice With Chicken! I love how this recipe makes a complete meal with rice, chicken, and veggies! It is extremely flavorful and works well for dinner or entertaining.
Why This Jollof Rice Recipe Will Win You Over
It tastes extremely good.
It uses components that are simple to find.
There are no unnecessary ingredients!
It's a meal that impresses!
Rice can be cooked with just one pot!
The chicken has a wonderful flavor. You could bake or fry the chicken.
Easy Jollof Rice with Chicken
If you've never prepared jollof rice, I urge you to give it a try; you'll be pleasantly surprised by the delectable outcome.
This recipe for rice and chicken is a crowd-pleaser since they go together so well.
An Authentic Jollof Rice Recipe
This recipe is genuine, as well. I've seen recipes that include items that are so foreign to jollof rice.
Key Ingredients for Jollof Rice
Long Grain Rice
Tomatoes:
Onions
Oil
Chicken or Beef Stock
Stock Cubes
Garlic and Ginger
White pepper, bay leaves, dried or fresh thyme, basil, parsley, celery, fresh or dried rosemary, curry powder, habanero (or scotch bonnet pepper for heat), and smoked or ordinary paprika are additional additions that might really elevate your Jollof rice to the next level.
For this Jollof Rice dish, I didn't use all of the ingredients. I use the main ingredients with some herbs and spices to give the dish more flavor.
I want you to be aware of the various herbs and spices you can try in your jollof rice.
How to Prepare Chicken Jollof Rice
Here are the quick instructions for making chicken and jollof rice:
Onions, minced garlic and ginger, salt, and white pepper are used to season the chicken. To make chicken stock, cook the chicken with the seasonings and water.
Chicken should be taken out of the stock and fried or broiled in the oven until browned.
Tomatoes are puréed and reduced to a paste.
Add cooked-down tomatoes, tomato sauce, or tomato paste after sautéing the onions. Cook the tomatoes until they begin to wilt and settle to the bottom of the pot.
Add white pepper, minced garlic and ginger, and dried thyme to the pot. To blend, stir.
Fill the pot with water and chicken stock. Salt and chicken bouillon powder should be added.
Rice should be washed, added to the pot, covered, and cooked on low heat until fluffy.
If desired, you can add carrots and green beans to the rice. Along with the chicken, serve the Jollof rice.
Nigerian Jollof Rice with Chicken and Fried Plantains
The flavors of chicken and rice are enhanced in this classic Nigerian recipe.
In order to create a nice aromatic background for the rice, chicken is first sautéed on the stovetop. Serve jollof rice with fried plantains for an extra wonderful and authentic touch.
Plantains
4 ripe plantains, peeled and sliced into ½ -inch-thick diagonal pieces.
For frying, use ½ cup canola oil.
Step
In a nonstick pan, warm up ½ cup of canola oil over medium heat;
After that, plantains should be added and fried for two to three minutes per side, or until golden and crispy on both sides, and drain on paper towels.
Thirdly, heat ½ cup of canola oil in a nonstick pan over medium heat. Add plantains and fry on both sides until golden and crispy, about 2 to 3 minutes per side. Drain on paper towels.
Lastly, garnish jollof rice with fried plantains and serve with chicken.
Other JOLLOF RICE AND CHICKEN SERVING SUGGESTIONS
Jollof rice is a complete meal in and of itself (it is not a side dish). You can therefore simply take pleasure in it as it is.
Alternatively, you can serve it with cole slaw, steaming cabbage, or moi moi (a Nigerian meal of steamed beans).
Ingredients for Nigerian jollof rice
5 medium-sized Roma tomatoes, roughly chopped
1 red bell pepper, roughly chopped
1 medium-sized onion, roughly chopped, set aside
2 scotch bonnet peppers (habanero peppers as they are sometimes called)
¼ cup of groundnut oil
3 tbsp tomato paste
2 cups of parboiled rice
2 ½ cups of chicken stock
1 tsp salt to taste
1 tsp all-purpose seasoning
1 Knorr stock cube
3 bay leaves
½ tsp curry powder
½ tsp thyme
Water, as needed
Easy Jollof Rice Recipe: How to Prepare Nigerian Jollof Rice
Here is a recipe for the traditional Nigerian jollof rice, also referred to as hot jollof rice or West African jollof rice.
Firstly, use a food processor or blender to thoroughly mix the tomatoes, red pepper, and Scotch bonnet peppers for about 45 seconds.
Then, heat your oil to a medium-high temperature in a medium-sized pot. When the oil is hot, add the reserved onions and cook them just until they are golden brown.
Thirdly, add the tomato paste and cook for a further two to three minutes after the onions have gone brown.
After that, sauté the mixture with the onions and tomato paste for about 30 minutes before adding the blended tomato mixture (save about ¼ cup and set aside). To prevent the burning of the tomato mixture, be sure to stir frequently.
Meanwhile, reduce the heat to medium-low after 30 minutes, then stir in the chicken stock. Salt, curry powder, thyme, all-purpose seasoning, and the Knorr stock cube should be combined. Boil for a further 10 minutes.
Now, fill the pot with the parboiled rice. Incorporate it thoroughly into the tomato stew. At this point, if more water is required to bring the rice to the same level as the tomato combination or chicken stock, add it now. For 15 to 30 minutes, cook on medium to low heat with the lid on. Add the bay leaves.
Finally, add the remaining can of tomato stew when the liquid has nearly completely evaporated, cover the pan, and continue cooking for an additional 5 to 10 minutes until the liquid is gone.
Your Jollof Rice is ready to be consumed when you completely mix it and turn off the heat.
Kitchen Notes:
You can add coconut milk instead of plain water to achieve coconut rice. This is another variation of jollof rice, with fewer calories.
How to Prepare Party/Smokey Jollof Rice
The goal of this jollof recipe is to replicate the "smokey" flavor and taste of party jollof rice that has been cooked over a fire.
However, it could be challenging to accomplish at home. But, I'm optimistic that by using these few tips, you'll be able to make "Party jollof rice" without using firewood.
Tips
When the jollof rice is done or ready, wrap your saucepan in foil and secure the lid tightly, then allow the steam to do the rest of the work
Now, letting the rice burn is a really effective approach to infuse it with the smoky flavor and aroma.
Thus, increase the heat to its maximum setting and let it cook for around 5-8 minutes, or until you smell burn. You can extinguish your heat.
Please take caution not to go too far. When satisfied, garnish, and then serve.
How to serve Jollof Rice
Normally, we serve Jollof with chicken, turkey, beef, goat meat, fish, or moi moi.
On occasion, we'll also serve it with a side of freshly made, creamy cole slaw or a Nigerian salad.
Without this meal, a gathering like a wedding or naming ceremony in West Africa would not be complete. It is always a hit at parties.
Storage Methods
Refrigerator storage is recommended for leftovers. It will last up to 4 days in the freezer if you place it in an airtight container, label it, and store it there.
The best way to reheat jollof rice is straight from the freezer without first thawing it. When reheated after thawing, it doesn't warm.
In order to store food for three months in the freezer, place it in a bowl that is both freezer- and microwave-safe (since you'll be reheating from frozen). Label the container with the name and dates.
How to reheat it from frozen
Put the microwave-safe bowl of jollof in the microwave and reheat it from frozen for 4 minutes on high. Stir, and then reheat for 1 minute at a time until it is thoroughly heated.
To reheat it from chilled
Put it on a microwave-safe dish and reheat it from chilled by heating it on high for 4 minutes, stirring, and then heating it for an additional 1 minute at a time until it is thoroughly heated.
People also ask
How to make jollof rice step by step? Nigerian Style Jollof Rice Recipe
Recipe for Jollof Rice in Nigeria
Firstly, blend your tomatoes, scotch bonnet, and tatashe together.
Secondly, put your rice into a bowl and soak it in hot water.
Then, heat up your oil.
After that, add your chopped onions and allow them to fry.
Finally, add and fry your blended ingredients and purée.
What are the ingredients in jollof rice?
Rice, tomatoes, tomato paste, onions, red bell pepper, scotch bonnet peppers, salt, and spices are used to make this dish.
Honestly, Jollof cannot be made if the materials listed above are absent.
How to cook party jollof rice and the ingredients?
Before you cook Jollof Rice
First, blend the sweet pepper (deseeded), tomatoes (deseeded), and habanero pepper, and cut an onion (chopped) with ginger juice.
Then, prepare the tomato stew. If you will use whole chicken then wash and cut it into pieces.
After that, parboil the rice using the method detailed in parboiling rice for cooking jollof rice.
How is jollof rice prepared for students?
Make sure the saucepan is dry before setting it on fire. When the oil is hot, add it. Add the salt, Maggie, tomato paste, curry powder, and ground pepper.
Then, stir and cover for a few minutes. After washing it, add it to the boiling water, mix it right away, and cook it slowly to prevent burning.
How to make jollof rice with chicken and vegetables?
Garlic, tomatoes, ginger, and chilies should be combined with a food processor or blender and blended until smooth.
After 2 minutes of frying the onions with the tomato purée, add the ginger and chili powder mixture.
Then, add the stock cube, mix, and then add 600 ml of boiling water. Place the chicken in the pot, bring to a boil, and then simmer for 15 minutes.
What is a short note of jollof rice?
A one-pot rice meal called "jollof rice" is a favorite in many West African nations, including Nigeria. It is prepared by simmering rice in a delicious purée of tomatoes and peppers.
How to prepare rice and stew in essay form?
Rice should be cleaned before being re-heated with enough water added.
To taste, add salt. Bring it down after the grains are soft enough to consume after allowing it to cook.
The following step is to create your stew using beef, fish, or any other type of meat.
What is the full meaning of jollof rice?
Dish made with rice, peppers, and either fish or meat that is popular in West Africa.
Jollof rice ingredient list ~ what are the ingredient for cooking jollof rice?
Rice, tomatoes, tomato paste, onions, red bell pepper, scotch bonnet peppers, salt, and spices are used to make this dish.
Authentic Jollof cannot be made if the materials listed above are absent.
How to cook student jollof rice ~ Affordable Jollof Rice Recipe for Students
Step 1
Wash your pepper and ground it. Then, put the pot on fire and make sure the pot is dry.
Step 2
Add the vegetable oil when hot add the ground pepper, curry, thyme, salt, Maggie, tomato paste then stir and cover for some minutes.
Step 3
Ensure it gets fried then add enough water that can cook the rice. After that, cover it and let it boil
Step 4
Now, wash your rice and pour it into the boiled water and then stir instantly and cook on low heat to avoid it getting burnt before it is ready.
Step 5
Check if it is tender enough to eat and finally with egg, meat, fish, turkey or chicken whichever one you can afford.
 Jollof rice secret ingredient list ~ what is the secret ingredient in Jollof rice?
A helpful hint: You can add butter at the very end of cooking your jollof rice. The butter is melted by the steam, giving your jollof rice a wonderfully attractive appearance and more flavor.
Ingredients for party jollof rice ~ Ingredients for Cooking One (1) Bag of Jollof Rice or 12 Custard/ Paint Rubbers 
Here are the ingredient measurements for one bag of rice. If you're cooking a half bag of rice or less, reduce the ingredient amounts by half or as necessary.
1 bag of rice (50 kg), which is equal to 12 rubber buckets for custard or paint
Four dustbin-rubber measures for fresh tomatoes.
One custard rubber measure each of the tatashe (Bell pepper) and habanero pepper
Shombo Pepper – 2 rubber dustbin measure
5 extra-large tins of 4,400g tomatoes in a tin
7 liters (or 2 custard rubber measures) of vegetable oil
5,000g of butter, ideally of the Topper brand.
8 to 16 liters/liquid measure of meat stock
Water plus 20 custard rubbers and pork stock
Three packages of chicken stock cubes (Knorr or Maggi).
10 bulbs of onions
Two cooking spoonfuls of curry powder
16 pieces of bay leaves
2 cups of Maggi chicken powder
Two large sachets of each stock powder (Kitchen Glory + Sweet Mama or Spice City).
Salt, as desired
How can you make smoked party jollof rice in Jollof?
The smoked paprika is a shortcut to adding the smokey flavor that is generally created by cooking over charcoal or coals, according to Lerato's advice.
Chicken and jollof rice – what goes with jollof rice?
What to put on top of jollof rice
African-style chicken stew
Chicken Suya.
Plantain fries.
Asun, a hot roast goat
Goat stew with curry.
African stewed beef.
A tomato-cucumber salad.
Spices of Jollof rice
Seasoning: The main ingredients in the majority of old Jollof dishes were salt, dried thyme, curry powder, and Maggi cubes.
Oil: The sauce used in Jollof is oil-based. All of the aforementioned is fried up before the addition