Periwinkle Meat – How to Clean Piom Piom, Isam or Nfii
Periwinkle Meat is a relatively cheap animal protein.  These sea-foods are used in many delicacies in the Nigerian cuisines. They are majorly eaten in the South-South areas of Nigeria.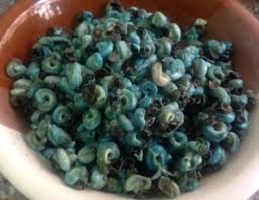 Periwinkles live in inter-tidal zones partly out of the water and have a foot that holds onto rocks, wharves, and docks. They eat algae on rocks, and decaying vegetation.
There are many different species actually, such as Small Periwinkle, Flat Winkle, Edible Periwinkle, and Rough Winkle.
Found in the tidal zones of most coastal areas in the world, these edible sea snails pack more flavor and nutrient than the more conversant clams, and oysters
The Health Benefits of Periwinkle Meat and Uses – Nutrition
Periwinkle also is known as Isam, piom piom or nfii has been known to possess analgesic, antibacterial, antibiotic, laxative, and hypotensive properties. They contain tannins that bind up fluids and relieve inflammation.
Periwinkles are low in Saturated Fat and a good source of Protein, Potassium, and Vitamin E (Alpha Tocopherol), Iron, Phosphorus, Magnesium, Copper, and Selenium.
In the South-South areas of Nigeria, Isam constitutes a part of the key ingredients used for preparing Afang soup, Edikaikong, Epankukwo recipe, or any other type of dish.
Even though it is tasty when cooked, Periwinkles are one of the most unfamiliar and neglected seafood.
The major drawback to periwinkles is that getting the purple-y, delicious wrinkles out of their shell or preparing them for eating can be labor-intensive.
Like most shellfish, periwinkles make you work for the delicious bits of meat they offer.
For this reason alone, some people would rather purchase already cleaned and packed ones in the market which are considerably more expensive.
In this write-up, we will be sharing tips on how you can clean your periwinkles at home.
Best Ways to Clean Periwinkles
There are two easy ways to clean periwinkle. The first way is to:
Firstly, rinse the Periwinkles in lukewarm water properly. This is to make sure that mud, sand, and other dirt are washed off.
Secondly, place them in boiling water for about 5 minutes. This helps to rinse the shells and rid them of germs and dirt that may be attached.
Then, drain the water after 5 minutes. After draining the boiling water, you notice that the periwinkle meat sort of come to the surface of their shells
After that, poke out the Periwinkles with a pin. The scales are called "operculum", and are not edible. You may add ginger to the water in the bowl to spice the periwinkles.
2nd Method
However, some people will not go through the hassle of poking out the periwinkle meat from the shells.
That's why you see some vegetable soups with the piom piom still inside their shells. Although, they have their shells cut at the tail end so that you can suck out the meat while eating the soup.
Then again, to use unshelled periwinkle in your soup, the 'ear' should be removed so that it does not stick to your gum and make you feel uncomfortable during or after eating.
Interestingly, there is also a plant and flower that bear "periwinkle" as a name which is, of course, unrelated to our piom piom meat.