Plantain Puff Puff: How to Make Spicy Puffies with Yeast
Plantain puff puff recipe is adapted from the puff puff recipe which is a popular African snack.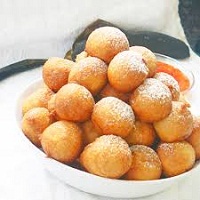 Now, don't fuss at the mention of Puff Puff because it is not as challenging as making Puff Puff.
This is not a puff puff wannabe at all. It's a perfect snack in its own. The addition of plantains, another African favorite is a great twist to this prized snack.
A bite of this goody is like having fried ripe plantains and puff puff in unison. It is experiencing the best of both worlds-so tasty and equally easy to make!
Don't throw away your overripe plantains since you can use them to make these sweet plantain balls or plantain Moi-Moi (ukpo ogede) without regret.
They are sweet and fluffy on the inside and so tasty! Unlike the regular puff puff, these balls do not need extra sugar. The ripe plantains give it the natural sweetness.
The secret to this recipe is to use plantains that are very ripe and soft. When the plantain is overly ripe, the skin changes from yellow to black. The darker, the better
Plantain puff-puff vs. Plantain Masa/Masa/Mosa 
Before getting into the recipe proper, I will like to clarify a common misconception. Plantain puff-puff and Plantain Masa/Masa/ Mosa are two poles apart snacks.
Plantain Puff-Puff is an adjustment to the old-fashioned Masa.
Hence Masa does not require yeast and it's often fried with palm oil or 100% pure groundnut oil (The type taken out from Kuli Kuli).
Plantain Puff Puff Recipe
Plantain puff puff is very easy to make and a no-fuss recipe.
Ingredients
2 overripe plantains (not rotten)
1 cup plain flour
2 teaspoon yeast or without yeast
Two tablespoon sugar (optional)
5 tablespoon warm water
Vegetable oil for frying
Instructions
Firstly, peel the plantains and mash or blend until smooth then pour into a medium bowl.
Secondly, measure your dry ingredients and add them into the plantain. Combine till smooth. (You can decide to dissolve your yeast in the water before adding to the mixture)
Then, cover with foil in a warm place for an hour. Your mixture will double in size.
After that, heat oil in a large pot for 5-10 minutes on medium heat (350 degrees F or 180 degrees C). Scoop a spoonful of batter into the hot oil.
Lastly, be careful not to overcrowd the pan. Let the balls cook for about 5-10 minutes until golden brown. Flip the side's half-way through. Remove and place on paper
It's ready to serve. Spicy Plantain Balls can be enjoyed as a snack or with corn pudding (Akamu/ogi) for a nice self-serving breakfast.
Cooking Tip
It's better to use whole-wheat flour or even ground Quaker oats instead of all-purpose flour.
This is because thicker flour gives a better texture and does not absorb as much oil when frying.