Meat Buns: Buns with Meat Filling Recipe
Meat Buns: Buns with Meat Filling Recipe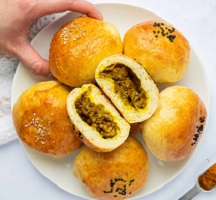 Meat Buns are a hearty, well-seasoned beef sandwich wrapped in a fluffy bun. Similar to soft bread buns filled with meat. It's difficult to go wrong with meat-filled bread, and this recipe allows you to enjoy these flavors in perfect harmony.
Ground beef is the filler for today's meat buns. However, this dish can also be cooked with ground turkey or chicken. Today's beef buns were spicy. But, you can reduce the spiciness and add or eliminate any ingredients in the filling that you don't care for.
Let's take a look at it from a different perspective. Meat and buns go together well, so these meat-stuffed buns should be tasty, right? The bread is incredibly soft, and the filling is both delicious and addicting! Following this recipe will ensure that you have something absolutely delicious and novel on your hands!
They're great to keep on hand in the freezer and eat with pickles and cheese for a quick lunch.
Origin
Meat Buns are from North China, where they are known as Baozi or Boa. It's a yeast-leavened-filled bun seen in a variety of Japanese cuisines. The fillings (meat or vegetarian) and procedures vary widely, though steamed buns are the most common. They are a Northern Chinese variant of mantou.
What are Meat Buns?
Meat buns are exactly what they seem like: ground meat baked inside a bun (typically beef or pork). Buns with meat filling are most typically associated with Asia, however, they can be found in a variety of cultures.
Are meat buns good for you? Healthy?
Buns with meat filling are a dish with a high carbohydrate, fat content, and low protein content. This makes it difficult to incorporate into a healthy diet because the bun lacks a decent macronutrient balance.
Ground Beef, Turkey, or Chicken Meat Buns
My filling was made with ground beef, but ground turkey or ground chicken would also work.
The meat filling is really adaptable, and you can be as creative as you want. Crispy diced bacon, ham, onions, parmesan cheese, or shredded mozzarella cheese are all good additions.
I made them into six large buns, but you can make them smaller if you want to use them as grab-and-go snacks for youngsters.
How long will these buns be good for?
Because these buns are packed with meat, they should be eaten within a couple of hours. If you plan to eat them later, store them in a ziplock bag in the fridge for up to 3 days; they also keep well in the freezer and thaw well.
Can I make this recipe with no-knead dough?
No, because no-knead doughs are wet and not sturdy enough to support the weight of the filling.
How long do Meat Buns take to make?
This recipe takes approximately two hours to complete, including prep and cooking time.
What should you serve with Meat Buns?
Buns with meat filling are best served as an appetizer or side dish because they go with almost everything. Serve with a green vegetable and/or carbohydrate to add texture, flavor, and nutrition.
Note:
To ensure that the buns stay together, don't overfill them.
Knead the dough thoroughly so that it is strong enough to hold the filling.
How do you wrap a filled bun?
Use one hand (I usually use my left) to secure it with your thumb lightly pressing the filling.
Pull up a small part of the dough's side using your other hand's thumb and first index finger.
Fold and pleat evenly all the way around in an anticlockwise direction until you reach the end, enclosing the bun.
Recipe – How do you make round buns? What are the ingredients for buns?
The Filling Ingredients
1 pound beef
A small onion
2 tablespoons olive oil
1 teaspoon thyme
Salt to taste
1 teaspoon bouillon powder
2 carrots
Red chili flakes
2 green onions
12 cup water + 2 tbsp water slurry
The Buns
2½ cup flour plus 1 to 2 tbsp for kneading
2 tbsp melted butter
12 tbsp yeast
1 egg
¾ cup warm milk
3 tbsp sugar
1 tsp Yeast proofing
½ tsp Salt
Instructions
The Stuffing
Firstly, while the dough is resting, heat the oil in a skillet, add the diced onion, and cook for 5 minutes, or until tender.
Meanwhile, break up the steak and add it to the pan.
Then, stir in the thyme, red chili flakes, carrots, and green onions. To taste, add bouillon powder, salt, and pepper.
After that, cook until there is little to no water left in the meat.
Lastly, stir in the slurry and continue to cook for a few minutes. Remove from the heat and set aside to cool.
The Buns
Firstly, in a small bowl, dissolve the yeast and sugar in the heated milk and set aside to prove.
Then, in a large mixing basin, combine the flour, salt, and sugar; make a well in the center and stir in the proofed yeast, egg, and butter until a soft dough forms.
After that, turn the dough out onto a lightly floured surface and knead by hand for 7 minutes, or until smooth and elastic.
Now put the dough in a large oiled basin (smear some oil on the surface of the dough) and set aside in a warm place to rise for 1 hour, or until doubled in size.
Punch the dough down to eliminate any trapped air and set it on a lightly floured work surface.
Then, divide the dough into six equal halves and shape each into a ball.
After that, roll out the dough one at a time into a circular disc. Scoop the filling into the center of the dough and bring the dough together at the top. Then, pinch the top a couple of times to close the dough tightly.
Meanwhile, place seam side down on a baking sheet lined with parchment paper. Then, allow rising in a warm area for 30 minutes, covered.
Lastly, brush with egg wash and bake for 20 minutes at 350°F, or until golden brown.
Serve hot as a snack or even breakfast with soft drinks, chocolate malt drinks, or tea
Japanese Meat Buns Near Me
Mayumi (Japanese) Restaurant
Bunyaki Restaurant
Shiro Lagos
HUA HAN Korean/Chinese Restaurant
Koi
Hua Fei Chinese Products Supermarket
SPAR Tejuosho
Iya Toyin Food Restaurant
Koi
Hua Fei Chinese Products Supermarket
Jamski