Hush Puppies Food – How to Make a Simple Hushpuppy Recipe
Hush Puppies Food – How to Make a Simple Hushpuppy Recipe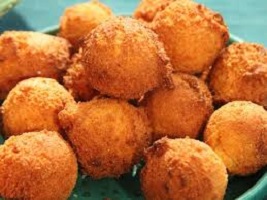 Either you've seen hush puppies on a barbecue joint's menu alongside coleslaw and baked beans.
Or, you may have encountered the golden orbs as a side dish at fish fries, seafood shacks, and seafood restaurants.
Perhaps you're perplexed as to why food and a popular brand of brushed suede shoes have the same name.
But what are hush puppies food exactly? We delve into every detail. In addition to instructions on how to make homemade hush puppies and what to serve with them.
What Are Hush Puppies Food?
Hush Puppies food are fried cornmeal batter that is similar to Nigerian buns, with the exception that Nigerian buns do not contain cornmeal.
In the southern United States, it is a traditional fried dough.
Hushpuppies can be rolled into balls or frittered into oblong shapes.
On the outside, they're golden and crispy but soft in the middle. Any taste bud will be stimulated by the toasty aroma of cornmeal and frying onions.
Sweet corn kernels, spring onions, ham, bacon bits, or suya mix can all be added to the batter. These ingredients must be finely minced.
Where did the name hush puppies come from slavery?
Hush Puppies' name comes from the Deep South's slavery era. Slaves used to toss cornmeal to keep the hounds away from them.
The maize meal made the dogs cease barking and tracking, earning them the nickname "hush puppies."
Where did the name hush puppies originate from Another version of the story?
During cook-outs or fish-fries, hunters, fisherman, or other cooks would fry a basic cornmeal mixture (perhaps that they had been bread-coating or battering their food with) and feed it to their dogs to "hush the puppies.
"Who invented hush puppies? The Real History of Hushpuppies
Thompson, Walter
Walter Thompson, a small-town entrepreneur from Swansboro, North Carolina, wanted to take hushpuppies nationwide in 1948. Thompson's Fireside Hushpuppy Mix was born from his concoction of cornmeal, flour, and seasoning, wrapped in pasteboard tubes.
How does Hush Puppies Food taste?
The golden yellow color makes it so enticing to the eye, and it tastes so good.
I always eat more steaming puppies because the crispy outer is always enticing, especially when paired with the fish. Don't miss making this mouth-watering recipe for the family, they'll love it
What Food Should You Serve with Hush Puppies?
Hushpuppies are savory with little or no sugar added, and they go well with seafood, such as fried fish and shellfish.
Hushpuppies with pepper soup or akamu are two of my favorite foods (pap). Custard, tartar sauce, mango dipping sauce with shrimp, French fries, or pepper sauce are some other delicious ways to eat them.
What are the ingredients in hush puppies' food? What's the food made of?
Hush puppies are thought to have originated in the Southern United States, where they are a popular delicacy.
Cornmeal, flour, egg, buttermilk, baking soda, and onion are commonly used, but other spices and ingredients, such as garlic and peppers, can be used too.
Hushpuppy Recipe – How to Make Hushpuppies Food
Homemade hushpuppies are simple to make and take only a few minutes to prepare; children adore this recipe and will pick up the balls even while playing.
In general, these dishes can be made in a variety of ways, such as without buttermilk, with corn, or without cornmeal, with or without garlic and onion, with or without buttermilk, and so on.
Ingredients
1 cup cornmeal
½ cup of all-purpose flour
1 teaspoon baking powder
½ teaspoon baking soda
2 tablespoons sugar
½ cup of buttermilk
¼ teaspoon cayenne pepper
2 eggs
¼ teaspoon salt
Vegetable oil for frying
Tartar Sauce for dipping (optional)
Method
Firstly, make the batter by combining the cornmeal, baking powder, sugar, baking soda, cayenne pepper, and salt in a mixer or mixing bowl.
Then, mix in the eggs and buttermilk until thoroughly combined to produce a batter.
After that, heat your vegetable oil in a skillet pan or frying pan, then scoop the batter into the heated oil with an ice cream scooper.
Lastly, cook till golden brown on all sides, then remove from heat and drain oil on a paper towel.
Your Southern hush puppies food is ready at this point.
Serve and have fun!