National Taco Day – October 4, 2022
National Taco Day – October 4, 2022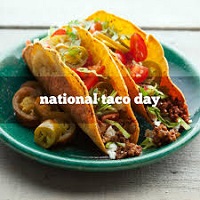 Tacos are the equivalent of a sandwich in Mexico. A hard or soft tortilla is wrapped or folded over a spicy filling instead of bread. However, these small folded pockets of delight are much more than simply a sandwich!
Taco food – What Does It Mean? What exactly is a taco?
The Mexican equivalent of the English word sandwich is a taco. The maize or wheat tortilla is wrapped or folded over a filling, which is usually spicy proteins such as beef, pork, or fish.
Who came up with the idea for National Taco Day?
National Taco Day, which comes on October 4 every year, was launched in 2009 by the restaurant company Del Taco, according to the Farmer's Almanac. The practice has been carried on for the past 12 years, with help from other restaurant chains that offer discounts and freebies in honor of the culinary festival.
Celebrate National Taco Day 
Over 4.5 billion tacos were consumed in the United States last year!
That's 490,000 taco miles, enough to get you to the moon and back.
Consider the various varieties you may make using traditional meats or seafood, chicken, beans, cheese, and eggs for National Taco Day on October 4th. Remove the garnishes – salsa, cilantro, avocado, tomatoes, onions, and lettuce – and you've got a dish with a lot of potentials.
Types of Tacos – Try them out for your next Taco Tuesday!
Tacos are the pinnacle of Mexican street cuisine, with exquisite meat and vegetable packages wrapped in little tortillas and drowned in salsa.
While we all know what a taco is, you might be surprised to learn how many distinct kinds of tacos there are!
Al pastor tacos
Tacos de canasta
Tacos de cazo
Tacos de lengua
Tacos de cabeza
Tacos de pescado
Tacos de asada
Tacos de carnitas
Tacos de barbacoa
Tacos de chorizo
Tacos de tinga
Tacos de chicharrón
Tacos de dorados
Ready for Taco Tuesday?
What do you mean by Taco Tuesday?
On Tuesday nights, several US towns have a tradition of going out to eat tacos or, in some circumstances, certain Mexican cuisine generally served in a tortilla.
Restaurants frequently run specials, such as "$1 fish taco every Tuesday night."
When will National Taco Day be in the year 2022? When was the first Taco Day?
Every year on October 4th, the United States commemorates National Taco Day.
There have been occasional references to Taco Day being observed on May 3, however, this is no longer the case.
Da del Taco (Taco Day) is observed on March 31 in Mexico.
History of National Taco Day – Taco Day History
Taco Day is a national holiday in Mexico that honors the traditional Mexican dish of a flour or wheat tortilla wrapped or folded over meat or vegetables.
The taco, which can be topped with lettuce, tomato, or sour cream, is a popular cuisine all around the world. Televisa, a Mexican television channel, initiated the Taco Day project in 2007.
Taco Day (Da del Taco) is celebrated on March 31st in Mexico, but on October 4th in the United States, as well as Taco Tuesdays and Every day!
Is There a National Taco Day? Is National Taco Day Real?
Taco Day, which takes place every year on October 4, honors all things taco. From the tortilla (corn or wheat), through the filling, to the salsa and garnishes of your choice
Why is it called Taco?
The term "taco" is quite new.
It was created in the 18th century by Mexican silver miners.
Before detonation, gunpowder was wrapped in paper like a "taquito" and put into rocks.
As a result, their portable street cuisine became known as "tacos de minero," or "miner's tacos."
How to Have a Taco Party on National Taco Day
Taco Day is simple to celebrate because there are so many alternatives for making, eating, and enjoying everything taco-related!
For some inspiration, consider the following:
Dine at a Mexican restaurant.
Host a Taco Party for Your Friends
Try a Novel Approach to Tacos – To add a little extra zing to Taco Day, try one of these novel taco recipes:
Go Out to a Mexican Restaurant
Throw a Taco Party with Friends
Try a Unique Take on Tacos – Try out these unique taco recipes to insert a bit more pizazz into Taco Day:
Hawaiian Huli Huli Chicken Tacos.
Shrimp Tacos with Mango Habanero Salsa.
Chicken Cabbage Potato Tacos with Apple Pico de Gallo.
Irish Guiness Tacos
Finish Things Off with Dessert Tacos
Consider these delicious ideas for dessert tacos:
Apple Pie Tacos
Brown Butter Crepe Choco Tacos
Sugar Cookie Fruit Tacos
Waffle Cone Choco Tacos
Discounts and Deals for National Taco Day can be found here.
Even though they may vary from year to year, here are a few locations that have offered discounts in the past for Taco Days:
Taco John's
Del Taco
On the Border
Where Did the First Taco Trucks Come From?
In 1966, two New York women operated an early version of the taco truck, which is regarded to be one of the earliest taco trucks. Even though the truck lacked a full kitchen, it was accessible for catering.