Rasta Pasta Recipe – With Protein Add-ins ! Chicken/Shrimp
Rasta Pasta Recipe – With Protein Add-ins! Chicken/Shrimp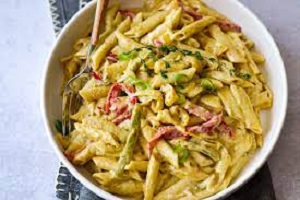 With creamy coconut milk, tons of fiery jerk sauce, and a lot of richness, this rasta pasta recipe gives Italian pasta a Jamaican spin.
This is a fantastic meal recipe that you can cook on its own or with the addition of your favorite meat! It's without a doubt one of our favorites.
Furthermore, Rasta pasta is more than simply a catchy moniker for a dish; it's a link between traditional Jamaican cooking and Western influences shaped by the Caribbean diaspora.
One thing I love about Rasta pasta is how colorful it is! This spaghetti is made with green bell peppers, yellow bell peppers, and red bell peppers, in addition to the delectable creamy sauce.
The sauce has a similar flavor to alfredo sauce, but it's a lot more flavorful. Your taste buds will appreciate it!
I grew up with jerk chicken, jerk seasoning, and my mother's jerk fish stew with rice and beans, but not with this recipe.
What is Rasta Pasta?
If you haven't heard of Rasta Pasta, it's a delightful combination of Italian and Jamaican cuisines.
Colorful bell peppers, marinated shrimp/chicken, and Caribbean flavors are matched with penne pasta in a cream sauce.
This meal is too good to pass up, sauteed to bring out the spicy and smokey aromas. It also takes only 30 minutes to prepare and is extremely adaptable. It's both convenient and delicious!
It's a vibrant pasta meal with a variety of bell peppers, creamy sauce, and Caribbean seasonings that are based on an Italian recipe but created with more typical Jamaican ingredients.
It has gained widespread appeal as a result of its distinct and intriguing flavor, and it can now be found on menus all over the world.
The term "Rasta" alludes to the significant social movement that arose in Jamaica in the 1930s known as "Rastafarianism."
Rastafarians do not consume shellfish or meat, hence it is normally served as a vegetarian dish, but many non-Rastafarian cooks add a protein to fill out the meal.
The most popular ingredients are jerk chicken or shrimp, which both provide their distinct flavor to the completed dish, however, oxtail is also popular.
The Origin of Rasta Pasta. Where did Rasta Pasta come from? Who invented it?
Lorraine Washington
Rasta spaghetti is a vibrant dish flavored with Caribbean spices, cream, and peppers.
Lorraine Washington, a well-known chef, created this dish. You'll never want to cook pasta on the stovetop again after making this rasta spaghetti in the instant pot. It's extremely simple, and the pasta just takes 3 minutes to cook.
Another version of the story claims that a chef presented a mixture of tomato sauce and cheese sauce sweetened with coconut milk over a bed of fettuccini to a group of visitors, despite the fact that many Jamaican cooks claim to have originated this legendary meal.
The guests instantly made connections between the dish's textures and colors and Jamaican culture, noting that the vibrant bell peppers reflected Rastafarianism's hues and the shapes of the noodles represented dreadlocks.
Since then, it has been added to menus and has only risen in popularity. It's becoming more common in restaurants, but it's so much more enjoyable to cook at home.
What Are the Ingredients in Rasta Pasta? What Is it Made Of?
Jerk seasoning, bell peppers, cream, and spaghetti are used to make Rasta pasta. Yellow noodles, blackened jerk chicken, green bell peppers, and/or cilantro are all designed to represent the colors of the Jamaican flag.
For Rasta Pasta Recipe, what kind of pasta should I use?
Any short, dry pasta, such as penne, fusilli, or rigatoni, can be used.
Because eating long-cut strips of bell peppers, slices of chicken breast, and swirls of noodles can be difficult, long noodles are not recommended.
With jerk seasoning and jerk chicken, Rasta pasta becomes enticing.
Recipe for Rasta Pasta – How to Make Rasta Pasta
Rasta's menu promises to be distinctive, colorful, and flavorful to the max.
It's a mashup recipe directly from Jamaica, an imaginative take on an Italian classic from the Caribbean's perspective, and you're going to adore it!
What is the best way to make Rasta Pasta?
Let's talk about how to prepare rasta spaghetti. This is my take on it.
Rasta Pasta with Jerk Chicken Recipe
Ingredients
For the Chicken:
2 tablespoons jerk seasoning
2 tablespoons extra-virgin olive oil
1 teaspoon garlic powder
A teaspoon of smoked paprika
2 boneless, skinless chicken breasts
For the Pasta:
Kosher salt
2 tablespoons extra-virgin olive oil
1 pound penne pasta
3 bell peppers, preferably a mix of colors, thinly sliced
4 green onions, sliced, plus more for garnish
2 garlic cloves, minced
¼ cup jerk seasoning
2 fresh thyme sprigs
1 Scotch bonnet pepper, pierced, not sliced (optional)
½ cup heavy cream
¼ cup vegetable or chicken stock
½ cup grated Parmesan
Method
Start with preparing the chicken: Combine jerk seasoning, 1 tablespoon olive oil, garlic powder, and smoked paprika in a medium mixing bowl. Toss in the chicken to coat. Refrigerate for 2 hours or up to 24 hours after wrapping the bowl in plastic wrap. Remove the chicken from the refrigerator about 1 hour before cooking to allow it to come to room temperature.
Then, preheat the oven to 400 degrees Fahrenheit. In a cast-iron skillet, heat the remaining 1 tablespoon olive oil over medium heat. Add the chicken to the skillet and sear on both sides for 3 minutes per side, or until browned.
Once the chicken is seared, transfer the skillet to the oven and roast the chicken for 15 to 20 minutes, or until the internal temperature reaches 165 degrees. Slice on a bias after transferring to a cutting board and resting for about 10 minutes.
While the chicken roasts, start making the pasta: Bring a large pot of salted water to a boil over high heat. Cook the pasta according to the package's directions. Drain the water and set it aside.
In a large saucepan placed over medium heat, heat 2 tablespoons oil and sauté bell peppers and green onions until peppers are slightly softened about 4 minutes. Cook for another minute, or until the minced garlic is aromatic.
Toss in 1/4 cup jerk seasoning and stir to mix. Add the thyme and peppercorns that have been punctured. Bring the heavy cream and vegetable stock to a boil. After mixing in the Parmesan, add the pasta.
Add the jerk chicken and green onions on the top. Serve immediately.
What Is in Jerk Seasoning?
Jerk seasoning is a Jamaican spice mix made up of a variety of spicy, sweet, and salty ingredients as well as pungent herbs.
Most typically, you'll discover it has allspice, cloves, cinnamon, nutmeg, thyme, garlic, onion, brown sugar, ginger, salt, and a spicy element, such as Scotch bonnet peppers, cayenne, or red pepper flakes. You can easily make your own, or find it in most stores.
TIP: If you can't find Jerk seasoning or jerk paste anywhere, here is a great recipe on how to make your own jerk seasoning!
Substitutions And Add-ins
Sub another protein- Rasta Pasta is commonly cooked with shrimp, fish, or chicken.
You can use any of those in place of the shrimp in this recipe, or try something different if you like.
Try a different pasta- Penne works great here, but other options include fusilli, rigatoni, bucatini, or Fettuccine. It's even possible to use gluten-free pasta.
Make it dairy-free: Simply replace the heavy cream with full-fat coconut milk and nutritional yeast for the Parmesan cheese to make it dairy-free.
Add other vegetables- If you want to add more flavor or spice to this Rasta Pasta, you can add jalapeos, chopped tomatoes, onion, or scallions to the colorful bell peppers.
Suggestions for Serving
When it comes to preparing this delectable pasta, there are a plethora of possibilities. Here's what you can do with it.
Meats: It goes well with a tender Ribeye Steak, braised beef, or air-fried steak.
Soups: Try this Easy French Onion Soup or some Copycat Panera Bread Broccoli Cheddar Soup.
Salads: Serve with a salad, such as this Spinach Salad or smoked salmon salad.
Sides: Garlic Cheese Bread, roasted air fryer vegetables, or air fryer asparagus are all good options.
Rasta Pasta Storage and Reheating
In an airtight container, this Rasta Pasta meal will keep for up to 3 days in the refrigerator.
Reheat it in the microwave for a few minutes or in the skillet on the stovetop over medium-high heat until warm.
If the sauce has absorbed too much into the pasta and it has become too dry, a splash of heavy cream can be added.