Creole Seasoning Blend Recipe: Cajun vs. Creole Seasoning
Creole Seasoning Blend Recipe: Cajun vs. Creole Seasoning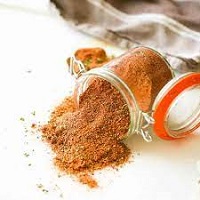 Creole seasoning is a powdered spice blend that is often used in Creole cooking. Instead of using a spice blend, the cook in a Creole kitchen would add specific seasonings to taste.
Because you don't have to measure each item, creole seasoning makes the process easier. But, beyond the store-bought mix, what is Creole seasoning?
What is the source of it? What is the flavor profile? What can you do with it? Let's take a look at this delectable spice blend from every aspect.
A must-have seasoning that adds boldness and extra flavor to any dish. This Seasoning recipe is another example of a homemade spice blend you'll want to make yourself and keep on hand to add life and flavor to a wide variety of foods!
Nothing compares with the fantastic freshness, vibrancy, and incredible potency of the homemade Creole Seasoning recipe which is what you need to make that delicious dish!
Cajun vs. Creole Seasoning: A Comparison of the Seasonings
The ingredients are the key distinction between Creole and Cajun seasoning blends: Cajun spice uses a variety of pulverized peppers, including black, cayenne, and white, whereas Creole seasoning is more herbal, with oregano, thyme, rosemary, and paprika being used in recipes.
When it comes to seasoning blends, Cajun and Creole seasonings are difficult to beat, Creole in particular. Creole seasoning is filled with the perfect blend of dried peppers, herbs, and spices that develop flavor in just about anything you cook.
While Creole and Cajun seasoning are different, their commonalities are such that you can substitute one for the other in a pinch.
Growing up, I have had a taste of seasonings such as Nutmeg, Ginger, Cinnamon, Turmeric, Curry Powder, Cayenne Pepper, Cloves, and so on but none of these compares to the taste and aroma of Creole seasoning. Needless to say, Creole seasoning is the best!
Creole Seasoning Blend
This Creole seasoning blend is great for seasoning rice, meats, soups, stews, or anything that needs a flavor boost. Also makes a great gift when placed in a decorative jar with the recipe attached.
Origin of Creole Seasoning
Creole seasoning is the product of different immigrant cultures, including those from Italy and Ireland as well as from Africa.
Both blends contain European spices but were developed within cooking traditions strongly influenced by both Native Americans and African Americans.
Creole seasoning primarily relies on herbs like oregano, bay leaf, basil, thyme, rosemary, parsley, and paprika.
What is a creole seasoning made of?
Creole seasoning is a spice mix that is frequently used in Creole cuisine.
It can be used to provide a kick to almost any dish. Garlic, salt, black pepper, white pepper, oregano, and parsley are among the ingredients.
Besides being a great choice for protein, it can also be used in soups, stews, potatoes, vegetables, and more
A good creole blend breaks down into three major components: The Peppers, The Herbs, and the Spices.
How To Make Creole Seasonings
Simply add your collection of chili powders, herbs, and spices to a bowl.
Mix them all. Store in an airtight container.
Done! It is quite simple.
Store your seasoning blends in an airtight container. They will last a year or longer, but they do start to lose their potency after a couple of months.
Is creole seasoning spicy?
Don't be deceived by some blends' rich red hue; it's usually the consequence of mild paprika. In keeping with French cooking tradition, Creole cuisine employs chili peppers in moderation.
What does it have in common with Cajun seasoning? Are Cajun and Creole Blend the Same?
While many people unfamiliar with Louisiana's food culture use the labels Creole and Cajun interchangeably, the cooking styles and spice preferences are distinct.
Creole seasoning is considered the softer and more refined of the two mixtures. Cajun seasoning is the spicier of the two. A creole spice combination with cayenne pepper or a higher proportion of black pepper may provide a mild heat.
What is a good substitute for creole seasoning?
Another option is to use the component ingredients – paprika, cayenne, garlic powder, onion powder, salt and pepper, dried oregano, basil, and thyme.
If you don't have all of these, the most important are paprika and/or cayenne, garlic powder, oregano, salt, and pepper.
Old Bay Seasoning is a reasonable substitute for creole seasoning, which won't be out of place in most recipes.
Both spice mixes use cayenne and paprika in their base ingredients so they can be used in similar applications. Old Bay is an excellent option for seafood and crab boils.
What is the best Creole seasoning?
Those highest in sodium are Tony Cachere's Original Seasoning, at 15 percent of the recommended Daily Value for a 2,000-calorie diet, followed by Zatarain's Seasoning and Luzianne's Cajun Seasoning, both with 11 percent DV sodium.
What is Creole season used for? Uses
Creole seasoning is commonly used in a variety of dishes. Being a versatile spice mix it works on all kinds of meat and seafood dishes.
Use it when cooking shrimp, fish, or chicken. It also tastes great in gumbos, stews, and soups
What is Creole seasoning taste like?
Many New Orleans-inspired recipes call for a Cajun or Creole seasoning blend. This blend creates a robust, smoky flavor that is slightly spicy and very savory.
Health benefits of Creole seasoning –
Creole seasoning has several health benefits.
Vitamin A is found in paprika, which is used in Creole spice.
Calcium, iron, and magnesium are all minerals found in Creole seasoning.
Dietary fiber: Creole seasoning contains a lot of herbs and spices that are high in fiber.
Regularly consuming nutrients present in Creole seasoning can help treat or prevent a range of diseases. The following illnesses are among them:
Bay leaves are thought to boost insulin sensitivity, which means they may help control blood sugar levels in diabetics.
Food Poisoning: Antibacterial properties in paprika can help manage microorganisms that cause gastrointestinal disease.
Where to buy creole seasoning in Nigeria: Herbs, Spices & Seasoning
You can buy from supermarkets, or order online from Jumia